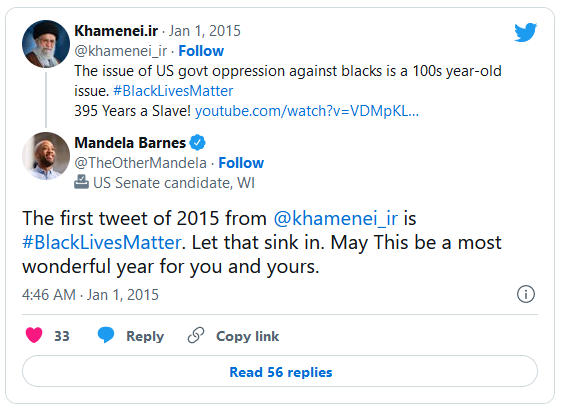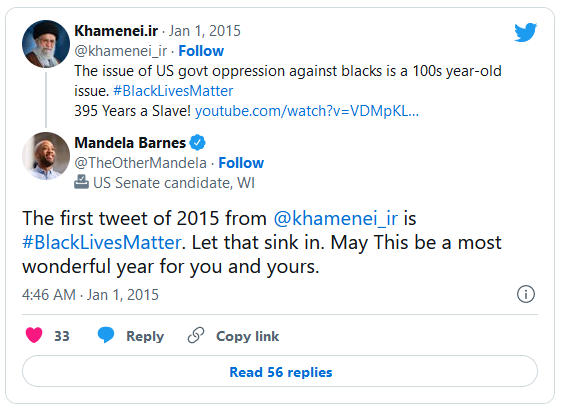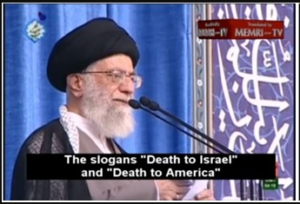 Problem? A huge problem.
It would be nice if, during the current conversation about antisemitism, we could discuss the infatuation that a lot of Democrats seem to have with a genocidal Islamic regime that wants to kill millions of Jews and whose motto is, "Death to America."
The media can find Russian sympathizers under every bed (not that they don't exist, along with Chinese and Turkish ones) but can't seem to bother with Iranian sympathizers. And I don't mean sympathizers with the Iranian protesters being killed by the regime, but with the regime.
Mandela Barnes, the Democratic Senate candidate in Wisconsin, praised Iran's supreme leader Ali Khamenei for supporting Black Lives Matter, said he wanted to be the "Dennis Rodman" of the Assad regime, and used his Twitter account to defend some of the world's most notorious dictators and repressive regimes.

On Jan. 1, 2015, Barnes applauded a Twitter post by Khamenei that slammed the U.S. government over slavery.

"The issue of US govt oppression against blacks is a 100s year-old issue," wrote Khamenei, adding the hashtag #BlackLivesMatter.

Barnes "liked" Khamenei's post on Twitter and responded to the Iranian leader: "The first tweet of 2015 from @khamenei_ir is #BlackLivesMatter. Let that sink in. May This be a most wonderful year for you and yours."
Alana Goodman also has Barnes appearing to sympathize with Syria's Assad, an Iranian puppet, and wanting to work in Cuba.
Last year, he tweeted, "Normalize saying Free Palestine".
Barnes was not only habitually displaying affection for anti-American regimes, but also cheering one of the country's worst enemies, responsible for taking American lives, for torturing and killing Americans, and for, also, killing quite a few Jews and wanting to kill many more.
Supporting a regime whose motto is "Death to America", cheering a leader who chants it, is treasonous.
And yet we don't talk about it.