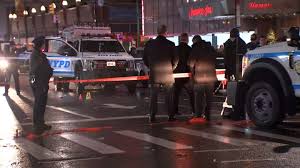 Imagine starting a job and having quite simply the worst day you possibly can. A customer comes in and completely berates you while you're learning the ropes; a boss ends up chewing out employees over lackluster performance; or something simply goes wrong with the business itself, such as uncontrollable weather conditions.
Well, that's all child's play compared to what Paul went through. Paul is a rookie New York Police Department officer that was getting his start on the force on New Year's Eve. That's right, probably one of the busiest days you could ever expect. Especially when you're patrolling around Times Square, one of the most iconic places you can be to celebrate 2023.
But then something hit unexpectedly that threw Paul's world into turmoil. While working alongside two other officers around 9:30 PM, a 19-year old "radicalized" Islamic extremist struck.
What's more, he struck with an unusual weapon – a machete. Not a firearm or a knife, but rather a dangerous, sharp weapon that can really do some damage. And boy, did it. Paul ended up receiving a large laceration, as well as a skull fracture. What's more, even after a fellow officer fired upon him, the suspect actually injured them with a laceration as well.
The suspect was taken into custody, and, thankfully, Paul and the other officer are recovering from their wounds. But I totally feel for this kid, mainly because no one deserves to have a first day like that. An argument over a traffic infraction, sure. Even an altercation in which they need to arrest someone. But an all-out attack? With a machete?
Here's the thing, though. How can someone, especially a "radicalized" Islamic extremist, simply walk up and attack officers in this day and age? The idea makes no sense to begin with, since officers are armed and prepared to defend themselves and others to stop such an attack. But…how did he get into our country to begin with? For that answer, we have to look to our borders.
Now, as you're probably aware right now, there's all sorts of turmoil happening on the U.S./Mexico border. Thousands of migrants have made their way into our country over the past few months, and some have even snuck in, creating all sorts of friction in nearby towns.
Some of you are probably ready to point a finger at border patrol for not doing their job. But that's not the case. These officers are putting their lives on the lines to keep everyone safe. The problem lies in them not having enough funding to build their ranks with more officers. And guess who's the cause of that problem? President Joe Biden.
Biden has been after border patrol for months now, following uneasy attempts to try and get former President Donald Trump's Title 42 rule overturned. As a result, Biden's had to take a different approach, giving them the absolute hardest time he can.
That means berating them for a reported whipping incident without even seeing a shred of proof, or denying them the courtesy of a visit when he's mere miles away, as he was a few weeks back during his visit to Arizona. (And get this- he noted that there were "more important things" on his agenda, like visiting a soon-to-open electronic chip factory.)
Because of Biden's negligence, border agents are ill-equipped to take care of what's happening with migrants. And as a result, we're seeing criminal activity rise in several key cities – including New York, where poor Paul and his fellow officers were attacked. It just seems like Biden's spending more time trying to get around the problem, instead of simply resolving it with more agents and better attention to what's slipping through our border cracks.
With the growing migrant problem in this country, it's simply a matter of time before Biden has no choice but to pay attention to the matter, instead of focusing on "more important things." I don't know when that will happen, but hopefully it won't be from a circumstance where officers like Paul are put into peril.
The first step to resolving a problem is admitting there is one, Joe.
Michael Letts is the Founder, President, and CEO of InVest USA, a national grassroots non-profit organization that is helping hundreds of communities provide thousands of bulletproof vests for their police forces through educational, public relations, sponsorship, and fundraising programs. He also has over 30 years of law enforcement experience under his belt, hence his pro-police stance for his brothers and sisters in blue. Those interested in learning more about Letts can visit his official website here.