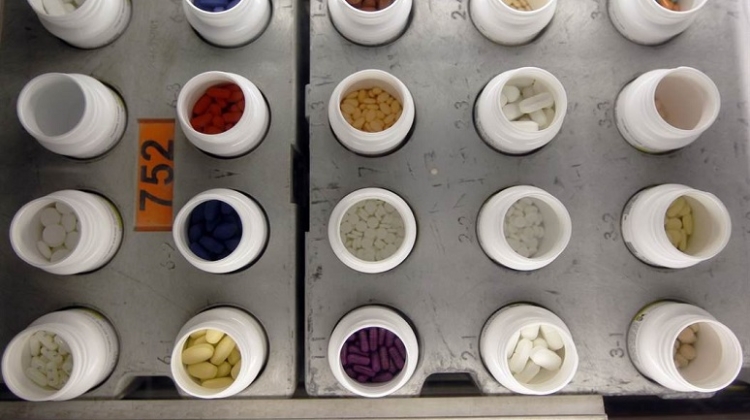 The Food and Drug Administration recently announced it will loosen the rules to allow importation of a non-approved cancer drug from China. Ironically, this dangerous move is supposed to make up for a scarcity of critical medicines the Biden Administration itself helped to create.
There's no question that prescription drug shortages are a serious problem. In the last five years, the United States has gone from 202 medicines in short supply to 301, a 49% increase. But instead of letting in a flood of risky imports, the federal government should consider reversing some of its own policies.
The administration has exacerbated drug shortages through both action and inaction. The chief cause of our current crisis is consolidation among the drug-industry middlemen known as Pharmacy Benefit Managers, or PBMs, which purchase drugs to pass on to insurers. Three giant PBMs control nearly 80% of the U.S. market for prescription medicine.
With their outsized buying power, PBMs drive down drug manufacturers' margins, especially for those that make lower-cost generic medicines. As a result, manufacturers are exiting specific drug markets or shutting down, contributing to shortages. The murky and unregulated PBM industry is in desperate need of more oversight, but so far, the federal government has provided none.
Meanwhile, the Biden administration has guaranteed more future shortages by signing last year's Inflation Reduction Act, which imposes price controls on brand-name drugs sold through Medicare. The law is sure to diminish drug innovation and availability.
Here's why.
Currently, brand-name drugs are significantly more expensive than generic ones. Yet only 10% of prescriptions filled in the United States are for brand-name drugs.
The other 90% percent are for generics, but because generic prices are so much lower, they only account for 20% of consumer drug costs.
Manufacturers can see the writing on the wall. Generic drugs bring in significantly lower margins for their makers, who are able to stay in business by selling in volume. But if the IRA forces brand-name prices down to generic levels, it will squeeze generic manufacturers, possibly forcing them out of the marketplace altogether.
Fewer suppliers will leave us with less competition and, therefore, higher prices — and even more supply-chain disruptions and shortages.
It's no wonder that the administration wants a solution. Right now, the United States lacks a sufficient supply of two dozen chemotherapy drugs, many of which have no adequate alternative. Even "good" substitutes can be impractical, thanks to harsher side effects or different dosing regimens.
Consider cisplatin and carboplatin, two common cancer therapies. According to a recent survey, a whopping 93% of U.S. cancer centers don't have enough carboplatin to meet their patients' needs, while 70% face a shortage of cisplatin. And substituting cisplatin for carboplatin can be dangerous — involving greater deterioration of kidney function.
Ironically, this particular shortage largely derives from the drugs' appealing list-prices. Marked at just $15 and $25 a vial, respectively, cisplatin and carboplatin don't attract a lot of pharmaceutical investment. So when one manufacturer goes down, backup plans — like the drugs themselves — remain in short supply.
As a result, it's no surprise to find doctors rationing treatments for bladder, breast, and ovarian cancer. Experts calculate these restrictions are endangering more than 100,000 cancer patients.
Yet turning to China as a supplier is dangerous. The U.S. Food and Drug Administration is the global gold standard in drug approval, which is why Americans can have such high confidence in the drugs they purchase. They know that the label on the package matches the contents and that the product inside is safe and effective.
That's not necessarily true in the rest of the world. According to the World Health Organization, counterfeit drugs cause an estimated one million deaths a year. In developing countries, roughly 10% of drugs sold are substandard or counterfeit.
But counterfeit drugs also make their way into wealthy nations. In one Canadian operation targeting illicit global pharmaceutical networks, border guards found that 87% of 3,600 packages they inspected contained counterfeit or unlicensed health products. And when pharmaceutical companies banded together to track fake versions of their products, they found 13,439 incidents over 10 years. In 2018, for example, Pfizer identified 95 fake "Pfizer" products in 113 countries.
By impeding domestic drug innovation and promoting foreign imports, the Biden administration is undermining drug security. Under the new policy, the FDA is allowing imports of the unapproved Chinese cancer treatment cisplatin so quickly that the labels will still be in Chinese. This suggests a slapdash process that counterfeiters could easily exploit.
Instead of turning to unreliable foreign sources, the administration would do better to undo its own misguided policies that have contributed to shortages in the first place. American cancer patients deserve a safe and secure supply of treatments.
Peter J. Pitts, a former FDA associate commissioner, is president of the Center for Medicine in the Public Interest. He also serves as a Visiting Professor at University of Paris School of Medicine.