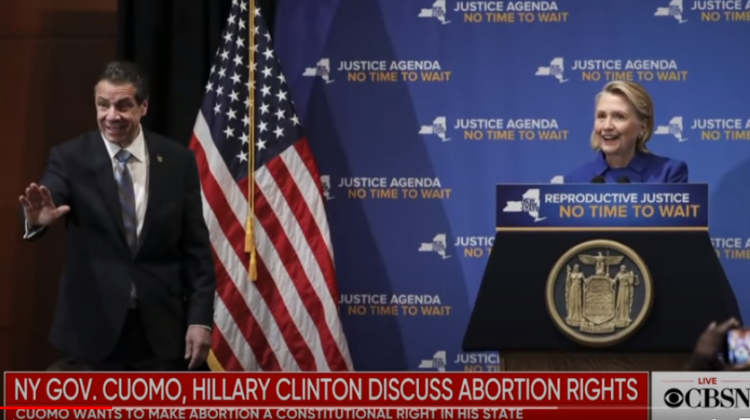 This guy. Really, this guy.
In January 2018, Cuomo said that "we must reform our bail system so a person is only held if a judge finds either a significant flight risk or a real threat to public safety." All right.

But by January 2019, that critical "threat to public safety" provision was gone. Last year, Cuomo said that he would eliminate "cash bail once and for all."

And that is what the Legislature did. Only people accused of the most violent felonies will remain in jail before trial.
That pro-crime move helped set off a vicious crime wave and may cost Gov. Hochul her job.
And Cuomo, forced to resign because of accusations of sexual harassment, but clearly aching for a comeback, has thoughts on the matter.
Former New York Gov. Andrew Cuomo (D) on Wednesday criticized the Democratic Party for being "tongue-tied" on crime.

"I don't know why the Democrats — and this is nationwide — I don't know why they can't be more aggressive addressing the issue of crime," Cuomo told radio host John Catsimatidis.

He accused the Democratic Party, particularly in New York state, of being afraid of the "extreme left."

"It's not just in New York though," Cuomo said. "It's all across the country. They are pulled by the far left. And they are afraid to say, 'Dangerous criminals have to be in jail.' "
"Dangerous criminals have to be in jail." Crazy, right?
Except that Cuomo is responsible for this whole mess. At the time he was virtually a one-man ruler who had made the governorship, traditionally weak, vastly powerful. And he used that power to prep for a presidential run. And that meant touting his creds to the gatekeepers of the far Left.
He elevated leftists and black nationalists, and implemented their insane agendas.
Whether Cuomo was afraid of the Left or not, he pandered to them and despite everything, they undid him. His original accuser was typically woke. Eliminating bail was one of the consequences.
Now, Cuomo is acting as if it was all the fault of someone "New York Democrats" who let this happen, as if he hadn't been running the place until recently.
The real point Cuomo is making is that he wouldn't have been as tone-deaf as Hochul, his former second banana, in clinging to something this insane that polls badly and has hideous consequences.
But we already know that Cuomo is only about himself. It's not much of a recommendation.
The Love Gov wants to make a comeback, but all he does is remind everyone that no one in their right mind should have trusted him. Now, Cuomo, who was pro-crime, is vocally anti-crime and blaming those politicians for letting it get so bad.
Cuomo blamed cowardly politicians for turning New York City into what he described as a veritable hellscape, asking of the state's (other) politicians: "How many more people have to be shot before they act?"

"When people die, it's the No. 1 issue," Cuomo said, about crime.
The complete Cuomo makeover is complete. No more wokeness, he's Dirty Harry now. And while we know he can kill people, it's usually the helpless elderly.
Maybe he can take up the crime issue with his good buddy Al Sharpton whom he invited to the signings of his pro-crime bills.