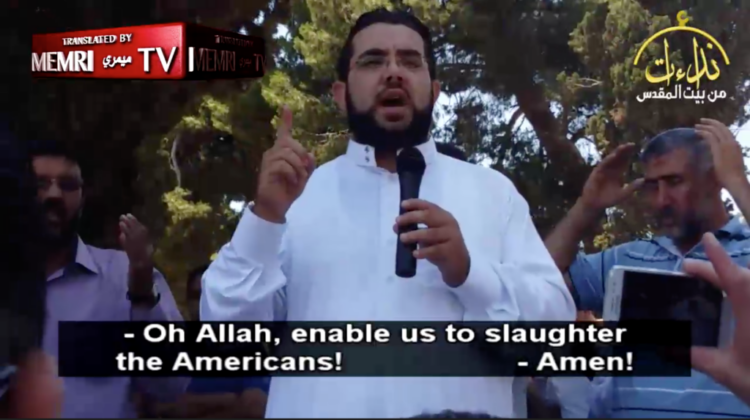 I'll let you in on a little secret, every day is a day of Jihad. We just don't pay enough attention.
A teacher has been killed and two people wounded in a knife attack Friday at a school in the northern French city of Arras, local media report.

The French interior minister confirmed a police operation was ongoing and that the attacker has been arrested.

According to several media reports, the attack took place inside the Gambetta high school at 11 a.m. on Friday. The attacker, who has been named in the French press as Mohammed Mogouchkov, is reportedly of Chechen origin and is said to have shouted "Allahu Akbar" during the attack.
Mohammed and Allahu Akbar. They're gonna attribute it to mental illness, aren't they?
Mogouchkov was reportedly under police surveillance before the attack and on the police register of radicalized individuals.
Much good that surveillance seems to do. Maybe France would consider not having Chechen Jihadists in its country rather than surveilling them and waiting until they do something?
The attacker "turned toward a staff member of the school, the head cook I believe and injured him, and stabbed him several times," said Martin Dousseau, a philosophy teacher who witnessed the attack. "I was then chased by him, and asked me 'are you a history teacher?'
Islam is not fond of history.
The attack comes three years after another attack at a school in the Paris suburbs where a teacher was beheaded by a Chechen extremist.
What's the correct number of Chechen Muslim terrorist attacks that France should be experiencing? Zero. That would be easily remedied by removing the Chechen refugees back to Chechnya.
On October 16, 2020, Samuel Paty, a history and geography teacher, was stabbed and beheaded near his school in the town of Conflans-Sainte-Honorine, near Paris. The perpetrator was 18-year-old Abdoullakh Anzorov, a Russian refugee from Chechnya who was killed by police soon after the murder.

Anzorov had no connection with Paty or the school. He travelled from his home in Normandy to kill the teacher after watching a video posted by a pupil's father who was angry that Paty had shown students images of the prophet of Islam in a civics class. Paty was teaching the children about freedom of expression. He emphasised that they could choose not to look at the cartoons if they were offended.
There's no freedom of expression, or freedom, in Islam. And at this rate there soon won't be any in France.