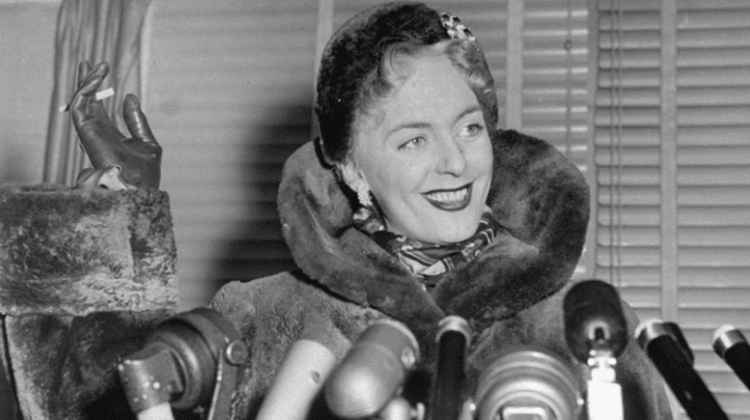 Half a century ago, when I was a kid, the most famous "male-to-female" person on earth – in fact, the only really famous one at all – was Christine Jorgensen (1926-89), a sometime GI who underwent "sex-change" surgery in Denmark in 1952 and who, in a bestselling 1967 autobiography, bared it all, including the fact that his name at birth was George William Jorgensen, Jr.
Nowadays, that's called "deadnaming." A transgender person's birth name is a historical fact, but the convention now – the iron law, in fact – is to treat it as the most shameful of secrets. On Christine Jorgensen's Wikipedia page, consequently, the name George William Jorgensen, Jr., is nowhere to be found. On the "talk" page, where the main page's contents are debated by Wikipedia contributors, you can find a staggeringly long thread about "deadnaming." While multiple contributors fiercely defend the absence of Jorgensen's original name on the grounds that deadnaming is "an act of violence" – with one of them aping transgender rhetoric to the effect that Jorgensen was "always" Christine and that "her being named 'George' at birth was an error" – another contributor, to his credit, dares to question the requirement that a transgender person's "entire pre-transition life should be forcibly erased from collective memory."
My subject here, however, is not Christine Jorgensen, whose only claim to fame was being transgender avant la lettre, but Jan Morris (1926-2020), who was one of the most celebrated travel writers of the era, and whose biography, Jan Morris: Life from Both Sides, has just appeared in her native Britain and will be published in the U.S. in early December. There is much to say about Morris, a fascinating figure who in 1953, as a London Times correspondent, accompanied Edmund Hillary and Tenzing Norgay on their pioneering ascent of Mount Everest, but the first thing that Morris's biographer, Paul Clements, wants to tell readers in this 597-page volume, is that, since Morris's "chosen pronouns were 'she' and 'her,'" he has "honored" this choice "throughout the book." That explanation appears in an "Author's Note" in which Clements, himself a travel writer and a longtime friend of Morris's, cringingly apologizes to sensitive readers who might be offended by his quoting of old materials in which Morris, who was christened James, is – gasp – referred to by that forbidden name.
So it is that while Clements, in the early chapters about his subject's childhood in Clevedon, Somerset, calls Morris's two older brothers by their birth names and refers to them as "he" and as "boys" and, indeed, as "brothers," Morris, who at the time was known to all and sundry as James, is referred to consistently as "she." And so we get sentences like this: "Not yet ten, she was about to embark on the next phase of her education." That next phase took place at Oxford, where "she" sang in the boys' choir at Christ Church Cathedral. Later we read about "her" joining the army right after the end of the war in Europe. (During "her time in the army," Clements tells us, "she and another soldier were immediately seconded to operate all Venice's motor boats.") Later still, "she" marries a woman, Elizabeth, and fathers several children. On the Everest expedition, "she" grows a beard.
We read a quotation from one of Morris's Times colleagues, Peregrine Worsthorne, who explains that Morris's first job at the paper, as a copyeditor, involved securing approval from academic specialists for editorial changes, which, Worsthorne recalls, required a "great gift of diplomacy, charm and sensitivity, with all of which  [Morris] was preternaturally endowed." See what Clements did there? Obviously Worsthorne must have said "he," but Clements chose to spare us from the pronominial malfeasance by replacing "he" with the name Morris in brackets. Clements pulls this sort of thing a bunch of times.
To be sure, he strives not to write sentences that sound too absurd. So when he's writing about Morris growing a beard, he says "Morris" and not "she." But there's always a "she" a sentence or two away – so that in the chapters about pre-op Morris we're constantly being invited to picture a girl, and, later, a woman, when the person in question was, biologically, and to all appearances, a full-blooded XY male. As a result, the reader is obliged, sentence by sentence, to translate Clements's politically correct language into images – a boy chorister, a male soldier – that the biographer is prohibited by the current rules from describing honestly.
Reading this book, then, is a weird experience: at every turn, one feels pressured to swallow a patently false picture of the world, a picture shaped retrospectively by an ideology that didn't even exist during the time period that one is reading about. Hence a book that should have been a pleasant enough read – it's the colorful, well researched story of a journalist who traveled everywhere and who interviewed the likes of Che Guevara and Kim Philby – instead fosters a strange tension. Instead of getting lost in Morris's life, one is constantly noticing Clements's fancy pronoun footwork. One finds oneself wondering: What phenomenon on earth, other than transgenderism, requires a writer to jump constantly through such hoops to avoid facing squarely up to a simple fact – in this case, the biological sex of his subject? Why should an account of events that took place almost a century ago be distorted by the ideological fetishes of the present day? Quick question: let's say somebody wanted to make a movie out of Clements's biography. Would it be considered unacceptable to have male actors play the young James Morris, and to have other characters actually call him "James"? Presumably so.
Another thought: even if you affirm the magical idea that when a man announces he's a woman he not only becomes a woman from that moment forward but retrospectively becomes a woman, and, prior to that, a girl, I don't understand the need to make James Morris, in this book, "He-Who-Must-Not-Be-Named." It seems to me that if your inclination is to celebrate this person's supposed discovery of his "real" self, and the drastic – heroic? – measures he undertook to make his body conform to his perceived inner identity, then wouldn't it underscore the drama of his transformation, and the courage of his actions, to refer to his pre-op person by his pre-op name and pronouns? Wouldn't a sudden switch from "he" to "she" at the time of the surgery only underscore the magnitude and supposed triumph of the change?
Needless to say, throughout most of Morris's life, nobody believed that a man could become a woman. When James became Jan, the word "transgender" had yet to be coined; its predecessor, "transsexual," was coined by Harry Benjamin, the Park Avenue endocrinologist who first gave Morris hope that he might be able to make the journey from he to she. Back then, a person like Morris was considered by every doctor on earth to be suffering from a mental disorder, although one that in most cases was relatively benign.
Referring to Morris as "she" or as "Miss" or "Ms.," was a matter of politeness, equivalent to a courtesy title. After all, Morris had gone to such trouble to look and act and sound like a woman that it seemed harmless to play along, especially since his kind was such a rarity. Nowadays, however, claimants to transgender identity are rare no longer, and we're expected not only to reject biology itself by saying that trans women are women but also, by saying that they always were women, to buy into a Stalinist rewriting of history. Yes, swapping out "he" with "she" may seem like an act of kindness, but experienced at over 500 pages' length in Clements's book, it feels like a brutal beating – with truth as the victim.
Confession: I stopped reading Clements's book at page 123, before the operation. I couldn't take any more mind-fucking. Maybe I'll return to it later. But for the moment I decided to turn instead to Morris's own book Conundrum (1974), an intelligent, honest, and elegantly written little work of 148 pages that, in lucid, moving prose, explains how the author, at age forty-seven, ended up on an operating table having his manly bits removed. The operation had been a long time coming: "I was three or perhaps four years old," writes Morris, "when I realized that I had been born into the wrong body."
What a difference between the two books! In Conundrum, unlike in Clements's biography, there are no hang-ups about deadnaming. "I was named James Humphry Morris," Morris states on page two. Morris doesn't pretend to have always been a girl: "I was rather an attractive boy," she tells us on page 19. And on page five, Morris writes about gender identity as follows: "I present the confusion in cryptic terms, and I still see it as a mystery. Nobody really knows why some children, boys and girls, discover in themselves the inexpungable belief that, despite all the physical evidence, they are really of the opposite sex."
Note the modesty of this formulation, as compared to the impudent, reality-denying way in which transgender activists nowadays demand that we talk about this phenomenon. Morris calls it a "mystery," speaks of discovering not a fact but a "belief," and provides a personal interpretation consistent with the traditional view of it as a psychiatric disorder of unknown cause – perhaps genetic, perhaps hormonal, perhaps environmental. In any event, Morris confesses to still seeing the whole thing as a "riddle" and admits to having been driven by a "tragic and irrational ambition…to escape from maleness into womanhood." Clements claims to skirt the name "James" and the pronoun "he" out of respect for Morris, but Conundrum makes it clear that Clements is being guided not by Morris's approach – which was grounded in reality and suffused with humility – but by the inexorable, bullying dictates of trans ideology.
Conundrum makes another thing clear: namely, that unlike the overwhelming majority of the hordes of young people who today have succumbed to the trans trend, Morris was plainly a legitimate case of gender dysphoria, experiencing it from earliest childhood at a time when absolutely nobody in his world, as far as he knew, had similar experiences or could explain to him what he was feeling. From beginning to end, Conundrum is wise and charming and tender – a beautiful book that makes one feel nothing but respect and empathy for its remarkable author. It models a way of writing about gender dysphoria, at once sensitive and sensible, that Clements should have sought to emulate. And it could not differ more strikingly from the testimonies served up on social media by armies of callow, narcissistic young people who, mindlessly regurgitating trans-movement talking points after having decided the day before yesterday that they'd been born into the wrong body, aggressively demand, to the cheers of their friends and teachers, that all of society reorder itself around their delusions.