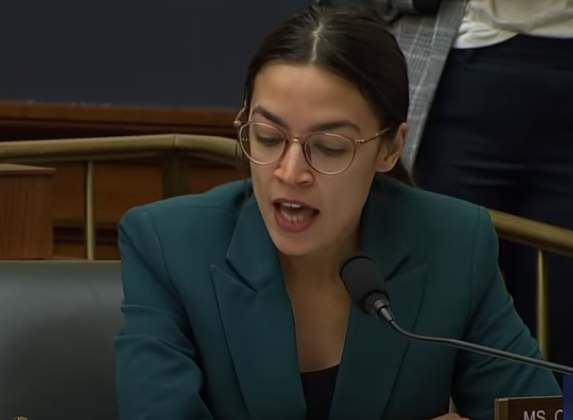 Rep. Alexandria Ocasio Cortez wasn't around for Round 1. It's understandable that she doesn't remember how Justice Clarence Thomas stood strong during the Anita Hill smear campaign. But Sen. Ed Markey was around. Like Biden, he's just forgotten.
Sen. Ed Markey (D-Mass.) on Monday called for Supreme Court Justice Clarence Thomas to resign amid controversy over the justice's financial disclosures and ethical concerns about the nation's highest court.

"I will say what needs to be said: Clarence Thomas should resign from the Supreme Court of the United States. His reputation is unsalvageable," Markey said at an event to advocate for Supreme Court reforms.
Famous last words.
Democrats thought they had made Thomas' reputation unsalvagable when he was first nominated to the court. This is the moment that Markey and the gang that couldn't smear straight seem to have forgotten.
This is the man they're up against. Thomas isn't Breyer. He's not going to be bullied off the bench. So far they've gone after his wife and his mother under the mistaken impression that they would make him give in.
They should have watched that video again.
But let's hear from some more about integrity and trust from Vietnam War hero Dick Blumie.
"Justice Thomas should resign – to uphold the Court and American justice. The unavoidable, sickening appearance of impropriety stains trust & credibility in our whole judiciary," Senator Blumenthal said earlier this month.
Blumenthal's stolen valor is what's sickening. Perhaps he should check trust and credibility with his comrades.
U.S. Sen. Richard Blumenthal (D-CT) spoke out for the first time since being scrutinized for his attendance at a Communist Party event earlier this month.

Blumenthal spoke at the Connecticut People's World Committee Awards ceremony. He was the surprise guest presenting award winners with certificates of special recognition from the United States Senate.

The occasion celebrated the 102nd anniversary of the founding of the Communist Party USA.
But who's got less credibility than Blumenthal?
Rep. Ocasio-Cortez said "this degree of corruption is shocking — almost cartoonish" and called for Thomas to be impeached.
This woman is literally facing an ethics investigation over the Met Gala scandal.
AOC really wanted to attend the September 2021 Met ball – a charity event for its Costume Institute, yes, but also the world's number-one social event for the rich, famous, and beautiful.

But $35,000 tickets for two people (she wanted her boyfriend to go, too) would cost nearly six figures…

AOC snagged two free tickets (after much prodding by her campaign staffer) by cozying up to Vogue's Anna Wintour, who runs this show for the Met. AOC's written invitation specifically informed her that she and her boyfriend were "guests of Vogue."

Little problem: members of Congress can't take near-seven-figure gifts from companies that employ lobbyists. Vogue is part of a sprawling media firm, including the firm that owns a big piece of Spectrum, our highly regulated internet provider.

As AOC's anti-corruption lawyer warned her staff, "the Congresswoman could accept an invitation from [the Met], but not [italics his] from Vogue . . . Since Advance Publications is a registered lobbyist, we'll need to be extra careful!"
"This degree of corruption is shocking — almost cartoonish"