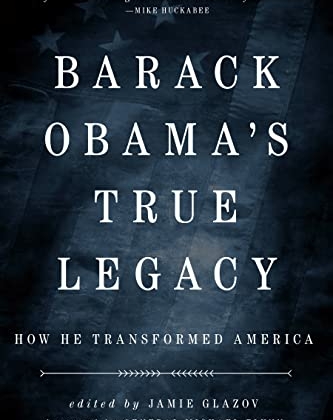 [Order Jamie Glazov's new book: Barack Obama's True Legacy: How He Transformed America.]
On the cusp of the 2008 presidential election, then-candidate Barack Obama galvanized an ecstatic crowd at Missouri University by claiming that he and his supporters were "five days from fundamentally transforming the United States of America." Not making America great again, but fundamentally transforming her. This unsettling vow, from the man who would later declare that American exceptionalism was no more valid than British or Greek exceptionalism, promised not restoration, but revolution. It made clear that his incoming administration intended to toss the greatest country in the world onto the trash heap of history to make way for a Progressive utopia centered on social justice and on the dismantling of American power.
Obama's threat took two presidential terms to gather momentum; former President Trump temporarily stalled its course, but then Obama managed to get a shot at a third term in 2020 – vicariously through his former Vice President Joe Biden. Under the decrepit figurehead Biden, Obama and his muses Susan Rice and Valerie Jarrett could accelerate the fundamental change he promised. Indeed, it has been cascading to fruition so rapidly that one is reminded of a Hemingway character's explanation about how he went bankrupt: "Gradually, then suddenly."
The Biden administration is already securing its place in history as the most disastrous American presidency to date. In less than two-and-a-half years, the angry Divider-in-Chief Biden has presided over more domestic and foreign policy debacles than Barack Obama could ever have hoped for. As General Michael Flynn catalogs in the foreword to a brand new book titled Obama's True Legacy: How He Transformed America, our nation now faces
chronic unemployment and inflation, a border crisis, grave threats to our constitutional liberties, increased violence and lawlessness from the leftist groups Antifa and Black Lives Matter, a weakening dollar, the emboldening of our enemies worldwide, and even worse on the horizon… This is the world Barack Obama has made. This is his legacy.
All of this and more is addressed in Obama's True Legacy, a collection of eighteen original essays edited by FrontPage Magazine's longtime editor Jamie Glazov, and featuring numerous FrontPage Mag regulars such as Daniel Greenfield, Robert Spencer, Joseph Klein, Matthew Vadum, and Raymond Ibrahim, among other contributors.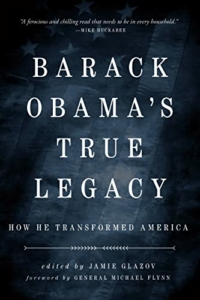 "To understand the crisis of the Biden administration, we have to go back to its origins in the Obama administration," writes Shillman Fellow Daniel Greenfield in his introduction to the book, because the latter's "impact is not past tense. It is present tense… [W]e are still living through the Obama nightmare." And that is what these eighteen essays analyze and illuminate. From political scientist (and former Marxist) John Drew's fascinating account of his college days with the fellow radical in "Obama: The Young Communist I Knew," to Knesset member Dov Lipman's closing critique of the anti-Israel lies in Obama's memoir A Promised Land, Barack Obama's True Legacy is the definitive one-volume guide to the catastrophic influence on U.S. and world politics of Barack Hussein Obama.
The anti-colonialist Obama waged war against America on a broad range of fronts, and they are seemingly all covered in this book. New Zealand author and filmmaker Trevor Loudon traces "The Marxist Origins and Goals of Obamacare" and "Obama's Illegal Marxist Immigrant Amnesty Movement." Middle East expert Raymond Ibrahim explains "How Obama Enabled the Persecution of Christians." Jihad Watch Director Robert Spencer focuses on "Obama's Enabling of Jihad and Stealth Jihad" in addition to his empowering of the monstrous terror group ISIS and his balance-of-power-altering nuclear deal with Iran. Journalist Joseph Klein exposes "Obamagate: The Coup Attempt Against President Trump" and makes the case for "Why Obama Should Have Been Impeached."
There is much more in Barack Obama's True Legacy. Award-winning journalist Matthew Vadum lays bare the damage Obama wreaked on America's border security. Author and former military intelligence analyst Stephen Coughlin details the "Muslim Brotherhood's Penetration of the US Under Obama." Clare Lopez, founding member of the Citizens' Commission on Benghazi, explicates Obama's "Benghazi Betrayal and the Brotherhood Link." Political analyst J.R. Nyquist shines a light into the dark corners of "Obama's Russia collusion."
No account of Barack Obama's legacy would be complete without addressing, as Freedom Center Shillman Fellow Daniel Greenfield puts it, his "enabling of racial strife and domestic terror." Though Obama surfed into the White House on a wave of hope that the nation's first black president would bring long-awaited racial healing and unity, Greenfield calls the intentional shattering of race relations in America under his watch "Obama's true enduring legacy."
"Before Obama," writes Greenfield, "71 percent of Americans had thought that relations between black and white people were generally good." A year after the Ferguson riots in 2014, "more than half the country thought relations were bad." It was the Obama administration that had "started the fires and then led the fire brigade, but instead of water, its hoses were filled with oil." Upon Obama's departure from office, Donald Trump inherited a country that wasn't healed but primed for an even more heated racial conflagration.
"But Obama wasn't done once he finally left the White House," writes Joseph Klein in his essay about the Radical-in-Chief's "Post-Presidential War on America." Klein details how the ex-President went on to spread disinformation in an attempt to delegitimize his successor Trump, to foment generational war by nurturing "the next generation of community-organizing Obama mini-mes," to discredit Fox News – the only mainstream cable outlet that leaned right – and to turn Netflix into his own private propaganda mill, all while hypocritically amassing a personal fortune that contradicted his socialist assertion, "At a certain point, you've made enough money."
Obama's corrosive impact wasn't limited to our shores. On an international level, for example, Daniel Greenfield addresses, in "Obama's Betrayal of Israel," the breakdown in relations between the United States and our close ally in the Middle East. That alliance fractured thanks to a "total divergence of worldviews" – "moral, cultural, and strategic" – between Obama and Biden on the one hand, and Benjamin Netanyahu on the other. "Previous administrations had viewed Islamic terrorists and the Iranian regime as threats. The Obama administration, however, saw them as victims of American foreign policy… Obama believed that Israel, like America, and other allies in the region, was part of the problem."
And our current administration, of course, shares and perpetuates that anti-Israel perspective. The result is that the entire volatile Middle East is once again a tinderbox, even as that administration exacerbates tensions in other parts of the world too, such as Ukraine, where we risk tumbling headlong into a world war that could have been averted had Donald Trump been elected in 2020.
But the chaos is all part of the plan. As Robert Spencer reminds us in his epilogue to Barack Obama's True Legacy, Obama was photographed in 2008 clutching a copy of Fareed Zakaria's book The Post-American World, a finger keeping his place in the pages. Spencer writes,
Zakaria's book predicting America's inevitable decline turned out to be a veritable blueprint for Obama's presidency. Throughout his eight years in office, as this present book abundantly illustrates, Obama seemed determined to make Zakaria's "post-American world" a self-fulfilling prophecy. Obama went to work from his first day in office to make Zakaria's wishful thinking about America's decline become a reality.
Now, in his de facto third term, the shadowy radical continues to exert his subversive influence on the Constitution, the citizens, and the country he is committed to destroying. Barack Obama's True Legacy could not be a timelier and more important read. As Spencer concludes,
This book stands as a warning and as a primer on just how devastating Obamaism was for the United States and will be again unless vigilant, courageous, and patriotic American citizens stand, determined to employ all lawful means to defend freedom.