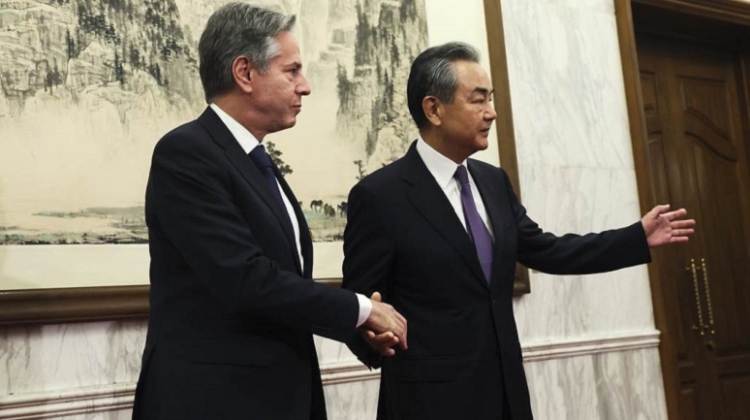 After President Joe Biden met last week with Wang Yi, the foreign minister of the People's Republic of China, the PRC's Ministry of Foreign Affairs posted a statement and a photo on its website.
The photo showed Biden shaking hands with Wang.
"Biden asked Wang Yi to extend his greetings to President Xi Jinping and expounded on the position that the U.S. values its relations with China," said the PRC's statement.
It also mentioned that Wang had met with Secretary of State Antony Blinken and National Security Adviser Jake Sullivan.
The State Department posted a video and transcript of the public statements Blinken and Wang made as they commenced their discussions.
"In China-U.S. relations, from time to time there will be some jarring voices," Wang said, according to the State Department transcript. "When it happens, China treats it calmly because we are of the view what is right and what is wrong is not determined by who has the stronger arm or a louder voice, but if one behaves in a way that is consistent with the provisions of the three China-U.S. joint communiques, consistent with international law and basic norms of international relations, and consistent with the climate of the times.
"We are confident," said Wang, "that at the end of the day, facts will (inaudible) everything and history will give its fair verdict. And I want to again thank Secretary Blinken for my (inaudible). I'm sure that our discussion will be constructive and forward-looking."
Blinken then reached out and shook Wang's hand and — as he continued to hold Wang's hand — said: "I agree with what the foreign minister said."
After Wang met with Sullivan, the White House posted a statement.
"National Security Advisor Sullivan and Director Wang had candid, constructive, and substantive discussions on key issues in the U.S.-China bilateral relationship, the Israel-Hamas conflict, Russia's war against Ukraine, and cross-Strait issues, among other topics," said this statement.
"The two sides reaffirmed their desire to maintain this strategic channel of communication and to pursue additional high-level diplomacy, including working together towards a meeting between President Biden and President Xi Jinping in San Francisco in November," it said.
Neither the State Department transcript of the Blinken-Wang presentation nor the White House statement about Sullivan's meeting with Wang mentioned anything about the genocide the State Department says the Chinese regime is committing against the Uyghur people.
As this column has noted before, then-Secretary of State Mike Pompeo issued a statement on Jan. 19, 2021, declaring that the PRC was committing this genocide. At Blinken's confirmation hearing held that same day in the Senate Foreign Relations Committee, Sen. Lindsey Graham asked Blinken: "Secretary Pompeo designated the Chinese Communist Party as having engaged in genocide regarding the Uyghur Muslim population. Do you agree with that designation?"
"That would be my judgment as well," Blinken said.
"You do agree?" said Graham.
"Yes," said Blinken.
In December 2021, when Congress passed the Uyghur Forced Labor Prevention Act (that "imposes importation limits on goods produced using forced labor in China, especially in the Xinjiang Autonomous Region"), then-White House Press Secretary Jen Psaki issued a statement saying the PRC must be held accountable for genocide.
"We agree with Congress that action can and must be taken to hold the People's Republic of China accountable for genocide and human rights abuses and to address forced labor in Xinjiang," said Psaki.
When Biden signed this bill, Blinken issued a statement saying: "President Biden today signed the Uyghur Forced Labor Prevention Act, underscoring the United States' commitment to combatting forced labor, including in the context of the ongoing genocide in Xinjiang."
Each of the State Department's annual Country Reports on Human Rights in China since 2020 have said: "Genocide and crimes against humanity occurred during the year against the predominantly Muslim Uyghurs and other ethnic and religious minority groups in Xinjiang."
PRC Foreign Minister Wang, with whom Biden and Blinken shook hands last week, has denied that the PRC is committing this genocide.
At a March 2021 press conference in Beijing, according to a Reuter's report cited by the BBC, Wang said: "The so-called 'genocide' in Xinjiang is ridiculously absurd. It is a rumor with ulterior motives and a complete lie."
In April 2021, Wang spoke via video to a meeting of the Council on Foreign Relations. "The claims of so-called genocide or forced labor are pure lies driven by political motives," said Wang, according to a transcript posted by CFR.
A statement the White House released last week after Biden met with Wang said nothing about the Uyghurs or genocide.
The president "underscored that the United States and China must work together to address global challenges," it said.
When Biden met with PRC President Xi Jinping in Bali, Indonesia, in November 2022, a White House statement published after the meeting did say Biden "raised concerns about PRC practices in Xinjiang." But it did not mention genocide.
"President Biden raised concerns about PRC practices in Xinjiang, Tibet and Hong Kong, and human rights more broadly," said the statement.
At a press conference in Bali that day, Biden said: "I just met in person with Xi Jinping of the People's Republic of China. … We had an open and candid conversation about our intentions and our priorities."
But at this press conference, according to the White House transcript, Biden made no mention of Xinjiang, the Uyghurs or genocide.
CBS News that day published a photo of Biden shaking hands with Xi in Bali.
This week, the White House confirmed that Biden will meet with Xi in San Francisco later this month during the Asia-Pacific Economic Cooperation summit.
What message is the Biden administration sending the world?
It is this: If you are one of the leaders of a regime the Biden administration declares is committing genocide, President Biden will still meet with you and shake your hand.