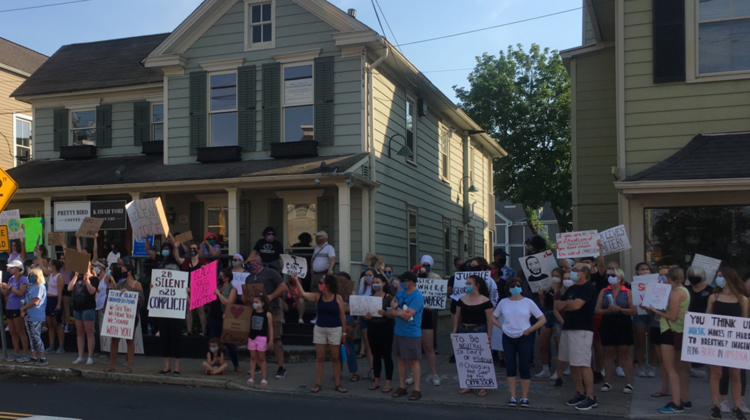 Yardley Borough is a small river town in Bucks County, Pennsylvania located on the Delaware river across from Trenton, the capital of New Jersey. The town has a total area of one square mile and according to the last census has a population of 2,434 of which 2,224 are white. It is known for its beautiful historical district that includes 18th and 19th century buildings that contain homes, shops, restaurants, and offices on Main Street. It is the site of the second oldest Quaker meeting house in Pennsylvania. Quakers were significantly active in the abolition movement against slavery and Yardley was an essential station for the Underground Railroad. In the past few weeks, it has become the unlikely scene of Black Lives Matter protests.
On June 19th in the guise of a Juneteenth celebration a Black Lives Matter anti-police hate fest descended upon Main Street surrounding people at outdoor restaurants and blocking traffic. Protesters were chanting "No Justice No Peace, No Racist Police" in front of local officers whom many have known their whole lives. The protesters were predominantly high school and college students and self-loathing affluent white middle-aged women attempting to show how woke they are. Many brought their children and grandchildren who held handmade signs with popular BLM and anti-police slogans.
A previous rally was held on June 4, 2020 and over a thousand people showed up. At that protest Black Lives Matter activists led a humiliation ritual in which the white townsfolk bowed down to BLM organizers in a solemn prayer like vigil. They somberly repeated the names of black men who were described as killed by the police. They also engaged in gestures and slogans such as "Hands Up Don't Shoot" and "Say His Name". Thoughts of Jonestown and other cults were running through my mind as I watched men and women willingly debase themselves. Many of the white women genuinely feel guilty about their privilege because they never worked a day in their life. Kneeling in submission while reverently repeating anti-police affirmations and apologizing for being white was a form of expiation, an atonement ritual. For these spoiled hypocritical women, the BLM protest was a method for them to assuage their guilt for having black women clean their toilets and take care of their elderly parents. The largest part of the crowd were high school and college students who have been taught to hate their country, schooled in revisionist history, made to feel shame for being white and conditioned to disrespect the police.
These men, women and students are the result of years of indoctrination by academia, the media, radical Marxist and black nationalist organizations whose primary strategy is to make white people, corporations and the entire next generation feel guilty for their 'white privilege'. BLM's goal is power, money and a totalitarian revolution. It may be one of the biggest shake downs in American history.
The BLM organizers stood in front of the small Yardley Borough Municipal Hall that houses the towns offices, post office, police department and public meeting room. Although the protests were along the entire length of Main Street, they chose to make their stand in front of the town Hall to symbolically challenge local government. It was there that BLM organizers led the humiliation ritual where white townsfolk kneeled before them. They seemed to take pleasure in degrading the white residents of Yardley. Who is oppressing whom? The submissive town folk bowing to them had the blissful look that all brainwashed useful idiots have right up until they realize they have been conned.
Although Yardley was a longtime Republican town it now has a largely Democrat town council with one independent. The new Council President is an activist with no roots in the community and ambitions to fundamentally transform the town that was founded in 1682. In his short time on council he introduced and passed a gun control resolution, an LGBT ordinance, took a moment of silence against police violence and recently made Juneteenth a recognized holiday. The Vice President of Council is a young millennial mom whose primary accomplishment is virtue signaling. She often publicly apologizes for her white privilege, but it is just a pretense for her political ambitions. She posted after the protest that "I weep with my black brothers and sisters for the systemic and institutional racism that has infiltrated and consumed our communities, our governments, our police forces and our very souls. Yesterday was a day of mourning in Yardley Boro for all the lives gone too soon because of racism. It was a day to reflect, as an elected official, how I can do better to be fair and compassionate, balanced and inclusive."…… "To use the platform and privilege of our affluent town to elevate the voices of the oppressed."
After the first BLM demonstration the town council complimented each other on how the peaceful protest went, they neglected to disclose that a 12 year old girl wearing a Trump t-shirt was harassed and a small group of counter protesters were spit on. While the town council sugarcoats the anti-police hatred and racist rhetoric that occurred at the protests, they have gone out of their way to cover up anti-Semitic hate crimes in Yardley even though the only school in the small town is a private Hebrew Academy.
While the council embraced the Black Lives Matter protests Covid-19 was used as an excuse to cancel the three biggest annual events in the small community. They canceled the Memorial Day Parade, a long tradition that honors local veterans where neighbors make floats, veterans are honored, and kids ride their bikes at the end of the procession. The same day they voted to make Juneteenth a recognized Yardley Holiday the annual longtime September tradition of Harvest Day was canceled. The October 2020 Yardley Beer and Wine Fest was also canceled. The symbolism was clear we are canceling your culture, your history and your traditions and replacing them with the holidays that Black Lives Matter dictate. If the message of BLM fascism wasn't clear enough, in front of the Memorial Plaque on the Municipal Hall that lists the names of the towns fallen soldiers someone wrote in large letters BLM and Blacks killed by Cops then wrote names including George Floyd, Mike Brown, Trayvon Martin and many more. This was an obvious mockery of the memorial to the towns fallen heroes who died in WWI and WWII. Soon these plaques will either be vandalized or just removed by the town council who will declare them symbols of racism.
Knowing that residents were not happy after the first protest, the town council deliberately did not officially inform any of the businesses or residents of the second protest. However, the Chief of Police who understands how thin the blue line is that separates chaos and order, put into effect crowd control protocols. Almost every officer in town and over a dozen from nearby communities and a Major Incident Response Team (MIRT) were on duty for the "Juneteenth Peaceful Protest For Justice". Fortunately, Yardley has a Chief of Police who understands how a protest can turn violent with just one brick. Unfortunately, when the Chief of Police was asked at a council meeting if any tickets were given when the BLM protesters blocked Main Street, a major State road, he said "No violations were issued, you cannot ticket a thousand people". Not surprising since Yardley Borough Council votes on his contract which expires the end of next year.
Business owners who just reopened after the Covid 19 lock downs closed their shops and stood in front of their stores guarding them from potential looters. One restaurant owner had to cordon off his sidewalk tables with caution tape to protect his customers from the crowds. A long-time Yardley friendly couple that regularly sit on their front porch on Main Street were visibly armed as the protesters marched in front of their home. There are a lot of residents who are not happy about having an anti-police hate fest walking down Main Street blocking a state road and forcing businesses to close.
One of the saddest sights were the faces of the young people who are ashamed of their country and have been so thoroughly indoctrinated into believing that police are racist. Ironically, Washington's Crossing is just four miles up the road from Yardley and although they were raised here, they have no concept of their own country's history or how men younger than them fought and died for their freedom. Their teachers, parents and community leaders have failed them by filling their hearts with hatred and lies. BLM exploits the anger they inculcated and now have an army of deluded young white activists who they are using to destroy their own futures. The few bright students that see through the lies are bullied and ridiculed into silence.
Soon after the protests residents started taking down their American flags and putting up Black Lives Matter signs on their lawns. This is either the result of fear of being ostracized, a deterrence against looting or just virtue signaling in actual support. This is what a cultural revolution looks like, a small towns history is eradicated, town leaders sell out, useful idiots bow down, cowards acquiesce and the few patriots that are left load their weapons. In the spirit of Yardley's original brave abolitionists local officers continue to protect our freedoms even when they are being called racists and killers.
* * *
Photo credits: Dawn Perlmutter