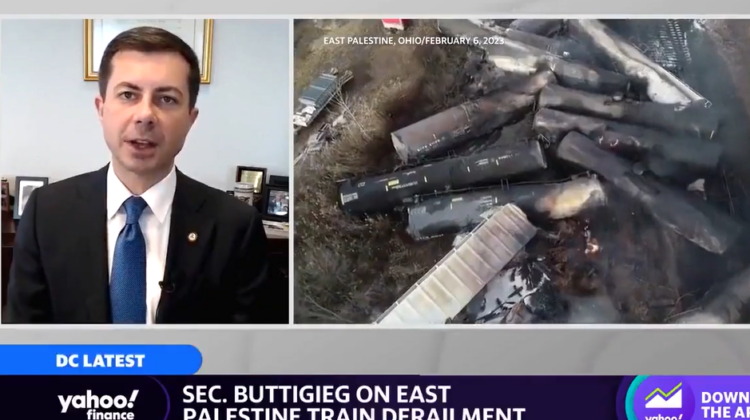 Pete Buttigieg has been asleep at the switch ever since he became Secretary of the Department of Transportation.
Secretary Buttigieg was nowhere to be seen during the height of the supply chain crisis in 2021.
Secretary Buttigieg went abroad to vacation in Portuguese wine country as an impending rail strike loomed last year.
Secretary Buttigieg delivered only talking points during the airlines' holiday season meltdown last December as thousands of passengers were impacted by mass flight cancellations and delays. And he offered excuses but no solutions when the antiquated computer system operated by the Federal Aviation Administration (FAA), which is part of the Department of Transportation, suffered a serious outage last month. This outage resulted in a nationwide ground stop, the first on that scale since 9/11.
"This is an incredibly complex system," Buttigieg said. "So glitches or complications happen all the time." He described the nationwide outage as a "really important data point at a really important moment to understand what we're going to need moving forward."  
Then, after doing nothing of substance to resolve each of the crises at hand, Secretary Buttigieg moves on to mishandle the next crisis.
This is where we are now after a Norfolk Southern Railway train carrying hazardous materials derailed near East Palestine, Ohio on February 3rd. Toxic gases released into the atmosphere following a "controlled" fire meant to head off a huge explosion have sickened some residents of the town, killed animals, and produced a noxious odor. Carcinogenic chemicals have leaked into the soil and water, posing long-term health risks to people living and working in the East Palestine area.
Secretary Buttigieg's bureaucratic language showed not an ounce of genuine human empathy towards the people of East Palestine who are going through a terrifying ordeal.
To make matters worse, on February 16th, three days after this tweet, Secretary Buttigieg sought to downplay the significance of the East Palestine rail derailment in the broader scheme of things. "There's clearly more that needs to be done because while this horrible situation has gotten a particularly high amount of attention, there are roughly one thousand cases a year of a train derailing," Secretary Buttigieg said in an interview with Yahoo! Finance. "Rail safety is something that has evolved a lot over the years but there's clearly more than needs to be done," Buttigieg declared.
This sounds much like what Secretary Buttigieg said after the FAA computer outage and nationwide ground stop. Such things happen all the time and should be regarded as a learning experience demonstrating that more needs to be done. But Buttigieg is at a loss for words as to exactly what that should be, much less come up with an effective action plan.
Residents anxious about their health and the continued habitability of East Palestine attended a February 15th town hall meeting to get some real answers, not platitudes. They wanted accountability for what happened and timely help from all appropriate government agencies at the local, state, and federal levels. 
Republican Rep. Bill Johnson, who represents East Palestine, invited Secretary Buttigieg to attend the February15th town hall meeting and hear for himself what the residents have been dealing with since the derailment. He tweeted, "I'll save a seat for you. It's past time you hear the concerns of residents affected by the train derailment. @USDOT."
Secretary Buttigieg was a no-show.
"Where's Pete Buttigieg? Where's he at?" one frustrated attendee asked Mayor Trent Conaway. "I don't know. Your guess is as good as me," Mayor Conaway responded.
For its part, Norfolk Southern Railway refused to send any representatives to the town hall meeting, citing security concerns. The company received criticism for being afraid to face angry residents demanding that the company take accountability for the train derailing and pledge to all residents and businesses harmed by the toxic aftereffects that they would be fully compensated.
Realizing that relations with the community could have been handled better, Alan Shaw, Norfolk Southern Corporation's president and CEO, personally stepped in, attempting to avert a complete public relations disaster.
First, Mr. Shaw issued an "open letter" to the residents of East Palestine the day after the town hall meeting. He promised in his letter that "we are here and will stay here for as long as it takes to ensure your safety and to help East Palestine recover and thrive." To that end, Mr. Shaw said that his company "established a $1 million community support fund as a down payment on our commitment to help rebuild." 
Mr. Shaw's letter, no doubt carefully scrubbed by the company's lawyers, lacked any admission of direct responsibility for the derailment and release of the toxic chemicals. Moreover, Mr. Shaw did not commit to set up a 9/11 style long-term victim compensation fund for those who develop cancer or other life-threatening diseases down the road because of their exposure to the toxic chemicals. 
We'll see. Actions speak louder than words. But at least Mr. Shaw showed up in East Palestine, even if for the purpose of saving face. Secretary Buttigieg, on the other hand, still has not paid a visit to East Palestine. 
When asked on February 16th whether he would go to East Palestine to observe things firsthand, Secretary Buttigieg replied that he hoped he would have a chance to do so. Nothing is stopping him except for his own inertia.
As Secretary of the Department of Transportation, Mr. Buttigieg should have been on the ground in East Palestine from the get-go. He should have been leading the Department's investigation into what happened, speaking face-to-face with government officials onsite, and meeting with members of the community, instead of hiding behind bureaucratese. 
Secretary Buttigieg could have even met face-to-face with Mr. Shaw in East Palestine on February 18th. He could have used that opportunity to elicit concrete, long-term commitments from the company to compensate the local residents and businesses for all their healthcare costs and economic losses resulting from the disaster as well as for their pain and suffering. But Secretary Buttigieg was missing in action.
The Transportation Secretary managed to find the time last year to meet in Washington, D.C. with Mr. Shaw, as well as Norfolk Southern Corporation's Chief Legal Officer Nabanita Chaterjee Nag, under much pleasanter circumstances. Buttigieg even posed for a photograph with them. Shaw proudly posted the photo on LinkedIn. But a trip to East Palestine to meet with Mr. Shaw on February 18th to discuss the train derailment crisis face-to-face was apparently too much to ask. 
Instead of taking ownership of the problem, Secretary Buttigieg has pointed fingers elsewhere, spreading misinformation regarding the cause of the February 3rd train derailment. 
Secretary Buttigieg blamed the Trump administration for withdrawing a Department of Transportation rule previously put into effect by the Obama administration that would have required safer electronically controlled pneumatic (ECP) brakes. But it turns out that Buttigieg either lied or was badly misinformed about whether the ECP brake rule would have made any difference in the case of the train derailment in East Palestine.
Jennifer Homendy, the head of the National Transportation Safety Board (NTSB), corrected Buttigieg's misstatement and warned against "misleading a suffering community." She tweeted that "even if the rule had gone into effect, this train wouldn't have had ECP brakes" because the train would not have been covered by the rule.
"The ECP braking rule would've applied ONLY to HIGH HAZARD FLAMMABLE TRAINS. The train that derailed in East Palestine was a MIXED FREIGHT TRAIN," Ms. Homendy explained. Secretary Buttigieg did not even do some basic homework before putting out false information.

Pete Buttigieg believes that he has more important things to do as Secretary of Transportation than working to improve the quality, modernization, and safety of America's air, rail, and highway systems. For instance, Secretary Buttigieg's Department of Transportation released an Equity Action Plan
in which it stated that "equity is a core part of the Department's mission" to overcome "years of systemically racist transportation decisions which have been left unresolved." 
Pete Buttigieg also puts green energy and environmental "justice" at the top of his list of priorities. He is ignoring transportation crises to focus on the Biden administration's green and equity agendas. 
The Department of Transportation announced that its "Strategic Plan identifies climate and sustainability as a top priority in the coming years."  To assure the social justice warriors that it meant business, the Department made clear that it "is working hard to build a transportation system that mitigates the greenhouse gas emissions that cause climate change, is resilient to the impacts of climate change, and advances climate and environmental justice."
Pete Buttigieg's mishandling of his Department of Transportation's response to the East Palestine train derailment crisis was the last straw for Florida's Republican Senator Marc Rubio. He wrote a letter to President Biden urging the president to request Secretary Pete Buttigieg's resignation.
"For two years, Secretary Buttigieg downplayed and ignored crisis after crisis, while prioritizing topics of little relevance to our nation's transportation system," Senator Rubio wrote. "It is painfully clear to the American people that Secretary Buttigieg has little regard for the duties of the Secretary of Transportation. At no time has that been more apparent than the past two weeks. Secretary Buttigieg refused to acknowledge the disaster in East Palestine, Ohio, until his intentional ignorance was no longer tenable. Even after acknowledging the tragedy, he continues to deflect any accountability for the safety of our nation's rail system."
Senator Rubio added that he does not have confidence that "Secretary Buttigieg is capable of keeping the American people safe." Neither should the American people.