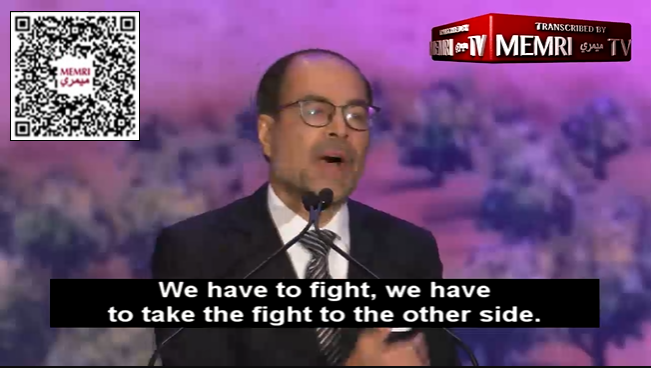 CAIR issued a press release in which CAIR Executive Director Nihad Awad claimed to be "deeply disturbed and shocked by the dehumanizing comments that President Biden made about the almost 7,000 Palestinians slaughtered by the Israeli government over the past two weeks."
Awad understandably didn't quote the Biden statement he was condemning.
Biden questioned the fake casualty numbers being put out by Hamas, stating that "I have no confidence in the number that the Palestinians are using" and "I have no notion that the Palestinians are telling the truth about how many people are killed. I'm sure innocents have been killed, and it's a price of waging a war."
By 'Palestinians', Biden is referring to the Hamas ruling power in Gaza. CAIR is condemning Biden for questioning Hamas.
Nihad Awad, who has a history of supporting Islamic terrorists, including Hamas, responded to the atrocities committed by the Islamic terror group by reaffirming his old positions.
CAIR founder and executive director Nihad Awad responded to the Hamas attacks by posting, "a unique Palestinian day. Never say 'impossible.'" And Awad reacted to Biden's speech condemning those atrocities by posting, "there is no moral equivalence between the occupied and the occupier. You must condemn the occupier not the occupied."
A Hamas leader proposed trading some of the hostages for "Hamas members sentenced for life in the U.S" which appears to include a CAIR figure.
So it's the same old CAIR.
CAIR was founded in 1994 by Nihad Awad and Omar Ahmad. Awad had been the President of the Islamic Association of Palestine (IAP), and Ahmad its Public Relations Director. The IAP, which was shut down by the government in 2005 for funding terrorism, was founded in 1981 by a Hamas operative, Mousa Abu Marzook. Marzook currently heads Hamas's "political bureau," and is engaged in negotiations with Fatah in hopes of forming a Palestinian unity government.
The Hamas lobby in the United States is making it ever more obvious what it is even as politicians continue to pander to it.