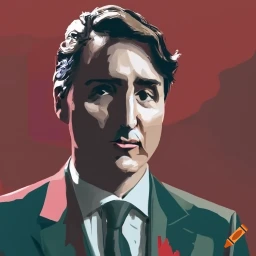 International meetings are an opportunity for random world leaders (if we take "world" and "leaders" liberally) to run into each other, get photos taken, and randomly berate each other over foreign issues they don't understand.
And since Canada's blackface fascist leader doesn't understand most issues (but at least he doesn't understand them in two languages) he was as welcome in Hiroshima's G7 meeting as the original bomb.
Canadian Prime Minister Justin Trudeau called out Italian leader Giorgia Meloni's stance on LGBTQ+ rights in a meeting Friday on the margins of the G7 summit in Hiroshima, Japan.

"Obviously, Canada is concerned about some of the (positions) that Italy is taking in terms of LGBT rights," Trudeau told Meloni, who was visibly annoyed, according to multiple media outlets.

"But I look forward to talking with you about that," he added before the start of the meeting.
PM Meloni might have expressed some concerns about Canada's lack of rights for truckers, opponents of mandatory vaccination, and anyone who disagrees with the state. It wasn't all that long ago that Canada's blackface fascist leader decided to crack down on political dissent by illegally imposing martial law.
Surely some of those folks targeted by blackface's blackshirts might have even been gay.
Trudeau's comments echo domestic critics of Meloni, who accuse her right-wing government of seizing on issues like LGBTQ+ rights and migration to stoke divisions.
Whereas leftists hate division so much that they like to unify countries by invoking martial law and locking up their opponents. That's a tactic that Trudeau probably learned from his dad over in Havana.