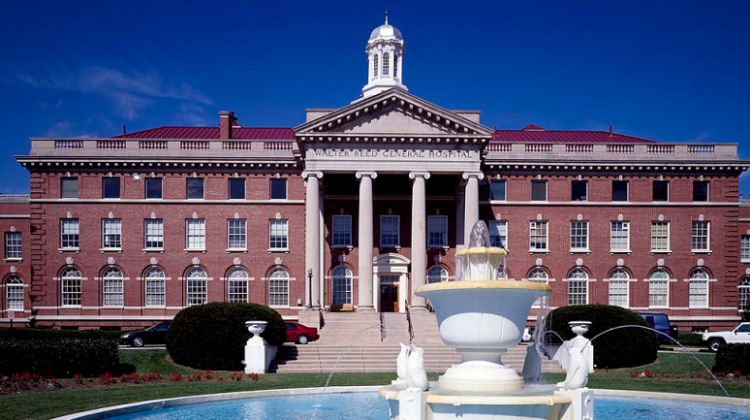 Catholic priests who minister at Walter Reed National Military Medical Center were issued a "cease and desist order" just before Holy Week.
I warned you that a day was fast-approaching when people who follow the teachings of Jesus Christ would be shunned from the public marketplace. That's why I wrote "Culture Jihad: How to Stop the Left From Killing a Nation."
In a statement on Saturday, Walter Reed said the center is a "welcoming and healing environment that honors and supports a full range of religious, spiritual, and cultural needs."
The Holy Name College Friary had been providing priests to the hospital for nearly two decades, according to the Catholic Archdiocese for the Military Services.
"It is incomprehensible that essential pastoral care is taken away from the sick and the aged when it was so readily available," Archbishop Timothy Broglio said in a statement. "This is a classic case where the adage 'if it is not broken, do not fix it' applies."
The White House needs to explain why a Catholic president would banish Catholic priests from a military hospital just before Holy Week.
"Especially, during Holy Week, the lack of adequate Catholic pastoral care causes untold and irreparable harm to Catholics who are hospitalized and therefore a captive population whose religious rights the government has a constitutional duty to provide for and protect," the diocese said.
The medical center is reportedly going to replace the priests with a government-approved, for-profit contractor to provide Catholic ministry. In other words, don't be surprised if Ray Epps or his cronies at the FBI are sporting clerical collars and hearing your confessions.
"The refusal to provide adequate pastoral care while awarding a contract for Catholic ministry to a for-profit company that has no way of providing Catholic priests to the medical center is a glaring violation of service members' and veterans' Right to the Free Exercise of Religion," the archdiocese said.
Rep. Mary Miller (R-IL) condemned the Biden administration's decision.
"Priests and pastors guided our troops through the darkest days of our toughest battles," she wrote on Twitter. "The Biden Admin chose Easter weekend to kick Catholic priests out of Walter Reed, violating their First Amendment right to free exercise of religion. The House will not allow this to stand."
Rep. Marjorie Taylor Greene slammed the administration, calling the decision "embarrassing and wrong."
"This is another attack on the church, and this time, directed at our military," Greene wrote on Twitter.
I'm a Baptist and I'm proud to stand alongside Catholic patriots as they are being targeted.
It's imperative for every freedom-loving person of faith in America to rise up and condemn this blatant anti-Catholic bigotry.
And I hope you will remember on Election Day that Catholic President Joe Biden denied hospitalized military veterans access to Catholic priests during Holy Week.