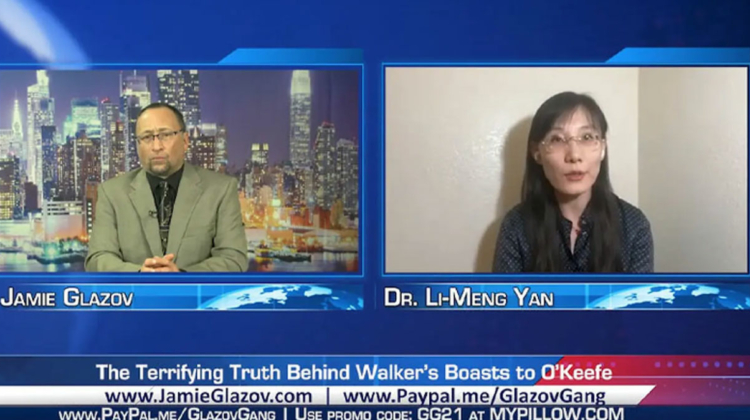 [Show your support for Mike Lindell and The Glazov Gang by using this link for MyPillow and save up to 65% on all your purchases!]
Follow us on our Rumble Channel and on JamieGlazov.com, Twitter: @jamieglazov, GETTR: @jglazov, Parler: @Jamieglazov11, Gab: @jglazov and Facebook.
Please donate via our Pay Pal account.
This new Glazov Gang episode features Dr. Li-Meng Yan, a Virologist, Whistleblower and Defector from China.
Dr. Yan discusses Pfizer's Jordon Walker and the terrifying truth behind his boasts to James O'Keefe about making profits by manipulating Covid variants and vaccines. She reveals What the Chinese Communist Party has been up to for a very long time.  
Don't miss it!

And make sure to watch our Special 10-Part Series on The Hidden Agenda Behind the "Pandemic".
[1] Dr. Li-Meng Yan: 'China's Weaponization of Covid-19' – China's terrifying agenda in the 'Pandemic'.
[2] Dr. Paul Kengor: Getting the Vax, Wearing the Mask – Out of Terror of Losing "Progressive Acceptance.
[3] Marc Morano: The Great Reset and The Green Fraud – Exposing the global elites' pernicious agenda.
[4] Dr. Paul Alexander: Presidential Takedown – How Anthony Fauci, the CDC, NIH, and the WHO conspired to overthrow President Trump.
[5] Leo Hohmann: 'SMART Cities' Converting into Concentration Camps.
[6] Naomi Wolf: The Vax's War on Human Intimacy and Survival – The injection's assault on human love.
[7] Dr. Naomi Wolf: The Vax's Crippling of Human Sexual Organs – How medical experts are exposing the globalists' vicious assault on human reproduction.
[8] Patrick Wood: The Globalists' Take-down of Humanity Via Technocracy – A harrowing glimpse at the global elitists' plan to rip the world apart and rule it. 
[9] Dr. Vladimir Zelenko: The Globalists' Transhumanist Agenda.
Subscribe to JamieGlazov.com.