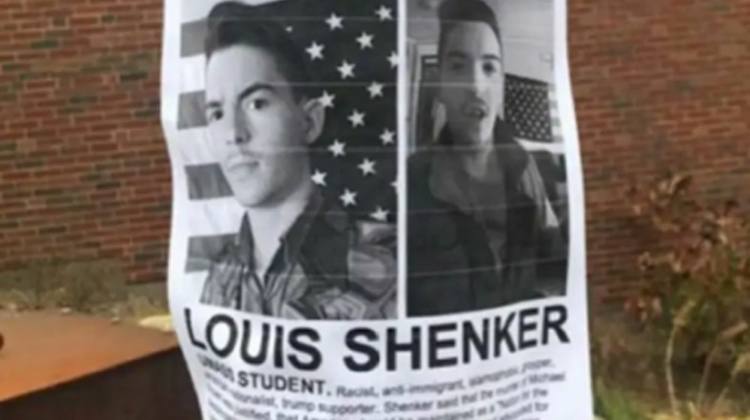 Louis Shenker, a 21-year-old junior at the University of Massachusetts, Amherst, just wanted his MAGA hat back from the graduate student who ripped it off his head on campus. He wore the hat to a
December 6, 2018 protest
organized by the university's graduate student union against Trump and local police.
Video shows
that when Louis, who is 5'6'' and 140 pounds, arrived wearing the MAGA hat and holding a large sign, he was immediately surrounded by a hostile mob of older grad students cursing at him and calling him a white supremacist. A woman lunged from the mob and snatched Louis's MAGA hat. Careful not to get caught on camera hitting Louis with their hands, they instead mobbed him like a colony of enraged penguins, using their bodies to push him from all sides, occasionally pecking at his head with their cardboard signs, and chanting in unison: "THE PEOPLE, UNITED, WILL NEVER BE DEFEATED."
"Get the f**k out of here, you shouldn't be in an anti-racist march!" screamed the hat thief. A soft-spoken professor in the crowd warned Louis: "It's actually dangerous for you to come by yourself like that." As the protesters began to march and Louis tried to keep up while pleading for his hat, many of them, including several graduate student union members dressed in United Auto Workers gear, elbowed Louis into walls, lampposts, and other obstacles. "You act like a Nazi, you're going to get treated like a Nazi," a female protester yelled at the Jewish grandson of Holocaust victims. Louis left without his hat.
A month later, Louis was horrified to recognize the woman who stole his MAGA hat as Beth Peller, a 36-year-old grad student who would be teaching his mandatory freshman writing class. Louis could not change his schedule, so he shaved his head and mustache, prayed that she would not recognize him, and wrote the essays she assigned with the correct leftist opinions she all but demanded. Beth regaled her students with war stories about her time organizing violent anarchist movements, but never recognized the seemingly complaisant student as her victim from the protest. Louis got an A.
On November 12, 2019, Louis found himself sitting behind Beth Peller at an anti-Israel event, called Criminalizing Dissent, organized by the head of his university's communications department, Professor Sut Jhally. Featuring Linda Sarsour and terrorism supporter Omar Barghouti, who was skyped in from Ramallah, the event promoted the anti-Semitic Boycott, Divestment, and Sanctions (BDS) movement against Israel. The university's chancellor criticized the conference, warning that it "could very well alienate many of our Jewish students," but did nothing to stop it.
A proud Zionist Jew, Louis let university police know that he planned to challenge the speakers at an appropriate moment. Just before he stood up in protest, he put on his new "Keep America Great" hat, and Beth, who had been smiling at him until then, looked at him with the shock of realization. He told her he knew who she was — that she was the person who had stolen his MAGA hat, and that he still wants it back. He made his brief protest, thanked the police for letting him do it, and left.
Louis soon learned that he had poked an entire hive of leftists at Amherst and the surrounding Hampshire County. With help from two lawyers, one of whom is active with the anti-Zionist group Jewish Voice for Peace, Beth filed a sworn affidavit in district court in Northampton, MA. The affidavit falsely alleged that Louis is a "self-avowed white nationalist who "intended to inflame violence" against her; that Louis was "whispering threats in [her] ear" at the BDS event; and that Louis had "talked about guns and decapitating small animals with his hands" while in her class. Based on these fantasies, a judge issued an Abuse and Harassment Prevention Order against Louis, which directed him not to contact her. It was served on Louis that night, while he was having Shabbat dinner at his synagogue.
Louis took to Twitter to complain about what happened to him, and Peller immediately went to the Northampton Police Department (NPD) to file another false affidavit alleging that Louis had threatened her life on Twitter. NPD self-identifies as a "progressive" police agency and Peller's attorneys, who practice criminal law in Northampton, have a lot of influence there. Although the tweets that Peller showed the Northampton cops were not directed at her and did not contain any violent threats, the police filed a criminal complaint against Louis for violating the order anyway. He was arrested in the parking lot of his synagogue, spent two nights in jail, and was released under a gag order forbidding him to post about Beth, the order, or UMass on social media.
The court imposed no gag on Beth and her supporters. And so when Louis returned to school, he found the campus plastered with 200-300 posters of his face framed by big block letters: "ALERT! WHITE SUPREMACIST LOUIS SHENKER." UMass Amherst social media were buzzing with photos of the posters taken at various places around the campus. "[W]atch out for this pussy ass b*tch," read one caption on Snapchat, "if you see him smack the dogsh*t out him." Perhaps not coincidentally, one of the tires on Louis's car got slashed the night before his first court date, making him late.
The incitement against Louis continued. An attorney for Beth Peller drafted an online petition that called on the UMass Amherst administration "to take protective action to protect the campus from Shenker — including expulsion and a no-trespass order." The petition remains open. To date, 480 professors from across the country, including Cornel West and Judith Butler and at least ten professors from Louis's own university, together with prominent BDS activists like Linda Sarsour and Pink Floyd's Roger Waters, have signed on to the Soviet-style denunciation. So have at least 645 "students, workers, and staff" at UMass and other schools.
Meanwhile, according to Beth Peller, Northampton police were trying to have Louis rearrested on stalking charges, so that he could be jailed as a dangerous person pending trial. By this time, we had the order against Louis vacated for lack of evidence, but the local district attorney's office insisted on prosecuting Louis for the alleged violation anyway. Before we also got this charge dismissed for lack of probable cause, the government tried three times to have Louis's bail revoked. Within minutes of the order's being vacated, however, Peller's attorney applied for another one on the same basis. That application was denied, as was a third attempt, supported by a fifth fabricated affidavit. Peller's lawyers also filed an application for a criminal stalking complaint against Louis, which was similarly denied for lack of probable cause.
Beth Peller has just filed an appeal against Louis. She has also contacted the FBI, which is seeking to interview him about the matter. Meanwhile, Louis has been forced off campus by violent threats, could not take his exams, and will not be able to attend classes this term. He has been constructively expelled and deprived of his education.
In its policy against discrimination and harassment, UMass Amherst talks a big game about protecting its students' rights to free speech. Any student or teacher "who acts to deny, deprive or limit the educational, employment, residential and/or social access, benefits, and/or opportunities of any member of the campus community" due to "political belief or affiliation" will be disciplined. "When brought to the attention of the University, the University will take actions appropriately to respond to, stop, remedy, and prevent the reoccurrence of any such discrimination."
UMass Amherst has broken this promise to Louis. We have repeatedly filed grievances on his behalf against Peller and her co-actors and have been met with stony silence. Instead, Louis has been notified that the university is investigating another complaint — by Peller against him.
Louis' ordeal is a glimpse of the far left's "cancel culture" as it pushes the Overton Window on free speech from Twitter bans to outright criminalization of dissent. We believe that more malicious prosecutions like Louis's are likely; brought, at first, in progressive enclaves like Northampton where the far left holds real political power. Much as occurred in the Jim Crow South, authorities in such places are increasingly choosing to enforce their political ideology instead of the rule of law entrusted to them. The American left these days is unable to accept defeat under fair rules of play, whether in elections or in judicial proceedings. To avoid defeat, leftists will continue searching for ways to criminalize dissent. Indeed, Beth Peller's attorney argued to the court in Northampton that defamation and offensive speech can and should be criminalized. This is a dangerous trend, and is becoming one of the major civil rights issues of our time.
Attorneys Karen D. Hurvitz and Ilya I. Feoktistov represent Louis Shenker. Attorney Hurvitz devotes her practice to fighting anti-Semitism in K-12 and higher education. Attorney Feoktistov is the Executive Director of Americans for Peace and Tolerance.