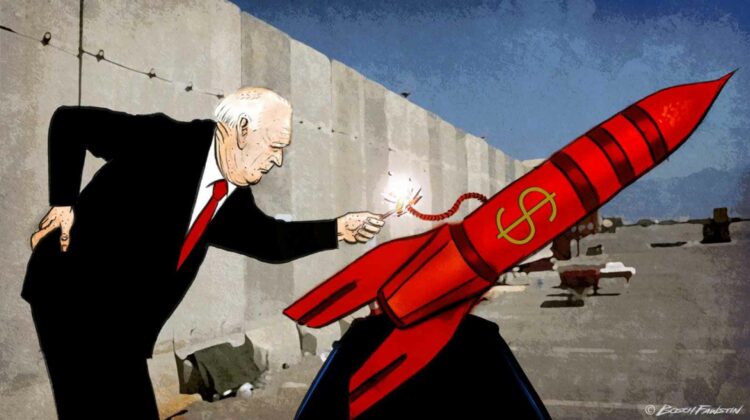 Daniel Greenfield, a Shillman Journalism Fellow at the Freedom Center, is an investigative journalist and writer focusing on the radical Left and Islamic terrorism.
When the Biden administration colluded with the South Korean government to free up billions in Iranian assets early last year, the move may have had serious consequences in Israel.
Later in 2021, Hamas launched 4,300 rockets at targets across Israel, including Jerusalem and Tel Aviv, hitting a synagogue, and killing 13 people, including 2 children.
Now the Islamic terror group is at it again.
Hamas boss Ismail Haniyeh recently revealed to Al Jazeera that its terror campaign would not have been possible without the $70 million provided by Iran to fund its war machine.
The Hamas leader described the rocket attacks that took place in the spring of last year as a "rehearsal for the liberation of the Palestinian territories from the occupation".
That's code for the destruction of Israel.
As Hamas once again renews its rocket attacks, including two that landed near Tel Aviv, it's impossible to understand the actions of the terrorist group without looking toward Tehran.
The Muslim Brotherhood's weapons capabilities are almost entirely dependent on Iran.
Iran either supplies or funds most of the arsenal deployed by Hamas. Two years ago, Hezbollah leader Hassan Nasrallah boasted that, "Most of the weapons, missiles and facilities that Palestinian resistance groups have in Gaza are supplied by Iran's Islamic Revolutionary Guard Corps' Quds Force." What isn't smuggled into Gaza, is manufactured locally with Iranian cash.
While the size of Iran's payments to Hamas have been the subject of various estimates over the years, the local Al Quds paper claimed that Iran had reinstated funding after a split partly caused by Hamas' refusal to back Assad over its Muslim Brotherhood cousins in Syria, but also likely due to economic problems caused by U.S. sanctions on the Shiite Islamic terror state.
Al Quds claimed that Iran would now be providing $15 million annually to Hamas. That was significantly down from the estimated $50 to $100 million at the peak of the alliance. (An anonymous Israeli source has claimed that the payments are actually much higher.)
If the $70 million number is correct, then Iran significantly ramped up its funding to Hamas, and sanctions relief would have provided Tehran with a ready source of funding to redirect to terror.
With Hamas rockets costing between several hundred and several thousand dollars, depending on their range and capabilities, millions of dollars can go a long way to fund a massive arsenal. Most of the rockets may be dumb unguided weapons, but much like shooting off a gun in a crowded room, firing off thousands of rockets in a tiny country ensures they will hit something.
While Iranian funding would not have immediately produced an instant arsenal, the infusion of cash would have allowed Hamas to feel confident about blowing a third of its rockets on a new war against Israel. Money is fungible and the combination of new cash and assurances of steady future funding, especially under a loose sanctions climate maintained by a friendly Biden administration, incentivized Hamas to launch its latest war of terror against the Jewish State.
Hamas used its spring 2021 campaign to demonstrate that it could more than double its fire rate and continue its barrage even in the face of Israeli air strikes. Its latest attacks are likewise a demonstration, meant not so much for Jerusalem as for its state sponsors in Doha and Tehran.
The boasts to Al Jazeera can and should be seen as a pitch to terror investors by Hamas, promising a final campaign to destroy Israel if the money shows up. Islamic terror groups operate much like NGOs, showing off their impact in order to solicit donations. Every suicide bombing and shooting is also a fundraising gimmick. A miniature war is the equivalent of a telethon and Iran, flush with billions in sanctions relief, was happy to sign a very big check.
What Iran seeks is the destruction of Israel. Haniyeh is promising that Hamas can deliver.
The billions in sanctions relief that Iran received through South Korea would be negligible compared to the $120 billion in sanctions relief currently on the table. While $70 million to Hamas is an impressive sum, it's estimated that Iran spends $1 billion on international terrorism.
A renewal of the hoax nuclear deal with the Islamic terror state would mean a lot more discretionary income to spend on terrorism, not just against Israel, but also against America.
British journalist Jake Wallis Simons noted that, "US negotiators amazed international partners by tabling a proposal that was so generous that the Iranians had to rub their eyes to believe it." That's saying quite a bit considering that the original deal had been an Obama product. But Biden's history with the Iran lobbymakes his Iran policies even worse than those of Obama.
And it's not just the money.
A key element in Iran's terror network is the Islamic Revolutionary Guard Corps. The Trump administration sanctioned the IRGC as a foreign terrorist organization. That has made it much harder for the IRGC to function as a regional command and control center for Islamic terrorism.
In 2007, Joe Biden became one of only 22 senators to vote against designating the Iranian Revolutionary Guard Corps as a terrorist organization. Biden was so proud of his IRGC vote that he used it to attack Hillary Clinton and Barack Obama for being insufficiently pro-Iran.
The IRGC's false flag election disinformation campaign during the 2020 election appeared to be meant to help Biden. Considering Biden's history of opposition to sanctioning the IRGC, any deal with Iran would almost certainly remove its terrorist designation. Indeed one of the first regional actions of the Biden administration was removing the terrorist designation from the Houthis, Iran's sponsored terror group in Yemen, whose motto includes, "Death to America".
"The next American administration will surrender to the Iranian nation," Iran's President Hassan Rouhani boasted after the election. That prediction appears to be coming true.
During the election, Iran made its bet on Biden, and Hamas appears to have done the same.
Hamas leaders have calculated that the division created by the Syrian Civil War with the Muslim Brotherhood and Al Qaeda fighting Assad and Hezbollah is now ancient history. And that the Biden administration will provide sanctions relief and reduce pressure on IRGC operations.
The latest Hamas rocket attacks remind us that sanctions relief doesn't bring peace, only war.