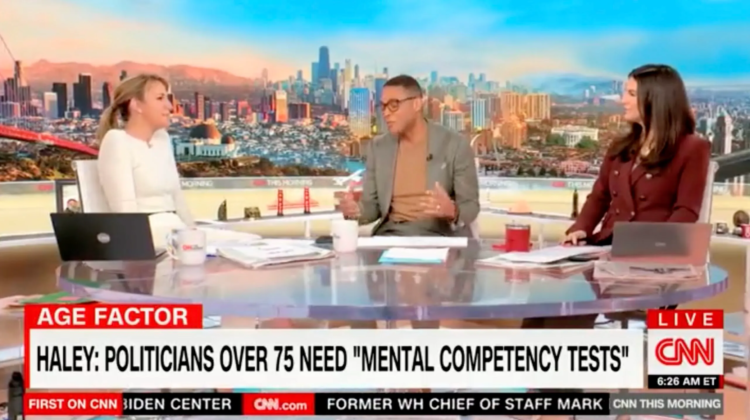 Last Thursday CNN's recently demoted Don Lemon stirred up the "offense"-Stasi among his own comrades, and provoked a snowflake-storm on social media. Responding to Nikki Haley's announcement that she is running for the Republican nomination for president in 2024, Lemon said of the 51-year-old, "A woman is considered to be in their prime in their 20s and 30s and maybe 40s," citing Google as a source, which clearly means reproduction prime.
A bipartisan uproar ensued. Conservatives like Ben Shapiro and Erik Erikson were (I hope) enjoying some schadenfreude roused by a long-time political enemy's being hoist with his own "woke" petard. But reinforcing hypersensitive reactions to insults of public figures is a bad idea. Conservatives of all people should be wary of implying that there are limits on free expression because of someone's subjective, juvenile, or irrational threshold of offense. Look at what catering to snowflakes has done to comedy.
Indeed, from the beginning of political free speech 2500 years ago, being offended or insulted has been one of the costs of living in a diverse, free society in which citizens have a constitutional right to speak their minds no matter how vulgar, dishonest, or insulting their speech. We still haven't seen anything like the crude sexual insults the Greeks and Romans indulged in their formal public orations and political speeches. Greek comedies, as classicist K.J. Dover wrote, regularly called prominent politicians, sometimes by name, "ugly, diseased, prostituted perverts, the sons of whores by foreigners who bribed their way into citizenship."
In Rome too, insulting political leaders, frequently with sexual slurs, was another way of holding them accountable and reminding them that the Roman people were as much free citizens as they. Caesar's enemies called him the "queen of Bithynia," based on rumors that he had been the homosexual lover of that country's king Nicomedes. Even during Caesar's Triumph celebrating the conquest of Gaul, the highest honor a Roman general could win, his soldiers marching with his chariot called him the "bald adulterer" and sang bawdy songs alluding to the old rumor about Nicomedes.
American politics from its beginnings was similarly free to indulge insults and lurid sexual rumors. During the bitter 1800 campaign for president, a newspaper editor whom Thomas Jefferson hired to smear his rival John Adams as a "hideous hermaphroditical character," later called Jefferson a "mean-spirited, low-lived fellow, the son of a half-breed Indian squaw, sired by a Virginia mulatto father." Abraham Lincoln, among many other grotesque insults, was the "missing link" and the "original gorilla."
Subsequent American history has been filled with brutal political speech of the sort we now decry as "insensitive," "hurtful," or "hate speech." There were jingles about Warren G. Harding's illegitimate daughter, rumors that FDR was scheming to become a dictator, and caricatures of "Tricky Dick" Nixon as a used-car salesman. Ronald Reagan was mocked as an "amiable dunce," Bill Clinton nicknamed "Slick Willy," George W. Bush regularly slandered as "Bushitler," and of course there were endless invective and charges of "treason" and "collusion" heaped on Donald Trump. And every Republican and conservative politician is serially called "racist."
In short, American political speech has always used vile insult and personal attacks in partisan disputes over power and policy. Compared to that heritage, saying Nikki Haley is past her womanly prime is pretty tame.
Larger cultural trends have brought us to this level of missish obsessions over hurt feelings far beyond political speech. Most important has been the rise of identity politics predicated on victimhood. "Sensitivity" to, and validation of feelings hurt by historical oppression and racist "dog whistles" are the highest good, and the premier virtue-signal. This weaponization of victimhood, moreover, is imperialistic, demanding that everyone, every figure of authority, every social and political institution should all publicly confirm and cater to subjective and often arbitrary grievances and the ever-expanding number of victims.
The problem is, as Charles Sykes––one of those once "noble minds o'er thrown" by Trump Derangement Syndrome––wrote 30 years ago, "[O]ne must be attuned to the feelings of others and adapt oneself to the kaleidoscopic shades of grievance, injury, and ego that make up the subjective sensibilities of the 'victim.' Everyone must now accommodate themselves to the sensitivities of the self, whose power is based not on force or even shared ideology but on changeable and perhaps arbitrary and exaggerated 'feeling.'" Free speech necessarily is threatened by formal or informal enforcement of violations of this new illiberal code.
Given the social and political power that can be leveraged by officially recognized victims, it's no surprise that the categories of victims, and the "offenses" against their feelings, have proliferated far beyond the Constitutional protections of their rights, person, and property to which they are entitled as citizens.
The most absurd is the deference and solicitude demanded for "transgender" people, especially preteens and adolescents who are too young and immature to decide on such an extreme, life-changing, and permanent alteration of their bodies, based on a cultural fad amplified by social media––and validated by medical professionals and grammar school counselors.
So we see demands that biological males, even sex offenders, be allowed to enter female restrooms, locker rooms, and prisons, and to compete against biological females in sports––surely the most egregious social reductio ad absurdum ever. Pronouns chosen to represent trans identity have multiplied, along with the scores of exotic or just bizarre new "genders." And students, teachers, and employees are dragooned into "seminars" and "training" to become "sensitive" and "woke."
Anyone questioning these claims and remedies, moreover, will find his First Amendment rights and often his job "cancelled." Even the ultra "woke" New York Times was recently widely attacked for gingerly reporting on some of the malign consequences of sex-change treatments and operations. As the New York Post, put it, "At first glance, the allegations seem preposterous, even a joke. After all, the paper's coverage of transgenders is generally so fawning that it feels as if it belongs to a cult. Exhibit A was a gushy November profile under this headline: "For Ghana's Only Openly Transgender Musician, Every Day Is Dangerous."
Again, 30 years ago Sykes, and many others, warned us about the malign consequence of elevating transient, subjective feelings into social and cultural arbiters: "Once feelings are established as the barometer of acceptable behavior, speech (and, extension, thought) becomes only as free as the most sensitive group wil permit." And it infantilizes people, leaving them dependent on government patrons who champion their immaturity and leverage it for political power. This results in what the Founders feared and sought to avoid in the Constitution––the tyranny of the minority.
Finally, as writers from Thucydides to George Orwell have pointed out, language is debased, hostage to the "feelings" of victims, and words have to change their meaning and take on new ones, as Thucydides wrote about the political and cultural breakdown that followed the civil war in Corcyra.
This assault on language has been on-going for more than half a century, with words replaced by soothing euphemisms, what historian Russell Jacoby calls "linguistic smile-buttons." Thus plain-speaking and accuracy are sacrificed on the altar of sensitivity. Physical conditions such as being blind or lame or deaf, are now euphemized as "differently abled," as if those handicaps didn't seriously limit people's lives, though never compromising the individual's humanity, worth, or broader potential.
And as we've seen with the trans pronoun wars, changing the language is a potent weapon for political factions, even tiny ones like the trans lobby. Making people speak and use words as you want them to is a way to validate an ideology and gain political traction. We had a perfect example of this phenomenon during the Supreme Court confirmation hearings for Ketanji Brown Jackson. Pressed by a Senator to define the word "woman," this product of the prestigious Harvard Law School, no doubt calculating the risk of offending her "woke" allies, finally said, "I am not a biologist," as though one must have a professional degree to give a definition of a word that even an illiterate knows.
Finally, this obsession with feeling and "hurtful" language is a one-way street, confirming that in the end,  it's all about politics, ideology, and power. The exquisitely calibrated avoidance of offense is not required when speaking of Republicans, conservatives, straight white males, or observant Christians. Then the "woke" let fly insults, bigotry, and lies with gusto, as evidenced by the relentless invective against Donald Trump, and the incessant use of insulting words like "racist," "white supremacy," "toxic masculinity," and numerous others.
So what? Conservatives should be the grown-ups in the room, realists who know life is unfair and that "feelings" aren't worth a hill of beans in this crazy world. We should never validate the cult of sensitivity by chastising the "woke" for their insults and hateful rhetoric. We should just rub their noses in their blatant ignorance and hypocrisy  We also certainly shouldn't confirm the cult of sensitivity by whining about the "politics of personal destruction" and "lack of decorum" that have characterized political speech since ancient Athens. And we need to stop misusing ideological markers like "racist" or "gender" that these days are political weapons.
The progressive, now "woke" Left for decades has been winning the culture wars because too many conservatives are afraid to get their hands dirty or get called mean names, a restraint seldom if ever showed by progressives. Rather, we need to start fighting back harder if we want to keep our Constitutional Republic and unalienable rights.