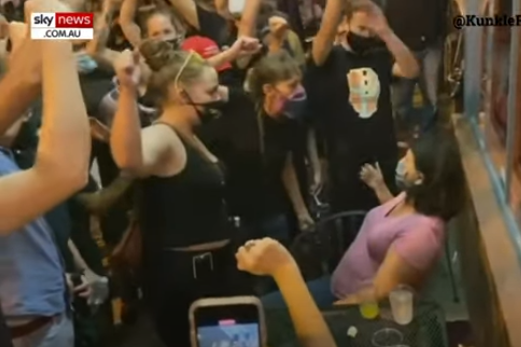 The thing about hypothetical scenarios is that they work best if they stay hypothetical.
The House sergeant at arms, who was the head of the D.C. National Guard during the attack on the Capitol, told the Jan. 6 committee that the law enforcement response would have looked much different had the rioters been Black Americans.

"I'm African American. Child of the sixties. I think it would have been a vastly different response if those were African Americans trying to breach the Capitol," William J. Walker told congressional investigators, in an interview transcript released Tuesday.

"You know, as a law enforcement officer, there were — I saw enough to where I would have probably been using deadly force," he said. "I think it would have been more bloodshed if the composition would have been different."
This isn't a hypothetical because we actually saw what happened when Black Lives Matter race rioters attacked the White House and D.C. sites, including setting fire to the Church of the Presidents.
What was Walker's response to that?
Walker said that National Guard troops were not involved in using force to clear Lafayette Park Monday night… saying that National Guard personnel held their positions and did not advance on the protesters and emphasizing that National Guard personnel are stationed in order to minimize their interactions with protesters.

"They held the line, they never advanced on the crowd," Walker said.

Asked whether the low overflights were directed by the Pentagon leadership, Walker said they were not, saying the incident is under investigation.

"I have a Joint Task Force Commander, a general that serves under me, and he had the aircraft in the air. I am not a pilot. So I don't know if that was the, if they were too low. I don't know if they were too low. Here is what I can tell you, a full investigation is underway right now. It is going to be thorough, it is going to be comprehensive," he said.
Pilots were later sanctioned for flying low over the vicious hate-filled racist mobs out to terrorize Americans.
Military brass who walked with Trump to the vandalized church quickly apologized and launch racial purges within their service branches.
The FBI did little to intercept and arrest the racist BLM thugs.
And Walker emphasized how unwilling he was to do his job in the face of the race rioters. Where was all the bloodshed that he claimed would have happened?
So yes, the response would have been very different if BLM racists had been penetrating the Capitol.
Everyone would have been obligated to take a knee, raise a fist, chant BLM's racist slogan and anyone who objected would have been canceled and then arrested.
Instead of calling it an "insurrection", it would have been described as an "uprising" or "civil unrest" and the media would have contextualized it within the latest police shooting of a junkie thug and the entire history of slavery.
We know that's what would have happened because that is what did happen.