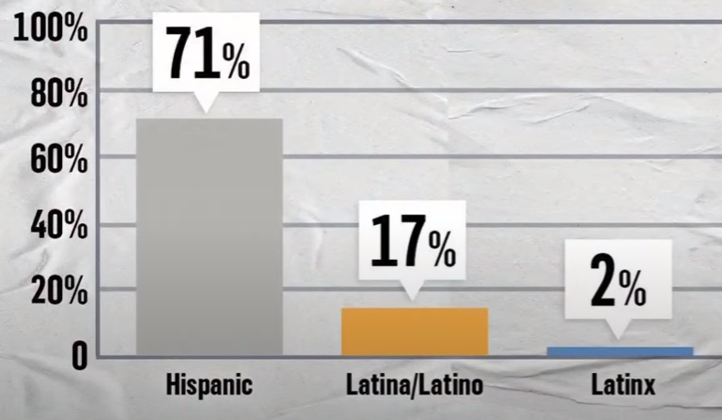 (Screenshot of different poll showing Latino identification above)
When Gov. DeSantis joined the fun by flying migrants to Martha's Vineyard, earning even greater outrage and consternation from the elites than busing migrants to NYC or D.C., the chattering classes claimed that he would alienate Florida Hispanics, many of them Cubans and now Venezuelans.
Exactly the opposite has happened.
Florida's Hispanic voters back Gov. Ron DeSantis over Democrat Charlie Crist, and they even support the Republican's decision to fly migrants to Martha's Vineyard, according to a new Telemundo/LX News poll.
Telemundo polls don't exactly have a 'right-wing bias'. And the survey shows DeSantis beating Crist among Latinos. That spells doom for his campaign and for Florida Democrats.
Overall, DeSantis leads Crist by 51% to 44% statewide among those voters, and 56% approve of the job the governor is doing, compared with 41% who don't, the survey conducted by Mason-Dixon Polling & Strategy, found.
But what's really interesting is that Hispanic voters aren't just supportive, they're more supportive of the migrant flights.
Amid all the controversy, Florida Hispanics side with the governor on the Martha's Vineyard flight, with 50% in favor and 43% opposed to the relocation, according to the poll. Independents joined Republicans in lending majority support to the governor on the issue while Democrats were opposed.

Support for DeSantis' migrant relocation move was strongest among Hispanic immigrants. Those born outside the United States favored the policy by 52% to 41%, according to the poll. Those born in the United States were almost equally divided, with 49% in favor and 45% opposed.
Strongest. Those were exactly the people whom Democrats and their media hoped to break away. Florida tends to reverse the usual Hispanic immigrant pattern where the native-born, especially third generation, are more likely to vote Republican than new immigrants.
But this is still big. And so the Democrats are doubling down on the "Racist White Hispanics" strategy.
Helena Poleo, a Democratic strategist who immigrated to the U.S. from Venezuela two decades ago, said she wasn't surprised that so many Florida Latinos supported the Martha's Vineyard flight transporting Venezuelan migrants. She said that some fellow Venezuelan Americans backed DeSantis' effort because many of them have been here for a long time, are whiter and wealthier and don't identify with the poor darker-skinned migrants.

"The division of class and race was very marked in Venezuela, and they carried that here," Poleo said. "DeSantis knew what he was doing."
And what's really revealing is that Crist is barely even competing for the Latino vote.
DeSantis has run 10 times more TV ads in Spanish than Crist, who is trailing DeSantis overall in the polls and in total ad spending, and is at a huge financial disadvantage in the race. The governor's political and campaign committees have more than $92 million combined left in the bank; Crist has less than $1.8 million in his two accounts.

Crist's sole Spanish-language TV ad tracked by AdImpact features his running mate, Karla Hernandez-Mats, the president of the teachers union in Miami-Dade County, the state's most populous with the highest number of Hispanic residents. DeSantis' running mate, Lt. Gov. Jeannette Núñez, is also Hispanic and hails from Miami.

Núñez last week made a bold prediction that DeSantis would win Miami-Dade, which was once a Democratic stronghold. Democrats fear that the prediction might come true.
The tilt is overall driven by Cuban voters.
The Telemundo/LX News poll shows 72% of Cuban Americans favor DeSantis over Crist, who earns 22% of their support in the poll.

Voters with Puerto Rican roots — who tend to live in Central Florida, vote more Democratic and also may account for about a third of the Latino voter rolls, according to experts — back Crist over DeSantis by 59% to 37%. And other Hispanic voters from throughout Latin America also side with Crist over DeSantis by a narrower percentage, 53% to 43%.
The narrower percentage part is key. DeSantis has made inroads with a variety of Latino voters. Even Puerto Ricans, a solid Democrat constituency, who are culturally different from the other Latino demographics and who were expected to turn Florida blue, are still giving over a third of their votes to DeSantis. Compare that to Puerto Rican votes in New York City.
I don't know if there's a national model here, but it's still really impressive.