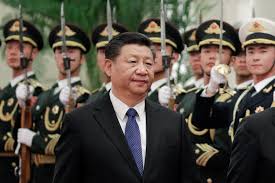 [Show your support for Mike Lindell and The Glazov Gang by using this link for MyPillow and save up to 65% on all your purchases!]
Follow us on our Rumble Channel and on JamieGlazov.com, Twitter: @jamieglazov, GETTR: @jglazov, Parler: @Jamieglazov11, Gab: @jglazov and Facebook.
Please donate via our Pay Pal account.
This new Glazov Gang episode features Dr. Li-Meng Yan, a Virologist, Whistleblower and Defector from China.
Dr. Yan discusses Leaked Audio Exposes China's War Plans, shedding light on a haunting 57-minute audio that was smuggled out of a Chinese Communist Party military meeting.
Don't miss it!
And make sure to watch our Special 10-Part Series on 'China's Threat and America's Fifth Column'.
[1] Dr. Li-Meng Yan: China's Infiltration of U.S. Border – Chinese military operatives crossing illegally across America's southern border.
[2] Dr. Li-Meng Yan: The Disturbing Purpose Behind China's 'Spy' Balloon – The Chinese Communist Party's real agenda.
[3] Dr. Li-Meng Yan: "My Husband Tried to Poison Me" – When even family members follow the diabolical orders of the Communist Party.
[4] Dr. Li-Meng Yan: Pfizer's Jordon Walker and the terrifying truth behind his boasts to James O'Keefe.
[5] Dr. Li-Meng Yan: 'China's Weaponization of Covid-19' – China's terrifying agenda in the 'Pandemic'.