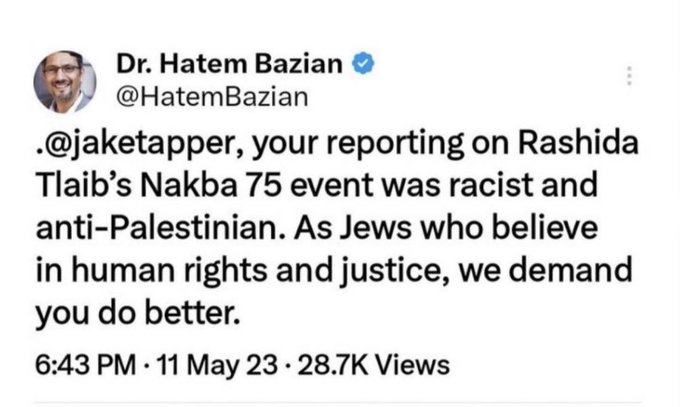 The DNA of campus antisemitism goes back to Hatem 'Hate'em' Bazian. Bazian is the co-founder of Students for Justice in Palestine and the one figure who did the most to kickstart the culture of campus hate.
Back in the 90's when Hatem was at San Francisco State University, he participated in an assault on the offices of the Golden Gater student newspaper accusing it of being full of Jewish spies. Jewish students had complained about anti-Semitic behavior by Bazian, in his role as student body president, and his campaign against Hillel, the leading Jewish campus organization, was a direct attempt to disenfranchise Jewish students.

The SJP organization allowed Hatem an even larger platform for his violent bigotry. In April 2002, seventy-nine members of SJP attempted to disrupt a Holocaust Remembrance Day event and were arrested. At a rally to protest their arrests, Bazian said, "take a look at the type of names on the building around campus – Haas, Zellerbach – and decide who controls this university."

SJP's conference in 2001 was sponsored by a Hamas front group with the American head of Islamic Jihad as its keynote speaker. Bazian would later serve as the representative for KindHearts, another Hamas front group. And true to its MSA roots, the SJP Berkeley site describes Hamas as "a vast social organization" which "also has a militia established to fight Israeli troops in the occupied territories."
So it was a little surprising to see Hatem Bazian tweeting "As a Jew" critiques to CNN over Rep. Rashida Tlaib.
"As a Jew" has a long and low dishonest history in which leftists, who happen to be of Jewish ancestry or pretending to be, denounce Israel… "as a Jew".
It's hard to think of anyone less Jewish than Hatem Bazian, but there he was.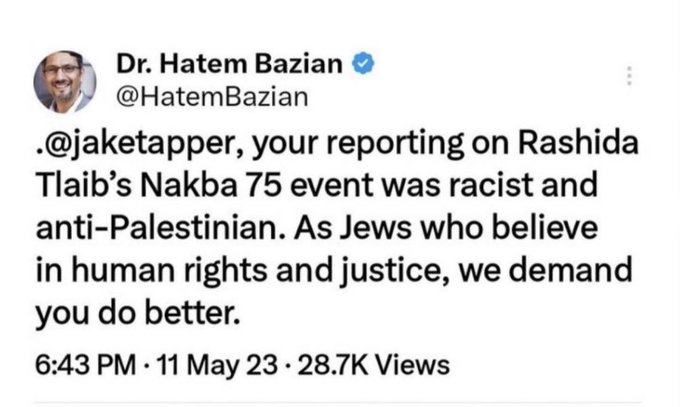 Bazian deleted his original Tweet and claimed that he was just broadcasting a message from leftist anti-Israel hate group calling itself Jewish Voice for Peace. Jewish critics have suggested that Bazian has access to the JVP Twitter account and writes some of its hateful messages.
Either way, "as a Jew" now has the Islamist godfather of campus antisemitism playing the same phony game. It's hard to think of any campus academic with a more sustained ugly history of antisemitism than Bazian. If he can play "as a Jew", who can't?