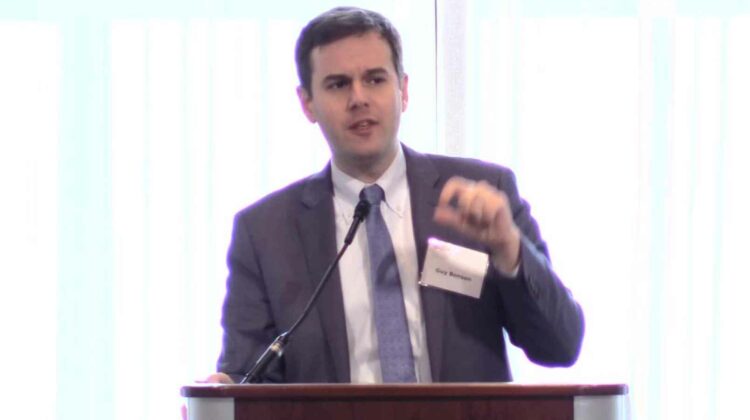 Fox News contributor and Townhall.com political editor Guy Benson spoke at the David Horowitz Freedom Center's 2021 Restoration Weekend, held Nov. 11th-14th at the Breakers Resort in Palm Beach, Florida. He addressed Republican election victories in 2021, Republican prospects in 2022 and much more. Check it out below. A transcript follows.
Transcript:
I bring you greetings and good tidings from the recently liberated Commonwealth of Virginia. [Applause] I want to talk this morning a little bit about what might be coming next year in Washington, or what might happen to Washington in next year's election. And I think the best way to do that and to endeavor to get to 2022 is to take just a moment to step back and look back to a week ago. I think we've earned a little bit of fun and last week had some very exciting developments in some elections.
And I want to start not in Virginia. I'll get there. Not in my home state of New Jersey. I'll get there as well, but a few other places. So, in Virginia you may recall Terry McAuliffe was the Democrat who was running. He had everyone come in to try to help him, including Barack Obama. Barack Obama, former President, you may remember him. He was very good at getting himself elected, not so good at helping other Democrats get elected. Right? They would send him everywhere — 2010, 2014. Didn't help. Same story in Virginia this year.
But there was one campaign stop in particular that really bothered me, where Obama said that all of the issues in the schools in Virginia were fake. These were made-up issues. They were phony, trumped up culture wars by the right-wing media. This is very condescending attitude, telling parents basically what you are seeing with your eyes, hearing with your ears, it's not really happening. It's these weird Fox News types who are telling you that it's happening.
That didn't go over well with a lot of people, not just in Virginia but elsewhere. I want to read to you briefly from the Washington Examiner. Quote: Conservative- and Republican-backed candidates won school board elections, victories all across the country against teachers'-union-backed candidates coast to coast, often in districts where debate over critical race theory had flared up or draconian school mask policies or other COVID-19-related restrictions, including shutdowns.
And they go through example after example in this piece. Douglas County, Colorado, Des Moines, Iowa, across the state of Pennsylvania, Texas. Parents in all of these states were told by the media repeatedly that their concerns were nonsense or invented. And then parents went and voted and Republicans swept in and conservatives swept in, school board member after school board member all across the country. I think a little ripple in 2021 nationwide of perhaps what we might see next year.
There are a few other examples. I mentioned Pennsylvania. There were statewide judicial races in the Keystone State. Republicans swept all of them. That is a crucial battleground state, as you recall. In Nassau County, New York — so that's Long Island, just outside — New York's in the house. Hello, Long Island. Nassau County is not a red county. It is a blue county. But here's what happened in their county-wide elections. It actually gives me great pleasure to quote the New York Times, because this must have been so disappointing for them to have to write and publish. But this is — they actually went and found the truth. Listen to this, from the New York Times: It wasn't the high taxes on Nassau County or the recent changes to New York's bail laws that drove Lizette Sonsini, a former Democrat, to vote Republican this year. Her reasons were more overarching. Quote: I don't like the President and the Democrats are spending too much money on things like infrastructure.
This is what she said, a 56-year-old woman. She said: Maybe if Democrats see how we're voting in these local elections they will see we are not happy with the way things are going.
Across the county, Democrats lost virtually every seat and witnessed an intense backlash on election day. [Applause] And what's interesting is, they write: Democratic leaders were swept from office by Republicans even though registered Democrats outnumber Republicans by 100,000 in Nassau County.
They quote a Democrat who was defeated, who was positioning herself as moderate, pro-police, pro-law enforcement, pro-business, not-socialist, that sort of thing. She said, quote: There was a wave. There's no doubt about it.
And she was caught up in it.
Now, this is also interesting. The Times went out to find these strange people who voted Republican and asked them why. In conversations with more than a dozen Nassau County voters this week, they cited their overall disapproval of the President, their distaste for vaccine mandates, their fear of funds being diverted away from the police, as factors in their decision to vote Republican. Concerns over Mr. Biden's handling of Israel also arose several times. People were quoted talking about Afghanistan and our shambolic, disgraceful abandonment of that country and leaving Americans behind. I know the smart set told us: No one's going to remember Afghanistan. No one's going to vote on Afghanistan. That's not going to move votes.
Well, in Nassau County, New York last week, it did move votes, because people saw that incompetence, they saw that betrayal. They weren't a fan of it. And they voted every Democrat that they could find out. I would keep reading from this New York Times' story but, if I do, I might get, like, Jeffrey Toobin level excited and — [laughter] — we don't want that, believe me. I'll stop. I think — I'm behind a podium, at least. [Laughter] Is that too early for that joke? [Laughter]
I think what's important about this, as you heard, Nassau County is not really a swing county. It's not right on the verge purple. It has 100,000 more Democrats than Republicans. And yet, this is what happened in that county. Think about what that might look like in genuine swing counties, purple counties, razor-edge counties next year.
Let's talk about New Jersey. So yesterday the Republican gubernatorial candidate, Jack Ciattarelli, conceded his race to Phil Murphy, the Democrat, although what's interesting is Murphy has just miraculously in the last few days started talking about easing COVID restrictions. It's almost as if he's been spooked by his own voters. Watching him speak on election night at what he thought was going to be a victory party, like, an easy blowout victory based on the polling, you could see fear in his eyes. I might actually lose. That was fun. I will admit it was fun to see fear in his eyes.
Joe Biden won New Jersey by 16 points. Murphy clung on by 2 to 3 points. Step back and think about that swing. You can do that math pretty easily. That is roughly a 13-point swing in the margin of Biden's victory margin to Murphy's. Extrapolate a 13-point swing elsewhere and it could be a very difficult night next November for the Democratic party. Now, it's not guaranteed, but that's a very significant shift, obviously.
One detail that I found fascinating out of New Jersey in that shift was how the Republicans gained so much ground in a very blue state. New Jersey is basically one giant suburb, is what it is. There's some cities there, but it's suburbs of Philly, suburbs of New York. You had heavily Republican counties turn out in massive numbers, like Ocean County just [swamped] New Jersey, Cape May. That is necessary for Republicans to do well statewide.
But a few other things had to break differently than they typically do. One example was in a county right next to my home county. I was from Bergen County, New Jersey. Right next door is Passaic County, New Jersey, which has a number of urban areas and a lot of Hispanic voters. In some of the most heavily Hispanic precincts in all of New Jersey there was a dramatic shift toward the Republicans among the Hispanics in Passaic. And that's not the only example of this phenomena.
Far away from New Jersey, in the State of Texas, on the same night there was a special election in a state legislative seat. A Biden-won district by 14 points, a comfortably Biden district in Texas, the Republicans flipped it last Tuesday night, to plus 2 or 3. [Applause] That's roughly a 15-point swing. Are we starting to see a pattern here? Here's what's interesting about that district. It wasn't just a Biden plus-14 district that the Democrats lost. It was a 74% Hispanic district. And a Latino Republican ran and won. That, I think, is probably another shiver down the spine at the DNC.
Now, all was not lost in New Jersey even though Murphy hung on. In the state legislature there were gains in both chambers. My favorite story by far is probably one that you may have heard of. It features a man named Edward Durr. Do we know Edward Durr? [Applause] Having grown up in New Jersey, I want you to understand what a big deal Steve Sweeney was. Was. Steve Sweeney was the Senate President in New Jersey. Before that he was labor leader. He was a fixture in New Jersey politics. He was one of the most powerful men in the entire state. And he was arguably the second most powerful Democrat in the state, behind the Governor. And no one had any possible idea, including him, that he was even in danger of losing.
And yet he did, to this man, Edward Durr, who — and he lost, by the way, by 4 points. It wasn't really that close. He lost by 4 percentage points to a truck driver who had never run for office before. Edward Durr, in one of his disclosure forms, financial disclosure forms, disclosed that in one element of the election he had spent $153 — not thousand, 153 dollars. One of the big line items was doughnuts. [Laughter] All in, his side spent about $10,000 on that race to unseat the President of the Senate in New Jersey. $10,000, I mean, that's nothing. Some of you probably sneeze and $10,000 comes out. [Laughter] And that won a New Jersey Senate race to unseat the Democratic leader of the Senate. I mean, this guy, with all respect to him, his lawn signs looked like they were designed in Microsoft Paint from 1993. This was a very low-frills campaign, and yet he won.
Sweeney was shellshocked by his loss. He refused to concede for a while. He came up with some story — oh, we found 12,000 new votes. That wasn't true. And, finally, he had to concede. And he gave a fairly gracious speech and he got off the stage. And a reporter asked him: What happened? And he looked just bewildered. He said: There was a red wave. He said: And we had huge turnout. This is part of what's so exciting about what happened there and also I'll get to Virginia in a moment.
Democrats often say — it's one of their mantras: When more people vote, we win. The Democrats believe that. Not in New Jersey this year, and in Virginia it was a record-shattering turnout and they lost. So I think their conventional wisdom that they had about themselves, their smugness and their arrogance may have been just pierced a little bit on Tuesday night. Now, Mr. Durr, for his part, has been saying hilarious things in interviews. So he was asked, for example: Well, you've never run for anything. You're totally unfamiliar with how Trenton works. How to you plan to govern, exactly?
And he said: Well, I admit I'm very inexperienced. I don't really know. I'll figure it out as I go along. But I couldn't possibly be worse than these people. [Applause] Fact check — true. [Laughter]
And then, two nights ago he was on Tucker and this was awesome. Tucker asked him about the concession call, because Sweeney called him up to say congratulations, good luck, represent South Jersey well, et cetera, et cetera. He said it was a very pleasant conversation. And then he said — at the very end of the interview he told Tucker, quote — and this is a direct quote: I just told him if he needed anything to just give me a call, because I'm his representative now. [Laughter, Applause] Fact check. True.
And Tucker completely lost it. Tucker was not ready for that answer. Tucker needed to, like, rein it back in he was laughing so hard. So that's Ed Durr.
So the other day I noticed after Durr had won, CNN was on in the studio. Have you heard of CNN, by the way? CNN, it's a little-known, cable news network. Based on the ratings it's kind of like the television equivalent of the witness protection program. Right? They do exist, though, I promise. And they went back and they dredged up a few old tweets from Ed Durr. And I'm not going to defend them. Several of them were definitely objectionable tweets. But also, the man was a truckdriver. Have you met truckdrivers? They are not necessarily overwhelmingly concerned about social graces. And the fact that this regular citizen tweeted some things — it wasn't really that big of a story and yet CNN tried to make it national news. Why? Not because of journalism, but because of revenge. Right? They were angry that this person had beaten their team and so they were going to try to exact some pain on the guy on his way, because they couldn't stop him. He had already won. Because they were a little late to the opposition research game on this one, so they decided to kind of hit him on the way to the state capital. And I felt — my number one reaction watching this whole segment, breathless segment, about old tweets from truckdriver Edward was — you know who could have used this research was probably Steve Sweeney, about three weeks ago. So bang-up job. You got to get better on the oppo research, CNN.
Last point on New Jersey. On election night itself last week, I was on with Brett and Martha on the Fox coverage. And they were, like: Hey, thank you for joining us. Do you have any special connection to either of these states? I said: Yes, I grew up in New Jersey and I live in Virginia. I'm your man. Let's do this.
And so, I was all excited and by that point in the evening it pretty much seemed like Virginia was in the bag and New Jersey was very much up in the air. I got off the air. I got back to the hotel. It's probably midnight at that point. I start — I'm watching the coverage. I'm doing some writing, some analysis for the next day. I get a phone call at 1:00 a.m. Like, who the hell is calling me at 1:00? It was Chris Christie. I was, like: Sure. Why not? So: Hi, Governor.
He hates Phil Murphy with just the fire of a thousand suns. So he was having the best night, maybe a beer or two. He was, like: Are you loving this? I'm, like: Sure, absolutely. And I asked him, because we got through — he's like: Look, there's a lot of — Essex's still out. There's a lot of Democratic votes still out. We'll see.
But I asked him: Governor, you know there are three or four Democrats in Congress who represent New Jersey in kind of swing districts. A few of them almost lost in 2018 and 2020. What do you think?
And I want to quote directly here and I apologize in advance for the language. He chuckled and he said, quote: Guy, I can name three or four New Jersey Democrats in Congress who are probably shitting bricks as we speak.
And I think that's probably right.
Okay, Virginia. I have lived in Virginia [applause] for 11 years and I have never once had the opportunity to vote for the winning statewide officeholder. So it was actually a great pleasure this time to vote for Glenn Youngkin and Winsome Sears and Jason Miyares. So he's a white guy. Right? She is a black immigrant woman Marine who ran a women's homeless shelter and Miyares, the Attorney General, is Hispanic, or as MSNBC would call it, the white supremacy ticket. [Laughter]
By the way, as bad as CNN has been, MSNBC on election night last week was a full-blown insane asylum. It was wild. And you know things are bad when Rachel Maddow is the most calm, cool and collected person. We're like: Okay, she's the voice of reason. What does that say about Joy Reid and Nicolle Wallace?
I can tell you firsthand, being sort of an adopted Virginian, that Glenn Youngkin ran a really good campaign. Terry McAuliffe in Northern Virginia screamed about Donald Trump and abortion for three months. It was just constant — Trump, abortion, Trump, abortion. And Glenn Youngkin did something wild. He talked about the economy, schools, government accountability and competence. And he won.
Quick story. I had drinks with someone the other night who lives in Virginia, in a blue part of Virginia, like I do. And he is more right-leaning. He was planning to vote for Youngkin. His wife, who is sort of center left, a teacher, and she wasn't sure what she was going to do in that election. And he didn't want to push her too hard, because he didn't want to, like, overplay the hand. He said she got awfully quiet in the days leading up to the election, which he thought was a good sign. And it was Monday night before the election, last Monday night, and he climbed into bed. And he told me, he said: Honey, I'm not going to say anything. I don't know what you're going to do tomorrow. It's totally up to you. I just want to let you know that Terry McAuliffe had his final rally of the campaign tonight and his featured speaker at his rally was Randi Weingarten, the head of the teachers' union.
And the next day his wife woke up, went to the polls and voted Republican up and down the ticket. [Applause] Nice move, Terry.
Virginia was a very heavy lift for Youngkin and the whole ticket. This was a Biden plus-10 state. He couldn't just do a little bit better. He had to do a lot better. Republican turnout was unbelievable, like, in the conservative, Trump MAGA counties, I mean, you had margins. Some of the margins were bigger than Trump margins, not raw numbers, but margins. The base turned out like crazy. But, in a state like Virginia, it's not enough. You have to do other things as well. And he did.
Loudoun County — you may have heard about Loudoun County and their huge education wars. Right? This was a Biden plus-25 county. Last week it was Biden plus-10, a shift of 15 points. Isn't that interesting? Across the entire Commonwealth of Virginia it went from Biden plus-10 to Youngkin plus-2 or 3, a 13-point shift toward the Republicans.
Let me come back to Hispanics. The Fox Newsletter analysis — that's our version of the exit polls — showed that Glenn Youngkin won Hispanics outright in Virginia. Now, the other network exit polling showed that McAuliffe had won Hispanics by about 20 points. So there's a very big gap there. Which is correct? I asked a guy called Sean Trende, who's very smart, RealClearPolitics. His job is to follow electoral trends and his actual last name is Trende. That is real. I refused to believe it, but it's somehow real. So I asked Sean about it and he ended up being — I say this with love — a total nerd. He's like: Let me tell you about precinct-level results.
And he thinks that, based on precinct-level results in places like Fairfax County, that Glenn Youngkin probably won somewhere in the low to mid-40s among Hispanics, which is a massive sea-change from recent elections. We also saw shifts in the red direction in heavily Asian precincts in Virginia. The game that the Democrats have been playing for years on identity might be faltering, which would be one of the best things to happen to this country in a very long time. [Applause]
Now, there were some reported quotes the other day from President Trump. He gave a talk to the NRCC about the mid-term elections. And one of the things that he said — you won't believe this — he took credit for the Republican win. So he's usually a very humble man and [laughter] he doesn't like to talk about himself. But in this case he made an exception. And he's like: I did. You're welcome. [Laughter] And it's so true. It's so true.
And what he said was, and this was reported, that Glenn Youngkin couldn't have won without him and couldn't have won without MAGA. Then I saw some sort of anti-Trump Republican types who were giving the exact opposite analysis, which was Glenn Youngkin proved that you don't need Trump and we can move on. And my analysis is neither one of these things is entirely true. It cannot be either/or. It has to be and. Because in a place like Virginia, a bluer area or a purple area, if you get — you need MAGA. You need Trump supporters and you need the base passionate to show up. If that didn't happen in Virginia, Terry McAuliffe is governor again. That's what happens. That's the truth. But, without bringing other people who are not necessarily hardcore folks into the fold, it's very hard to get the votes that you need to to go over the top and get over the top. So, to me, it's not either/or. It's and. And I hope the Republican Party, from my perspective, internalizes that and selects candidate, especially in swing areas, that can figure out how to strike that balance.
I want to close with a few notes ahead of 2022, which is sort of in the pamphlet here, what I was supposed to talk about. But I wanted to look backwards in order to look forward. Look, we've got a year to go. Events can shift, fortunes change. It's politics. We don't know what the environment is going to look like nationally in October, let's say, of '22. However, what we do know is we have a very unpopular President. We have somehow an even less popular Vice President. I sometimes wonder, is Kamala Harris too bad to be true? [Laughter]
You know, I saw Jimmy Kimmel. Jimmy Kimmel, you might know him. He's a Democratic strategist and part-time comedian. [Laughter] And he lost to Ted Cruz in basketball one on one, which is my favorite thing. He'll never live that down and he shouldn't. He also loses every night to Greg Gutfeld in the ratings. [Applause] We love Greg. We love Greg. What a little guy. We love him. We tease each other back and forth. But Jimmy Kimmel, the other night on his comedy show said: Oh, the reason that Kamala Harris' job approval rating is so low is because of racism and sexism. I was, like: Well, let's just think about this one, Jimmy. You started your career on a show called The Man Show, where you drank beer while women jumped on trampolines. So I don't know where that falls on the sexism scale. And you also famously wore blackface. So I don't know where that falls on the racism scale. But you do you, Jimmy. I'm glad that you know it when you see it, both of these things, apparently.
Also, pray tell, I seem to remember Kamala Harris ran for president as a Democrat in the primary and was so widely rejected by your side's voters that she didn't even make it to Iowa. She didn't get to a single state before they voted, she was that bad. So if there was sexism and racism in play, perhaps he should look inward. I also think that — my actual theory is that Jimmy Kimmel just has a soft spot for Kamala Harris because he's a comedian and she will literally laugh at anything. [Laughter]
So, in the suburbs — back to an actual serious point. In the suburbs — there's a new poll that I saw yesterday from Politico, really interesting. In January of 2021, so early this year, Republicans were down 5 on the economy. Same poll now, they are up 10 on the economy. That's a shift of 15 points. There's that number again. In the suburbs — so they broke out, they specifically polled suburban voters, who will be absolutely pivotal in '22. Republicans are now leading comfortably on the economy, on jobs, on immigration, on national security, even on guns. They're up double digits on gun rights in the suburbs, which is almost shocking. They are trailing only narrowly on bread-and-butter Democratic issues like education and healthcare. It is not looking good for Democrats at the moment in the suburbs.
I will say, as we think about next year, if that environment, if sort of the zeitgeist next fall is anything close to this, the Republicans will easily win the House and they will win the Senate. That will happen if the environment looks even remotely close to this [applause] — which it may not. Right? We don't know what it's going to look like.
Here's my final tidbit for you and it's a gift, again, from the New York Times. This is absolutely fascinating. And I was thinking of this last night when I was listening to Victor Davis Hansen, who is rightly decrying identity politics and tribalism and all of it. And I wanted to come back with a glimmer of hope, because it was very depressing. Because he's brilliant, right? And he knows what he's talking about. By the end of the speech I'm, like: What is the highest part of The Breakers so I can go there and jump because — [laughter] — this sounds very sad.
But here's a brief note that I think is hopeful. A left-wing organization partnered with a left-wing magazine and they hired a credible pollster to go out and figure out who are the swing voters. Low propensity, they turn out infrequently and when they do, they swing elections. Who are these people? And what came back was they tend to be working-class voters. They are disproportionately represented in Asian and Latino communities. Here is from the New York Times writeup. Quote: A central conclusion to this study is that infrequent voters are not a huge Democratic constituency just waiting to be inspired by a sufficiently progressive message. This is what the left believes. Right? Part of their myth on the left about themselves is: If we can just get these people to turn out, there's this silent left-wing majority just waiting to sweep us into power forever.
This data suggests that that is not true. And I think some of the outcomes last week also suggest that that is not true. And then what they did in the survey that I found just short of almost groundbreaking, was rather than doing traditional political polling with labels and what do you support, they instead offered all of these specific swing voters, infrequent swing voters, five different hypothetical candidates. So you have candidate 1, 2, 3, 4, 5. And they each of them a soundbite to then ask these voters: If you heard this soundbite from a candidate, would you be warmer toward this person or colder toward this person? Would you want to be more intrigued to vote for them or less?
So, of the five, three of them turned voters off, including the middle-ground moderate, turned these voters off. The woke progressive turned these voters off. And dead last was what they called a woke moderate. And this was the soundbite from this hypothetical candidate: Our unity is our strength. Our diversity is our power. For too long special interests have blocked critical progress in addressing systemic racism, climate change and access to affordable housing. We need creative leaders who will fight for our values, listen to the experts and make real change happen.
That message came in dead last among these voters, dead last. [Applause] I was, like, that sounds like the mission statement or like the new corporate mission statement of half of American corporations. Right? That's going to be Nike. Our strength is our value. Diversity and climate change — dead last. All right, so that's encouraging.
What were the two hypothetical candidates that actually turned voters on. One, and this is where conservatives need to pay attention, was a progressive populist with kind of a Bernie message about fairness and a rigged system. Conservatives need to be prepared to fight that messaging, because it is effective with these voters.
The only other message that moved voters in the pro direction, turned voters on to the candidate, was what the pollsters referred to internally as the Republican message. Here is the soundbite that turned on these swing voters. Quote: Freedom is under threat from radical socialists, arrogant liberals and dangerous foreign influences. End quote. That sounds like a message that David Horowitz might be familiar with. Yes? [Applause]
Thank you all so much for having me. So much fun. [Applause] And then, I'm told we have a few minutes for questions. [Applause]
Questions & Answers:
Unidentified Speaker #1: We have about 10 minutes, so, if you'll kindly take your seat, we can do a little Q&A. Does anybody have a burning question in their mind? Yes, Nina.
Guy Benson: Hi, Nina. It's so good to see you.
Unidentified Speaker #2: [Inaudible]
Guy Benson: So the question is about voting irregularities. And — well, first of all, in some of the key battlegrounds at the congressional level and the statewide level, there have been some changes, like in Georgia and Texas, where they made a huge stink about it and they screamed suppression and all this stuff. And corporate America weighed in, major league baseball weighed in. And they failed and they lost. So there have been some changes in the laws in some of these states.
One thing that gives me added confidence is if you're going to try to steal an election, a close election, a blue state like Virginia would be a place where you would try to do it. And the Democrats have controlled that state. Until Glenn Youngkin just won, Democrats had won every single statewide election at every level since 2009. They have dominated that state and they have started to sort of reshape the state in their image. The Attorney General is a Democrat. If you were going to try to steal the election, the Democrats had all the levers of power. And they didn't steal it. Now, there was some weirdness in Fairfax County, where some votes were, like: Oh, we need to rescan those votes. And Republicans flooded the zone with lawyers.
I think we have to be vigilant, of course. But I think part of the lesson of Virginia also is if it's not close they can't cheat. And there were simply too many people who voted Republican for them to really have a shot at it. So I think — what worries me sometimes when we talk so much about votes not counting or irregularities is it might send an implicit message to our own side that it's rigged so why bother. I think the opposite has to be true. Show up in as big numbers as possible, overwhelm them and crush them. And that's what happened in Virginia. So it's not a perfect answer, but I think that's part of what gives me hope.
And what some of the states have done at the statewide level to tighten some things up because — and I'll get to your next question — 2020 was such a weird year, with the pandemic and all these ballots floating around, I think for Republicans to stand up and say we don't need to forever institutionalize a once-in-a-generation pandemic style of voting is completely reasonable. And for all the yelling and screaming — actually I didn't get to this. In that poll of the suburbs that I was reading from in Politico, they asked on voting rights: Which party do you trust more? And it was tied. The Democrats have been beating the drum on this now for a year and the message isn't working. People — I think the American people, thank God, are smart and they're seeing what the Democrats are doing. They are tired. Cropping up all over Virginia, I saw even in Northern Virginia, you saw Youngkin signs and that sort of thing. There was also a sign that said — it was a stop sign: Stop one-party rule.
And I think the American people are very much on that bandwagon right now. And I hope they stay on that bandwagon at least for another 11 1/2 months.
Yes, sir?
Unidentified Speaker #3: What are you hearing on Dominion machines, algorithms, election integrity via the internet? Democrats and Republican controls locally have no knowledge of how sophisticated this could be and how crooked it could be. What are you hearing in your world?
Guy Benson: I think I addressed some of that in Nina's question. I don't have granular knowledge on that and what I try to do is stay in my lane and not spout off on stuff that I'm not familiar with. So I'm not going to invent an answer for you. I'm just going to say I know some — what I like about what sort of the newly unleashed Republican Party has been doing, is treating the fight like a street fight and having really smart — so a buddy of mine is one of the smartest guys I know and the Republicans — he's a lawyer. And the Republicans in Illinois, where they needed all the help they can get, hired him to be, like — whenever anything seems odd or off or strange, we're not going to sort of send some tweet about it and never think of it again. We're going to make sure that we are deploying very smart people to demand answers and then let the chips fall.
And I think that needs to be — any Republican candidate that does not have a bank of talented lawyers at their fingertips leading up to an election on Election Day I think is out to lunch. But I think that there's fewer of those out-to-lunch candidates now, because I think the base is very attuned to this issue and there's a lot of still disgruntled — disgruntlement about what happened. And so, that's a partial answer, maybe not fully satisfying.
Next question? Yes, ma'am.
Unidentified Speaker #3: I want to follow-up on that.
Guy Benson: Oh, we're doing follow-ups.
Unidentified Speaker #3: Any machine can be [broken] into in 15 minutes. And nobody's going to be able to [inaudible] all of their machines, and they're going to find all the [instructions] in Democratic states and —
Guy Benson: Okay. Well —
Unidentified Speaker #3: I think this is even bigger than Democrats and Republicans. This is the integrity of [our whole election system as far as I'm concerned].
Guy Benson: Okay. Well, I'll just pull a Jen Psaki. I'll circle back with you on that one, because it is not my area of expertise.
Ma'am, you had your hand up.
Unidentified Speaker #4: To follow up on this lady's point regarding irregularities in New Jersey, when I went to bed Bergen County was red. When I woke up it was blue. Does anybody know what happened while I was sleeping? [Laughter]
Guy Benson: Yes. It was the gremlins. It was the Democratic gremlins. What happened was — my understanding — and, again, the knowledge in the moment is a little bit imperfect, because I asked Christie about this at 1:00 in the morning. And the Republicans were slightly ahead in Bergen, which was, like, a huge deal. They, unlike Florida for example, unlike Virginia now where they changed the law in a good way, New Jersey does the thing where they don't count the early and mail-in ballots first. And so those come in towards the end and get counted towards the end and those skew very heavily Democratic. So what they say is those votes, which does check out, skew Democratic, they were counted last.
I like what Florida does. Florida had this of course a disaster in 2000. They were the butt of every joke in the country. And they changed their system to count the early votes and the mail-in votes as they came in, have those numbers ready to go. And that's why you had what they call here the blue mirage on election night 2020, where when the numbers first started to come in from Florida it didn't look great, for example, for Trump, because Biden was ahead, because they had counted the early stuff first, per the law, and then came the Election Day votes that heavily went Republican and Trump won sort of like a Florida landslide of 3 points, because the Republican votes just swamped the early voting.
I think what Florida has done in their election law in terms of the counting ought to be a best practice adopted everywhere. Because it's crazy and it's maddening sometimes to have which type of vote is being counted last. And that I think feeds a lot of the distrust that people have. It seems to me it would be perfect common sense. Count the votes as they come in. Release those totals early and then see what happens. And it's also more fun, because in the past in Virginia, for example, they did it the other way around. So, in Virginia, the Republicans were looking really good and then in come the votes from Northern Virginia and hope is dashed. And it was a bit of an opposite effect this time around. And I enjoy watching the red wave come and watching the dread of Democrats grow as Republican votes came in on Election Day, with their votes already heavily counted. And I think that that's something, when we talk about election reforms, I think that's where what Florida has done ought to be looked at very carefully by other states. Because it seems like a smart, common sense approach.
One more. Ma'am?
Unidentified Speaker #5: I'm going to say something shocking here. I'm from Passaic County and I'm a registered Democrat. And when Phil Murphy first ran for Governor he came to Patterson, my city, and he met with me and other Democrats.
Guy Benson: Passaic. We were talking about Passaic earlier, yes.
Unidentified Speaker #5: And I'm not putting words in his mouth. This is literally what he said. He said: This is what I'm going to do for the Muslims. This is what I'm going to do for the Blacks. And this is what I'm going to do for the Hispanics.
Never did he say: This is what I'm going to do for Americans. And even though I'm a Democrat, I voted for a Republican, because I'm a child of immigrants, very proud to be Polish. But when I'm in that voting booth, I'm an American. [Applause] And I voted Republican.
The second time he ran for Governor he said in his closing in the final debate: Anyone who doesn't vote for me is a Confederate flag-waving white supremacist. And I said: I cannot vote for that man. I voted Republican again.
Guy Benson: And so did a lot of — [applause] — and so did a lot of Hispanics, who would probably be shocked to learn that they are Confederate flag-waving white supremacists. I mean, at some point it's so incoherent and insulting that it sorts of melts down.
I know we're out of time. My final thought, because it's about New Jersey, it reminds me of Virginia, as well. And it's a concept that I haven't touched on yet. I think a massive underlying, undercovered story of last week was people being fed up with the COVID restrictions and the COVID mandates. And I will tell you, in addition to yelling about Trump and abortion, McAuliffe also ran ad after ad attacking Glenn Youngkin for being anti-vaccine, even though he wasn't, because he wasn't in favor of mandates, and attacking him explicitly for not wanting to require young children to wear masks in schools. And Youngkin never backed down on this. He said: We're not going to require masks on kids in schools if I win . [Applause] And the Democrats believed that this was a winning issue for them in Virginia. They attacked him on this relentlessly. And then he won. And I think that is also a very good piece of news for the Republican Party and a very bad data point for the Democratic Party as we look to next year.
Thank you all so much. Thanks for having me. [Applause]