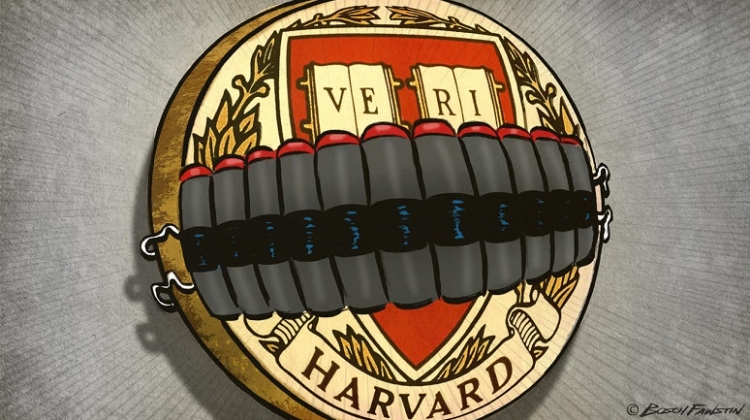 After the fighting between Israel and Hamas in 2012, Tunisian President Moncef Marzouki announced that he wanted to visit Gaza.
"I congratulate Ismail Haniyeh (the Hamas prime minister) on the victory in Gaza," he said.
Marzouki had previously met with delegations from Hamas and Islamic Jihad. His support for the Muslim Brotherhood terrorist group was so blatant that even the PLO had warned him not to come to Gaza. After leaving office, Marzouki boarded the Hamas flotilla invading Israel. When the flotilla was intercepted, Israel deported him. These days, Tunisia doesn't want him either.
But Massachusetts does.
More recently an arrest warrant was issued for the arrest of Marzouki by his own country. He was sentenced to four years in prison for national security violations last year.
Marzouki, then in Paris, was quoted as warning that, "I'll soon return home to Tunisia and overthrow the incumbent regime" and "I'm waiting for a signal from the militants in Tunisia to decide on the date of my return to Tunis".
Instead, he's going to Harvard where there are even more militants than in Tunis.
The Ash Center for Democratic Governance at Harvard's Kennedy School announced that it's appointing the international fugitive and longtime Islamist ally as a senior fellow. The Harvard announcement makes no mention of either Marzouki's support for Islamic terrorism against Jews or the fact that he is a wanted criminal. But they do hail him as a hero of the Arab Spring.
Last year, after a barrage of Hamas rockets and terrorist attacks, Marzouki had phoned Hamas boss Ismail Haniyeh to congratulate him for the "victory for the Arab and Muslim Ummah."
In an interview with Al Jazeera, Marzouki told the Qatari Islamist media operation, "I have always supported Hamas because it is a national resistance movement. When I was president of Tunisia, I received Khaled Meshaal and Ismail Haniyeh, totally ignoring the US ambassador's indignation at the meeting."
Harvard has no objection to this. And instead describes Marzouki as a "freedom fighter."
"I am delighted that President Marzouki has chosen the Ash Center as a place from which to share the wisdom and lessons he has gained in helping to bring democracy to Tunisia," Archon Fung, Ash's director, declared, describing a terrorist supporter and fugitive as a  "leader who has spent most of his life working to strengthen human rights, the rule of law."
Nothing says human rights and the law of rule like supporting a racist Islamic terror group.
Aside from Marzouki's support for Hamas, he's widely reviled in his own country as a puppet of the murderous Islamist Ennahda movement, a cousin of the Muslim Brotherhood, and its Qatari backers. The thuggish leader had once told Al Jazeera that if secularists come to power, they would face the gallows.
Marzouki will be lecturing at Harvard on issues related to democracy.
"This revolution will be pitiless to them," Marzouki had warned, "because there will be no reasonable individuals such as Mustapha Ben Jaafar, Moncef Marzouki, or Rached Ghannouchi to call for dialogue, moderation, and national reconciliation."
Ghannouchi, a key Ennahda figure, and an ally of Marzouki, had endorsed Jewish genocide. "There are no civilians in Israel. The population—males, females and children—are the army reserve soldiers, and thus can be killed."
A Harvard Kennedy analysis claimed that Ghannouchi "sounded like Thomas Jefferson".
It's understandable that Harvard in its current state can't tell Jefferson and Hitler apart. Or that it decided to bring in Marzouki to explain democracy and human rights to its students.
While the Harvard Kennedy School is dominated by the name of the deceased president, it was originally funded by a $2.2 million gift from Rep. Lucius Nathan Littauer.
Littauer, a Harvard grad, football coach and Republican congressman, was a Jewish philanthropist. He founded what was then the Graduate School of Public Administration for the sake of public service. Not to provide a platform for supporting the murder of Jews. Under the Kennedy name, the John F. Kennedy School of Government has decided to go another way.
Harvard Kennedy hails Marzouki as a "voice of social and revolutionary activism" who worked for the "strengthening of civil rights in Tunisia". Marzouki explained that he could not allow female equality in the Constitution because "Tunisian women would be able to marry Christians or Jews".
And the Islamists whom he depended on would not accept that.
"Everywhere today we see the fragility of democracy," Marzouki stated. "I am grateful for the opportunity to spend time at the Harvard Kennedy school, with its talented students and researchers, reflecting on what we can do to make democracy stronger."
In between reflecting on how to strengthen democracy, Marzouki spends much of his time on social media denouncing Tunisia's current government and calling for more revolution.
If anyone knows how fragile democracy is, it's Marzouki who allegedly started out as a Marxist and then became an Islamist catspaw and cheers on Islamic terrorists. Like many of the democracy advocates of the Arab Spring, Marzouki knows how to tell western liberals and his Islamist allies what they want to hear. Harvard's Ash Center celebrates Marzouki as a human rights activist, but they avoid delving into just what sort of rights he advocates.
In 2006, Marzouki appeared on Al Jazeera to blast Tunisia's secular president for criticizing the hijab.
"The Tunisian dictator personally took the lead on October 11 by excoriating the wearing of the veil in the country," he fumed. And urged secularists to join the protest by wearing "a black armband on our right arm."
His stature as a human rights activist was nurtured by an alliance with Islamists and statements in support of their cause on Qatar's Al Jazeera. And Al Jazeera ceaselessly promotes him. Qatar was the not so hidden hand behind the Arab Spring and remains a major backer of the Muslim Brotherhood, and of its network terror group, Hamas.
In 2016, Mohamed Zouari, a Tunisian member of Ennahda, who worked on Hamas' terror drone program, was assasinated in the town of Sfax.
Marzouki visited Gaza and took part in a propaganda event by Hamas' Qassam Brigades where he declared, "From here, from Sfax – from this citadel of Arabism and Islam – I would like to say to heroic, starved, and martyred Gaza, which almost collapses under the destruction, and to our heroes defending Jerusalem and the Al-Aqsa Mosque" and urged "following in the footsteps of the martyr Mohamed Zouari for the sake of the noble Palestinian cause."
This is Harvard's idea of democracy. It just happens to look a whole lot like Islamic terrorism.