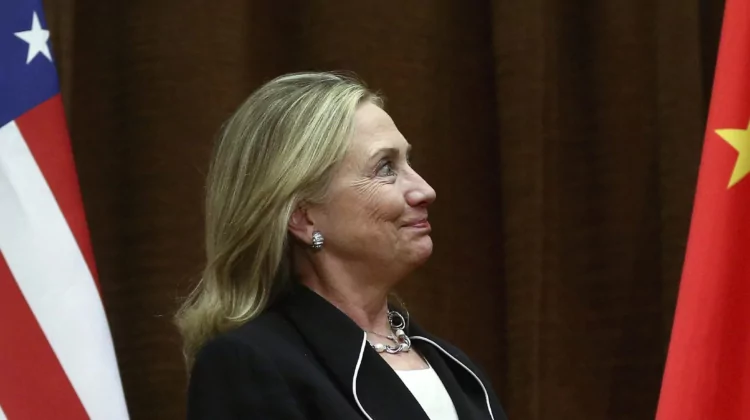 Hillary Rodham Clinton, after a lifetime of struggling to find a steady job to support her family , has finally landed a position with Columbia University.
The former first lady and two-time presidential loser will become a "professor of practice" at  Columbia's School of International and Public Affairs and a "presidential fellow" at Columbia World Projects. Considering Hillary's "practice", the university will likely be locking the cash drawer and securing any valuable art that might perchance fall into her pantsuit pockets.
"I have had the great pleasure of knowing Hillary personally for three decades," President Lee C. Bolling, who holds the job title that she was denied, announced. He gushed over "her extraordinary talents and capacities together with her singular life experiences".
Bollinger had previously introduced Iranian leader Mahmoud Ahmadinejad during his Columbia appearance so he has some experience serving as the opening act for political sociopaths.
The new job is good news for Hillary, who will finally be able to provide for her daughter, Chelsea, still trying to make ends meet while being married to a poor hedge fund executive, and won't have to humiliate herself by trading cash to foreigners for access to our political system.
Oh… wait a minute.
Columbia World Projects is funded by a diverse variety of donors like Abdulrahman R. Al-Rashed. It's unclear if this is the former head of Saudi Arabia's Al-Arabiya or the member of the Al-Rashed group: a massive Saudi conglomerate. Or perhaps some other Saudi bigwig.
Hopefully Hillary knows which particular Saudi she's climbing into bed with, but when you've been around and in as many Saudis as she has, it can be hard to tell the burnooses apart.
Another donor is the Mikati Foundation. This appears to be Najib Mikati and Taha Mikati: two Lebanese billionaire brothers, one of whom is the Hezbollah-backed prime minister of Lebanon.
Hezbollah, a Shiite Islamic terror group which has murdered Americans, answers to Iran.
Even if that were an issue, it wouldn't be one for Hillary Clinton whose loyalty to her country is as unparalleled as her husband's is to her and the country. Before Hillary made up Russiagate, Bill was palling around with Vladimir Putin in Russia and scoring a $500,000 check.
Other donors include George Jiang. While there are a number of men by that name, the only one who appears to have the sizable assets is the man behind the Golden China Fund. His firm, Greenwoods Asset Management, is based out of China.
You can take the girl out of the State Department, but not the foreign affairs.
Bruno Z. Wu, another donor, is a Chinese billionaire who heads the Sun Seven Stars Media Group: one of the biggest conglomerates in China. Robert Ng, a real-estate billionaire operating in Hong Kong, endorsed Communist China's takeover, claiming that the suppression of democracy "enhances the one country, two systems principle and adds greater stability and prosperity to the livelihood of H.K. people."
Not so much the prosperity of the people of Hong Kong, but perhaps the people of Chappaqua.
Also on the list is Mark E. Kingdon, another hedge fund manager, whose wife, Anla Cheng, a partner at Sino-Century, a major Chinese equity fund, founded SupChina. SupChina, since renamed the China Project, was accused by a former employee of being a front for the Chinese Communist regime, and members of congress have demanded an investigation.
The China Project has been tied to regime influence groups like the Confucius Institute.
And, by extension, apparently, Hillary Clinton.
All of this might be awkward for most other politicians, but Hillary lost whatever sense of shame she had around the time she began spewing a stream of pathological lies and covering for her husband's side gig as a freelance sexual predator. After defending a 12-year-old girl's rapist by calling his victim, who was recovering from a coma, a slut, she had any concept of right and wrong surgically removed. In prepping for her presidential run, the Clintons and their foundation took money from any oligarch or terrorist state with a checkbook who could sign their names.
And it's not as Hillary doesn't have company.
Before Columbia World Projects brought in Hillary, they hosted the Obama Foundation Scholars. CWP is just collecting former presidents and aspiring presidents, as long as they're leftists, and giving them a good home. The Biden Mausoleum that they're bound to build on the Upper West Side where the serial liar can lie in state like Lenin will be a real landmark.
Like most socialists, Hillary Clinton hasn't had a new idea since the 19th century. And the same old idea appears to be foreign money. It's not clear that the aforementioned donors play any role in directly subsidizing her upcoming academic career of teaching budding foreign policy professionals how to get Americans killed and then blame it on a YouTube video. But they do appear to play a role in subsidizing Columbia World Projects which is platforming Hillary.
Hillary has run out of things to do on her Chappaqua Elba except take long walks in the woods while swigging chardonnay and cursing the unfeeling heavens of upstate New York.
Her writing career, which began with several unnecessary memoirs, has boiled down to "State of Terror": a novel about a fictionalized version of herself fighting terrorism. (The easy way to tell it's fiction is because she's fighting terrorism.) You can currently get a copy on eBay for $1.79 (plus shipping) if you're okay with an "acceptable" copy that has stains on the cover.
But it's okay because so does Hillary. And she's never been "acceptable".
Hillary has run out of supporters and out of ideas. Her Apple TV+ documentary series, "Gutsy", was so bad that Steve Jobs rolled hard enough in his grave to trigger a 5.2 earthquake.  The podcast, "You and Me Both with Hillary Clinton", just consists of her begging SNL cast members to teach her to laugh like a human being. Her merchandise site is selling a pantsuit onesie.
At this rate, she'll be on UK's Celebrity Big Brother by 2024. So why not instead go back to college and the murky swamp of foreign money that spawned her career?
Americans are ignoring Hillary, but America's enemies might be more willing to take her in.