[Order David Horowitz's new book, The Radical Mind: The Destructive Plans of the Woke Left: HERE.]   
"The belief that the world is marching towards justice, and that to be a progressive means one is 'on the right side of history,'" writes David Horowitz in his important new book, The Radical Mind: The Destructive Plans of the Woke Left, "is a delusion that will justify any and every atrocity, and already has."
Nobody knows this better than Horowitz. Born into a Communist family, he was at the very center of the action during the Vietnam War and Black Power movement. After his epochal autobiography, Radical Son (1996), which rivetingly recounted his career in, and ultimate departure from, the left, he published a number of books – with titles like Uncivil Wars: The Controversy Over Reparations for Slavery and Unholy Alliance: Radical Islam and the American Left – that anatomized the left's ongoing assault on American norms and values. And in the wake of his monumental, eight-volume compilation The Black Book of the American Left, he's written a series of brief, eminently cogent bestsellers that are the Trump era's version of Thomas Paine's indispensable Revolutionary-era pamphlets Common Sense and The American Crisis.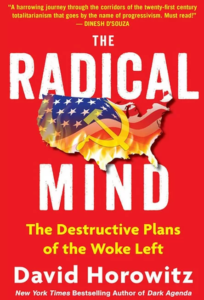 To wit: Dark Agenda (2019) explored the left's war against America's Christian roots; Blitz (2020) cataloged Trump's magnificent presidential record and the left's brazen attempt to misrepresent it; The Enemy Within provided an overview of "woke" America, with a special focus on cancel culture, the war on whiteness, and the rise of Critical Race Theory; and I Can't Breathe took on Black Lives Matter – its poisonous ideology, its deep-seated hypocrisy, and, not least, its roster of ersatz martyrs, from Trayvon Martin to George Floyd, whose purported victimization has been used to undergirl a fraudulent narrative of systematic racism and police brutality.
Admittedly, some of us didn't need to be told that BLM was a crock, that CRT is hogwash, or that Trump had been a terrific president. And happily, more and more Americans are recognizing the left-wing narrative – from the climate-change hoax to the "insurrection" lie, from the Biden crime family cover-up to the trans fantasy – for the Big Lie that it is. But tens of millions still believe the legacy media's tall tales. And while they continue to believe, the left continues to consolidate its hold on the Democratic Party, the legacy media, the elite universities, major corporations, and the higher levels of the military and intelligence agencies. Which is why The Radical Mind – in which Horowitz once again takes on the left with clarity, urgency, and undiminished vigor – matters so much.
In order to make one of his key points, Horowitz takes us back to the Vietnam War. As that conflict dragged on and the protest marches grew in size and number, the ability of the U.S. to prosecute the war was weakened, leading eventually to a messy, mortifying withdrawal. And what happened then? The Communists moved in and slaughtered millions. And what, asks Horowitz, did the leaders of the American peace movement do in response to this monstrous genocide, in which the victims vastly outnumbered U.S. war casualties? Nothing. They'd passionately protested the war, but never commented on the postwar butchery. Why? Because, as Horowitz underscores, they were never really opposed to war or in love with peace – they were opposed to America and in love with Communism.
That's the crucial insight: they weren't antiwar; they were pro-Communist. And the insight, as Horowitz adroitly points out, still applies today, mutatis mutandis: establishment Democrats – who've left liberalism far behind and embraced Marx – "are not soft on crime. They are pro-crime." Because crime is social justice in action. Looting is reparation; theft is wealth redistribution.
Understand this and you'll understand everything. Why illegal aliens were flown for free from the Texas border to cities around the country while U.S. citizens were billed for being airlifted out of Israel after October 7. Why colleges that a year ago were firing faculty for holding mainstream views now defend professors who cheer genocide. Why, as antisemitism has skyrocketed, the Biden administration chose to introduce an initiative against Islamophobia. And why the same Justice Department officials and Soros-funded DAs who gave a pass to Antifa rioters and BLM arsonists are inventing bogus reasons to bring down Donald Trump.
But of course the left has no choice: it has to crush Trump. It's nothing less than an existential threat to government of the people, by the people, and for the people. And who or what, above all else, represents an existential threat to them? Trump, naturally. Of all the politicians who ran for president in 2016, he was the only one who truly challenged the leftist takeover – and the establishment Republicans who were content to be the controlled opposition.
And so they came up with the Russia-collusion hoax – and more. Even some of his purported allies tried to foil his determination to "make America great again." And still, as Horowitz reminds us, Trump achieved a great deal for ordinary Americans during his four years in the White House. He took the economy to new heights. He engineered historic peace agreements in the Middle East. These and other achievements strengthened America, served its people – and stymied the pernicious designs of the left, whose media minions dropped these triumphs down the memory hole. Democrats have long posed as champions of the "black community," but in reality, ever since LBJ's Great Society,  they've promoted policies that ensured the persistence of black poverty, crime, and joblessness. And they've done this because for progressives – as Horowitz writes, making yet another crucial point – "the issue is never the issue."
Exactly. The issue is never the issue. Since the Hamas invasion of Israel, we've seen left-wing student activists – including many who identify as gay and transgender – marching in support of the terrorists. Observers have asked: don't these kids realize that if they went to Gaza, they'd be dispatched instantly? Maybe so, maybe not. But what they do know – and it's the only thing that matters to them – is that Hamas, like them, wants to smash the West. Only the revolution matters. Never mind that the revolution, ever since Robespierre, has always ended up devouring its own: such details never stop a true believer. So it is that Greta Thunberg, formerly obsessed with climate change, has now become a champion of Hamas.
So it goes. When Obama "put kids in cages," nobody on the left cared – but when the practice continued under Trump, they began screaming about it. Under Trump, the number of unaccompanied children crossing the border was tiny compared to what it's been under Biden; but the left-wing compassion for those kids disappeared the moment the doddering Democrat from Delaware shuffled into the Oval Office. As Horowitz states, child trafficking at the border is "a humanitarian crisis without precedent" – yet it's "sparked no revolt or opposition within the Democratic Party," because those children's well-being matters far less to the left than the goal of "changing the demographics and voting patterns of the American electorate" by permitting millions of prospective Democratic voters to cross the Rio Grande.
Since the radical mind now touches virtually every corner of American life, this book covers a lot of territory. The Diversity, Equity, and Inclusion departments that, under Obama, were installed at colleges and businesses and in every federal agency? As Horowitz shows, they're nothing more than Maoist "re-education camps." He discusses the left's conquest of even the FBI, CIA, and armed forces, with people like Secretary of Defense Lloyd Austin promising, absurdly, to fight "racists" in the military and Attorney General Merrick Garland and Secretary of Homeland Security Alejandro Mayorkas claiming that our "greatest domestic threat" is white supremacism.
What else? Alexandria Ocasio-Cortez and her "squad" get the full Horowitz treatment. So does the grotesquely overrated Sam Harris, who's supposed to be some kind of philosopher, ethicist, and hero of rationalism but who suffers from one of the world's severest cases of Trump Derangement Syndrome. Hunter Biden, said Harris on a podcast last year, "literally could have the corpses of children in his basement" and "I would not have cared….It doesn't even stack up against Trump University, right?" A chilling assertion, but look at it this way: the cynicism with which the southern border has been left open to all comers, including child traffickers, certainly reaffirms – as did the indifference of Mao, Pol Pot, and others to the loss of innocent lives – that in the minds of many a dedicated leftist, Sam Harris apparently included, keeping the "right" people in power and keeping the "wrong" people out is worth the corpses of any number of children.
"Destroy the old, establish the new." It's a motto of the Chinese Cultural Revolution, and Horowitz uses it as the epilogue to one of his chapters. Destruction; iconoclasm; pulling down statues of Jefferson and putting up statues of George Floyd: that's the whole game in a nutshell. Recall Barack Obama's 2008 campaign promise to "fundamentally transform America." As Horowitz points out, it all goes back to the Italian Communist Antonio Gramsci (1891-1937), who counseled that the revolution should be advanced not with guns and bullets but rather "by taking over the means of cultural production." The Sixties radicals whose antiwar marches failed to rock the system heeded this sage advice: after putting away their placards and posters, they went on to influential careers in the cultural field – and (especially) as professors, one of whom, the former Weatherman terrorist Bill Ayers, became a mentor to none other than Obama himself.
And it was Obama who, proving indeed to be transformational, took the radicalization of America to a new level, expertly prodding the country into greater and greater division. It's Obama, too, who, during this Twilight Zone sequel to the unfairly aborted Trump presidency, still seems to be in charge. As we approach yet another election in which the left will, once again, surely do all it can to foil the will of the deplorables, David Horowitz has given us an illuminating invaluable account of these people's determination to quash everything that's good about America – a determination that those of us who are true patriots must, in these times when Marxists hold almost all of the reins of power, resolve to resist with all our might. In so doing we're fortunate to have as a role model this man who had the strength of character to confess that he'd been wrong, and who has, ever since, with incomparable backbone, devoted his life to standing up for the freedom that he once sought to destroy.