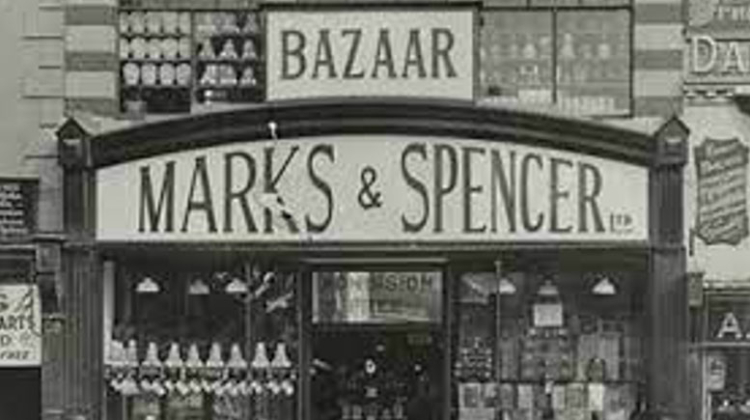 "This is not just any cheesecake; this is a Marks & Spencer cheesecake."
Or so the advertising bods at the British High Street bastion of retailing would have you believe.
Marks & Spencer (fondly known as M&S) is as British as a cup of tea, as old as my knees feel, a place of comfort for women of a certain age who know what they like and like what they know. Some might say it's dependably dull or, as my 72-year-old mother would say, perfectly British.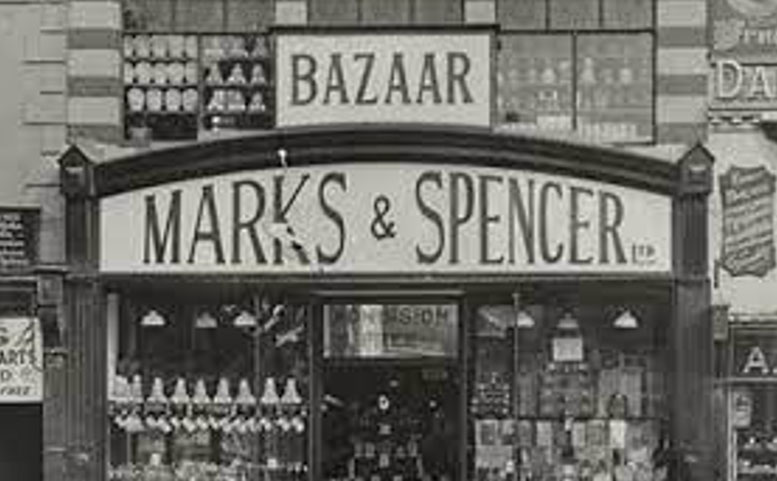 [Britain's Marks & Spencer, trading since 1884 — the same year construction began on the Statue of Liberty.]
M&S is also the UK market leader in bras and knickers. If you don't buy your underwear from M&S, you are a woman of poor standing in my mother's eyes. And when my own daughters needed their first bras, where else would instinct lead us than Marks & Spencer?
However, in the Age of Madness that we are currently enduring, not even this British stalwart is safe from the squid-like tentacles of Black Lives Matter. After a century and a half of being as reliable as a Ford pickup, the red mist has descended and Marks & Spencer has just launched a range of underwear inspired by — you guessed it — George Floyd.
And here it is for your viewing pleasure: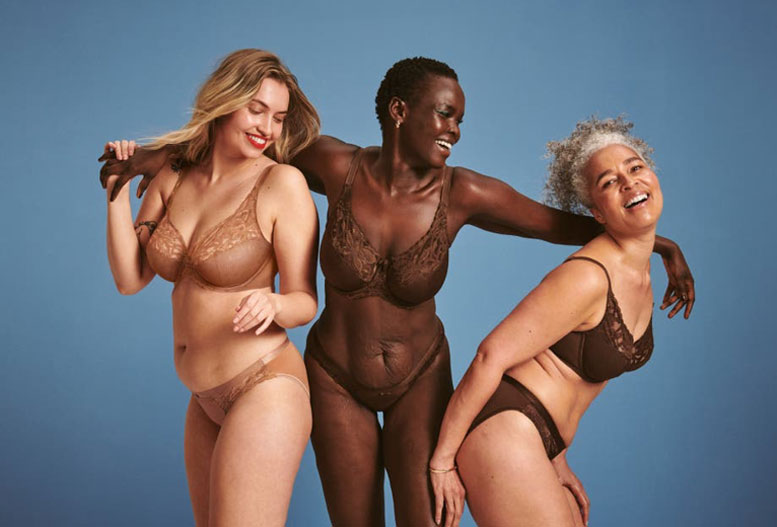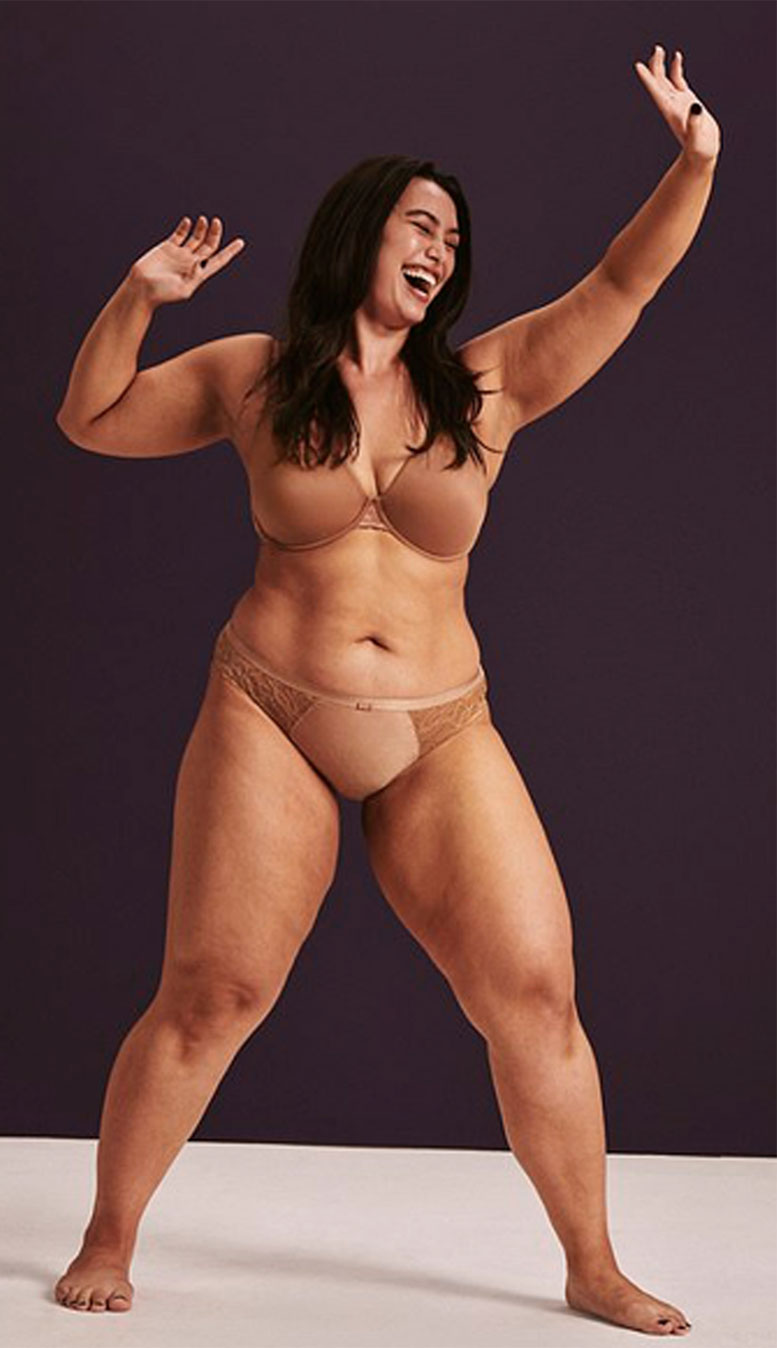 M&S director of lingerie Laura Charles said:
"The global conversation on racial inequality, following the horrific death of George Floyd, spurred us to go faster in creating a better, more inclusive range. . . .From the product offer to the names, to the marketing, we've worked hand in hand with our colleague Culture & Heritage network to deliver a campaign we're proud of and an underwear range that provides more colors, more sizes and more choice so that all of our customers have the freedom to complement or contrast with their individual skin tone in a way that suits their own personal style."
Well, isn't that just lovely? Because of the death of George Floyd, we now have bras and panties in colors that avoid words like tobacco and tan and sound altogether more jazzy: Opaline, Rich Amber, Rose Quartz and Topaz.
I think you can agree ladies (and gentlemen) that NOTHING says progressive feminism more than celebrating the life of a drug-addled criminal who held a gun to a pregnant woman's belly with a range of brown panties. (There is a joke there that even I am not going to make.)
Who wouldn't want to have their lady bits cradled by panties inspired by the George Floyd narrative? Of course we could NEVER let the tragedy of a death be a tragedy without having to hook onto it some moronic marketing campaign to bolster the leftist agenda and appeal to the PC crowd.
Even the wide-eyed youth who call themselves 'dangerous' can see through this tawdry nonsense: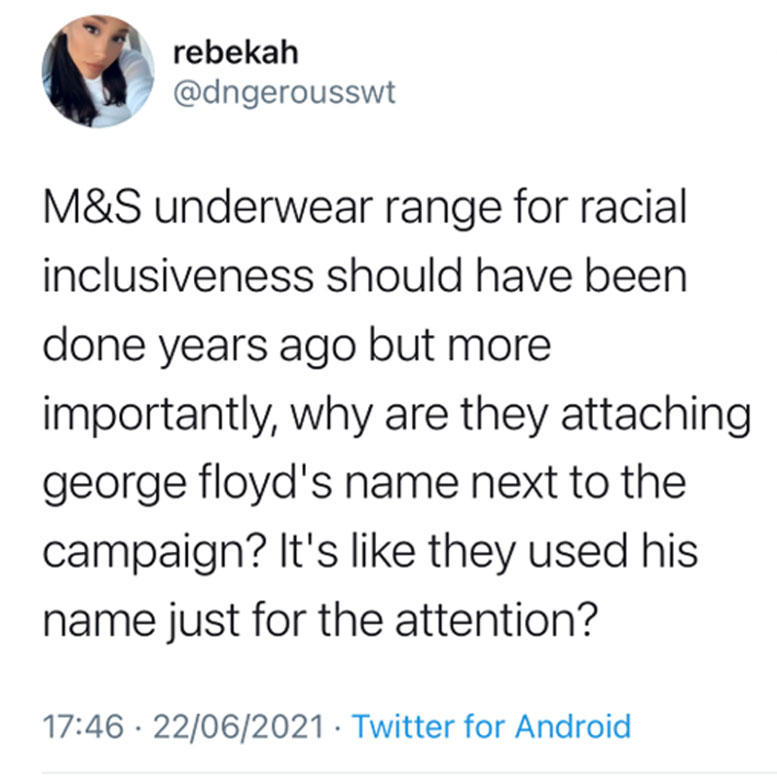 I am not saying that the ladies in the ads don't look like they are having a great time posing in their panties for the camera. I am not saying that they don't look great (although, frankly, in some of the cases, I don't think we need to worry about any of them blowing over in a breeze, and I do think type II diabetes should be a concern).
Overall, I think it's high time we stop yielding to the utter insanity we live in, to stop massaging the needy egos of the victim mafia and to allow something, maybe just one thing, to be defiantly, proudly British.
Conforming to the endless need to kneel, wave a pride flag or celebrate trans-awareness day and dress male store mannequins as women has grown very tedious, very fast.
Some days I almost miss things being dependably dull.
This is not just political correctness.
This is Marks & Spencer political correctness.