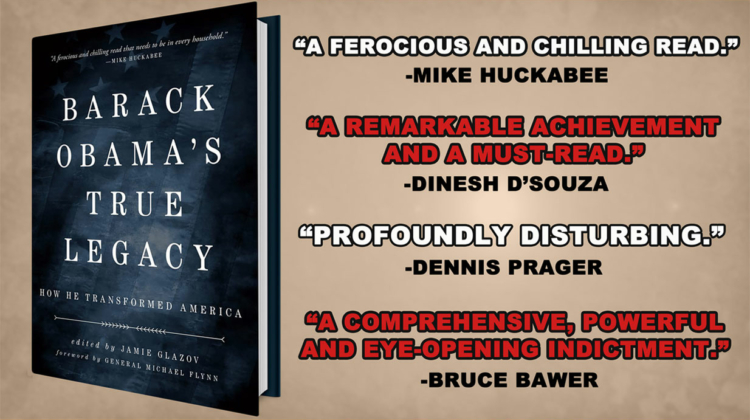 Editor's note: As we observe – in horror – Hamas' current bloodthirsty and barbaric terror attack inside Israel, it is vital to stress that it is Barack Obama who empowered the jihad terror group in Gaza – and helped spawn its current mayhem and destruction inside the Jewish state.
Jamie Glazov's new book, Barack Obama's True Legacy: How He Transformed America, documents this dark reality. Below, because of the current terrifying circumstances in Israel, Frontpage Editors have deemed it urgent to run a chapter in the book written by Shillman Fellow Daniel Greenfield, titled How Obama Funded the Murder of Israelis.
Make sure to read the eye-opening chapter and to order Barack Obama's True Legacy, which contains many more essays on how Obama betrayed and harmed Israel – and America.
*
Chapter 6: How Obama Funded the Murder of Israelis.
By Daniel Greenfield
In Jerusalem, 2017 began with a terrorist ramming a truck into Israeli cadets who were getting off the bus. Four of the Israelis, three of them women, were killed, and over a dozen more were injured. Fadi al-Qanbar, the terrorist, was shot and killed by Israeli soldiers, but his widow was set to receive a lifetime monthly pension of 2,900 Israeli shekels from the Palestinian Authority for his crime.[i] The average salary in the West Bank is 1,720 NIS. Even though the terrorist had allegedly been inspired by ISIS,[ii] the Palestinian Authority media had described him as a "Shahid" or religious martyr for Islam.[iii] Despite this latest act, which demonstrated the linkage between our foreign aid to the Palestinian Authority, Islamic terrorism, even terrorism related to ISIS, and the murder of Israelis, the money kept coming. A few weeks after the mass murder of Israelis in Jerusalem, the Obama administration rushed to transfer $221 million in funds to the Palestinian Authority that Republicans had been blocking.[iv]
Hours before President Trump was inaugurated, Secretary of State John Kerry rushed the money to the terrorists. What kind of a difference would that $221 million make? The Palestinian Authority's Martyrs Fund budget for 2017 allocated $153 million in salaries to terrorists who had been or were imprisoned by Israel and another $190 million to the families of the terrorists.[v] The $221 million amounted to a sizable percentage of the "Pay to Slay" budget that was used to incentivize murders like these. And it paid off. The number of Israelis killed in terrorist attacks increased in 2017.[vi] The number of lone wolf attack plots rose from 400 to 1,100. And the Martyrs Fund was a key mechanism for incentivizing these attacks, assuring surviving terrorists of a generous lifetime income and, in the event of their deaths, giving them the comfort of knowing that no matter what happens, their families will be very well taken care of.
The murders of Jews funded in 2017 included the Sabbath attack on the Salomon family who were celebrating the birth of a new member of the family when an Islamic terrorist burst in with a knife and a Koran, stabbed to death seventy-year-old Yosef Salomon, wounded his wife, Tova Salomon, and murdered Chaya and Elad, Yosef's son and daughter. "I saw two houses; from one of them I heard voices and from the other I heard laughter. So I decided to get into the one that had laughter," Omar el-Abed, the terrorist, later explained.[vii] The Israeli Defense Ministry estimated in 2018 that the murderer, who had smiled through the trial, had been paid 12,000 NIS, and would earn as much as 12 million NIS or $3.5 million throughout his life.[viii]
While some argued that United States foreign aid was not meant by the Obama administration for the Martyrs Fund and its "Pay to Slay" program, money is fungible. American foreign aid allowed the Palestinian Authority the financial freedom to invest money into funding the murder of Jews. The connection between foreign aid and violence had already been demonstrated when the rise in murders closely followed the increase in foreign aid from 2001 to 2007.[ix] But the Obama era ushered in a massive increase in assistance to the terrorists running the Palestinian Authority. From an average of $170 million during the Bush years, bilateral assistance hit $400 million in 2008 and by 2009 approached $1 billion. The new annual average became $400 million, but the real price was paid by terror victims.[x] The Trump administration aggressively cut foreign aid to the Palestinian Authority, but the damage had already been done. The Israelis who had been killed by "Pay to Slay" terrorists would not be brought back to life, and the years of booming funding had built up the infrastructure of individual "lone wolf" terror. But the Obama administration's foreign aid to the Palestinian Authority was only part of the terror funding picture. The other half of the terror picture was the PA's occasional rival and ally, Hamas.
In 2016, the Obama administration had illegally transferred $1.7 billion to Iran.[xi] The deputy chief of the Islamic Revolutionary Guard Corps (IRGC) claimed credit for the ransom.[xii] The IRGC is a hub of Islamic terrorism in the region and was designated as a Foreign Terrorist Organization by President Trump.[xiii] "We can always hand it over to someone who can hand it over to the IRGC," State Department spokesman Mark Toner admitted.[xiv] Meanwhile the Obama administration had even tried to give Iran access to the United States financial system, converting billions into dollars and then euros.[xv] After the $1.7 billion payment, Iran increased its military budget by that same amount.[xvi] It's been estimated that 65 percent of the military budget goes to the IRGC.[xvii]
And the IRGC funds, trains, and aids a variety of Islamic terrorist groups, including Hamas. That includes the missiles that Hamas has been firing at Israel and that have fallen on Jerusalem and Tel Aviv.[xviii] The billions in sanctions relief allowed Iran to increase its investment in conflicts in the region.[xix] In 2017, Hamas announced that it had resumed receiving aid from Iran.[xx] In 2019, Iran boosted aid to Hamas from $70 million a year to $30 million a month.[xxi] Beyond Hamas, Iran also backs Islamic Jihad (PIJ), which was at the center of the latest round of rocket attacks on Israel in the fall of 2019. These rockets were, like Hamas's rockets, developed with the assistance of the Islamic Republic of Iran. The extent of Iran's involvement in Islamic terrorism in Israel can be measured by an admission by Ali Akbar Velayati, foreign affairs adviser to the Supreme Leader of Iran that, "most of the weapons used by the Palestinians came from Iran, or that Iran help[ed] the Palestinians manufacture the weapons themselves."[xxii]
The Obama administration dramatically boosted aid to the Palestinian Authority. It went on pouring funds into the Palestinian Authority even though the terror network was funding the murder of Jews. It provided $1.7 billion in payments and billions more in sanctions relief to Iran. And Iran was able to use sanctions relief to increase funding to the IRGC, and increase payments to terror groups like Hamas. These numbers are not just abstractions; they translate into Israelis and Americans wounded and killed. The Obama administration was aware of the consequences of the billions it had poured into the Palestinian Authority and Iran. It knew that the money would be used to kill Jews. We will never know exactly how many Americans and Jews were killed because of those billions.
Even when the payments were made in cash, as was the case with the $400 million in foreign currency flown over to Iran, no single bill likely made its way directly into the hands of a terrorist who murdered a Jewish person. But money is fungible. When billions are poured into the infrastructure of terror, that money is blood money. The crimes committed by the terror networks that feed off that infrastructure, at any level of scale from large terror groups like Hamas or Hezbollah to the individual "lone wolf" Islamic terrorist who expects to receive a generous salary from the Palestinian Authority and are on the political conscience of their funders, no matter how indirect they may claim that their contributions are.
The billions of dollars that the Obama administration injected into the infrastructure of terror was used to murder Jews. These people are not abstractions or statistics. They are as real as Chaya Salomon who opened the door at a knock and was stabbed to death by a terrorist. Chaya, a second-grade teacher, ran for help even as she was dying of her wounds.
"Dear student, when I give the report cards at the end of the semester, I am always reminded of another report card, almost like at school," she had written in a final message to her students. "It is given by our Father in Heaven, Who is everywhere. But instead of the regular subjects and exam grades, He gives grades in the following subjects: friendliness, patience, understanding, love, kindness, responsibility, gratitude, humility. And that other report card is important, even more than any other grade."[xxiii] Chaya did not have to die. The Obama administration made a decision to keep funding the Palestinian Authority that had been funding the murder of grandfathers and grandmothers, rabbis and second-grade teachers, children and their parents. That decision may have helped lead to Chana's death.
The report card of the Obama administration reflects not mere statistics. It is marked with blood.
Notes:
[i] Ruthie Blum, "Widow of Terrorist Who Committed Deadly Jerusalem Truck-Ramming Attack to Receive $760 Lifetime Monthly Allowance From Palestinian Authority," Algemeiner.com, Jan. 11, 2017: https://www.algemeiner.com/2017/01/11/widow-of-terrorist-who-committed-deadly-jerusalem-truck-ramming-attack-to-receive-760-lifetime-monthly-allowance-from-palestinian-authority/.
[ii] Dan Diker, "Understanding Israel's Assessment of ISIS-Inspired Terrorism." The Jerusalem Post, Jan. 12, 2017: https://www.jpost.com/Opinion/Understanding-Israels-assessment-of-ISIS-inspired-terrorism-478163.
[iii] Itamar Marcus and Nan Jacques Zilberdik. "PA: Terrorist Who Killed Four in Truck Ramming Attack Died for Allah: PMW Analysis." Palestinian Media Watch, Jan. 10, 2017: https://palwatch.org/page/11467.
[iv] Matthew Lee, "US Sent $221 Million to Palestinians in Obama's Last Hours," Associated Press, Jan. 23, 2017: https://apnews.com/b8446cbf5b504b1abaf49eb0d646367b/US-sent-$221-million-to-Palestinians-in-Obama's-last-hours.
[v] Lieber, Dov. "PA Payments to Prisoners, 'Martyr' Families Now Equal Half Its Foreign Budgetary Aid." The Times of Israel, July 31, 2017: https://www.timesofisrael.com/pa-payments-to-prisoners-martyr-families-now-equal-half-its-foreign-aid/.
[vi] Anna Ahronheim, "2017 Numbers: Terrorists Slayed 20 Israelis, 3,617 Palestinians Arrested," The Jerusalem Post, Jan. 7, 2018: https://www.jpost.com/Arab-Israeli-Conflict/Terrorists-killed-20-Israelis-in-2017–533008.
[vii] David Israel, "Terrorist Who Murdered Salomon Family: I Picked a House with Sounds of Laughter," The Jewish Press, Oct. 4, 2018: https://www.jewishpress.com/news/eye-on-palestine/palestinian-authority/terrorist-who-murdered-salomon-family-i-picked-a-house-with-sounds-of-laughter/2018/10/04/.
[viii] "Defense Ministry: Terrorists Will Get NIS 10 Million Each from PA," The Times of Israel, May 6, 2018: https://www.timesofisrael.com/defense-ministry-terrorists-will-get-nis-10-million-each-from-pa/.
[ix] Steven Stotsky, "Does Foreign Aid Fuel Palestinian Violence?" Middle East Forum, 2008: https://www.meforum.org/1926/does-foreign-aid-fuel-palestinian-violence/.
[x] "U.S. Foreign Aid to the Palestinians," Congressional Research Service, Mar. 18, 2016: https://www.everycrsreport.com/files/20160318_RS22967_2711096fe48c81141d951aaab19d3bcca0e7fe71.pdf.
[xi] Adam Kredo, "Obama Admin Provided Iranian Terror Orgs With $37.4M in Cash," Washington Free Beacon, Sept. 13, 2016: https://freebeacon.com/national-security/report-obama-admin-provided-iranian-terror-orgs-37–4-million-cash/.
[xii] Saeed Ghasseminejad, "Iranian Officials: Obama-Era Prisoner Release Was 'Ransom,'" Foundation for Defense of Democracies, Oct. 24, 2018: https://www.fdd.org/analysis/2017/03/03/iranian-officials-obama-era-prisoner-release-was-ransom/.
[xiii] "Statement from the President on the Designation of the Islamic Revolutionary Guard Corps as a Foreign Terrorist Organization," The White House, The United States Government, Apr. 8, 2019: https://www.whitehouse.gov/briefings-statements/statement-president-designation-islamic-revolutionary-guard-corps-foreign-terrorist-organization/.
[xiv] Pete Kasperowicz, "State Department Can't Say Who in Iran Got Another $1.3 Billion," Washington Examiner, Aug. 22, 2016: https://www.washingtonexaminer.com/state-department-cant-say-who-in-iran-got-another-13-billion.
[xv] "The Obama Administration Secretly Sought to Give Iran Access to the US Financial System," Associated Press, June 6, 2018: https://www.cnbc.com/2018/06/06/the-obama-administration-secretly-sought-to-give-iran-access-to-the-us-financial-system.html.
[xvi] Eli Lake, "U.S. Taxpayers Are Funding Iran's Military Expansion," Bloomberg.com, June 9, 2016: https://www.bloomberg.com/view/articles/2016–06–09/u-s-taxpayers-are-funding-iran-s-military-expansion.
[xvii] Adam Kredo, "Obama Admin Provided Iranian Terror Orgs With $37.4M in Cash," Washington Free Beacon, Sept. 13, 2016: https://freebeacon.com/national-security/report-obama-admin-provided-iranian-terror-orgs-37–4-million-cash/.
[xviii] Sen. Ashish Kumar. "Iran Admits Giving Hamas Technology for Missiles," The Washington Times, Nov. 21, 2012: https://www.washingtontimes.com/news/2012/nov/21/iran-admits-giving-hamas-technology-for-missiles/.
[xix] Carol E. Lee and Jay Solomon. "A Tally of Iran Sanctions Relief Includes More Than $10 Billion in Cash, Gold," The Wall Street Journal, Dec. 30, 2016: https://www.wsj.com/articles/a-tally-of-iran-sanctions-relief-includes-more-than-10-billion-in-cash-gold-1483112751.
[xx] "New Hamas Leader Says It Is Getting Aid Again from Iran," Associated Press, Aug. 29, 2017: https://www.cnbc.com/2017/08/29/new-hamas-leader-says-it-is-getting-aid-again-from-iran.html.
[xxi] Michael Bachner, "Iran Said Increasing Hamas Funding to $30m per Month, Wants Intel on Israel." The Times of Israel, Aug. 5, 2019: https://www.timesofisrael.com/iran-agrees-to-increase-hamas-funding-to-30-million-per-month-report. /
[xxii] "Iran Provided Most of Hamas' Weapons," Israel Ministry of Foreign Affairs, Aug. 31, 2014: https://mfa.gov.il/MFA/ForeignPolicy/Iran/SupportTerror/Pages/Iran-provided-most-of-Hamas-weapons-31-Aug-2014.aspx.
[xxiii] "Chaya Salomon." One Family: https://www.onefamilytogether.org/chaya-salomon/.