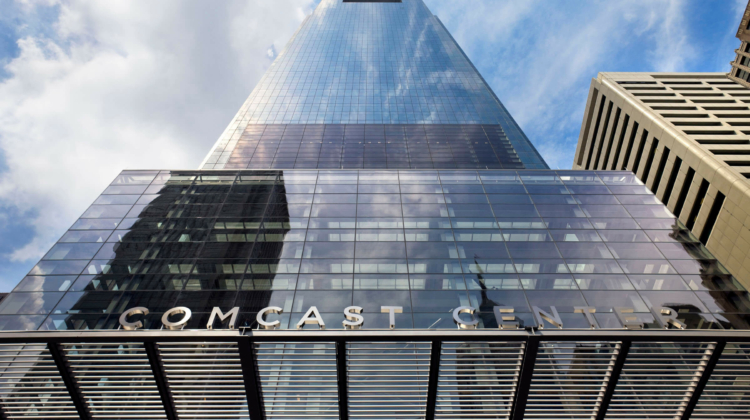 Freedom Center journalist Daniel Greenfield recently wrote a devastating profile of Comcast owner Brian L. Roberts, "The King of Hate Media," for FrontPage Mag, declaring the cable giant chief responsible for, among other things, transforming NBC into "a 24/7 hate network built on lies." Comcast is based in Philadelphia, and in a sign that points to a potentially vital trend in local journalism, Greenfield's article was picked up and re-run by Broad + Liberty, a Philadelphia news outlet with game-changing ambitions.
In his exposé, Greenfield reported that Roberts' acquisition of NBC was made possible only by enlisting the aid of longtime race hustler Al Sharpton, who "delivered the political support to ensure that Roberts didn't encounter antitrust issues in his controversial takeover bid… In return Roberts gave Sharpton his own MSNBC show, 'PoliticsNation with Al Sharpton,' while also making Sharpton's existing employers at black-owned Radio One – and himself – extremely rich."
NBC now, Greenfield states, "streams the worst lies and hate by the worst bigots as a payback for the series of dirty deals that made Roberts so rich and powerful." Among them are Sharpton and fellow anti-white racists Joy Reid, Elie Mystal, and Tiffany Cross, in addition to "foreign enemy propagandists" such as former Al Jazeera host Ayman Mohyeldin.
Greenfield added that, in addition to being obsessed with wielding programming in the service of a Progressive agenda, Roberts pledged a Comcast donation of $100 million to a consortium of social justice groups including Sharpton's National Action Network to combat "the structural racism" that fuels "injustices" in the black community.
"Roberts is not a brilliant businessman," Greenfield concludes, "he's a savvy political donor. Comcast got as big and powerful as it did because it adopted the right politics and paid off the right people" – including providing $152,800 to fund the Biden campaign and building the nonprofit Comcast Foundation to make political connections while dodging taxes.
Greenfield's brutal takedown at FrontPage Mag was snapped up and reposted at Broad + Liberty, described on its "About" page as a nonprofit news and editorial outlet "dedicated to freedom of thought and giving voice to issues and ideas that have been shut out of our discourse for too long." It vows to promote "disruptive viewpoints and positive policies that hit home for our readers, supporters and followers… in Philadelphia and its environs."
Broad + Liberty was founded in late 2019 by a handful of "mavericks with backgrounds in journalism, public policy, academia, marketing and the law" who believed that communities weren't getting the whole story when it comes to the policies that affect them the most. Understanding how critical it is for communities to be well-served by news outlets reporting on the politicians and policies that directly impact local families, the Broad + Liberty founders recognized that such outlets were declining due to an absence of investigative reporting into issues that matter locally, and to an increasingly Progressive editorial approach that communities distrusted.
In an article from March of last year, "Broad + Liberty fills an important role," Chairman of the board Wally Nunn wrote that "the legacy media has a monopoly on the truth and dispense only the truth that fits their narrative." He correctly noted, "We are in a war of ideas, one in which the enemy has significant advantages. The control of the legacy media and social media by 'woke' sycophants has effectively censored information available to the public. On a national level they are meeting some resistance; on the local level not so much." Nunn and the other board members felt strongly that Broad + Liberty was just the vehicle to counter local censorship and break the stranglehold on information.
Contrasting itself with competitors "devoted to a closed-minded Woke ideology that shuts voices and perspectives out," Broad + Liberty has grown into "the de facto source of news and editorial content for freedom-focused readers in a 'keystone' region of tens of millions of people," accumulating over 1.5 million views and reaching over 10,000 unique visitors a week. Much of its growth was sparked by the decision to hire investigative reporter Todd Shepherd and add a hard news dimension, rather than limit the site to being just another website with op-eds. Since then, it has produced numerous investigative reports that have had not only local impact but national as well. For example, it was the first to report Facebook creator Mark Zuckerberg's election-influencing scheme in swing states like Pennsylvania, for which Broad + Liberty was awarded the 2022 National Ion Journalism award for non-partisan investigative journalism.
Broad + Liberty's stories have been cited by the state House and Senate. It has reported on local government fraud and COVID mismanagement by the governor's office. It has challenged the left-leaning local Philadelphia Inquirer. It also launched the Octavius V. Catto Leadership Initiative to recruit and support the next generation of liberty-loving leaders in Pennsylvania to "build a movement for liberty, shared prosperity, and freedom anchored in the belief that the American Dream is universal."
Chairman Wally Nunn envisions Broad + Liberty becoming a template for similar local outlets around the country. Indeed, President and CEO Terry Tracy has written that "Broad + Liberty is more than just a media outlet — it is the tip of the spear in a movement that will change our city, state and our country for the better."
This is, in fact, arguably just what the country needs in our time of a collapse of trust in mainstream national media: aggressive, independent, local journalism devoted to serving communities, holding local politicians and community leaders accountable, and effecting change from the ground up.
And now that Broad + Liberty has chosen to highlight Daniel Greenfield's damning indictment of Brian L. Roberts, it will turn up the heat under Philadelphia's "King of Hate Media" right in his very own backyard.