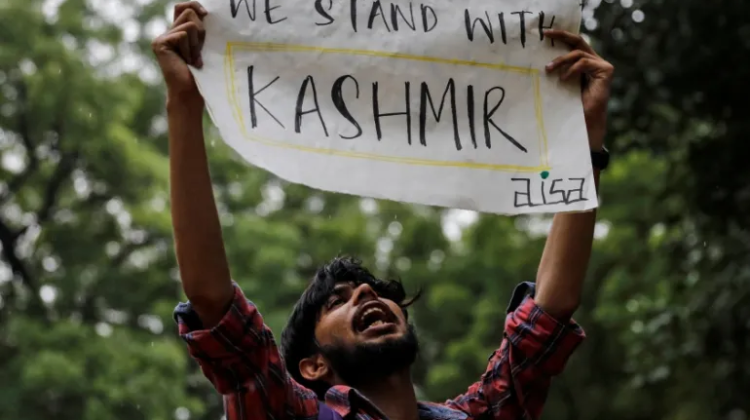 Despite historical persecution, ethnic cleansing campaigns, as well as ongoing pressure at the hands of jihadists supported by Pakistan, Jammu and Kashmir remains part of India, whose sovereignty in the region helps improve the civil rights of the residents, enables it to battle the Islamist threat, and enhances stability in South Asia.
Today, Jammu and Kashmir is demographically majority-Muslim, but it is within the borders of India, which has millennia-long historic and spiritual ties with the region.
Indigenous Hindus are the original inhabitants of Kashmir and possess a unique ethno-religious culture existing for more than 5,000 years. Kashmir had a majority Hindu population ruled by Hindu kings until the 14th century when Muslims from Central Asia invaded the region.
Under Islamic rule, Hindus in Kashmir were subjected to persecution. In the early 1800s, Sikh rulers controlled the region, and then a Hindu dynasty from the mid-1800s through 1947.
In 1947, the Princely State of Jammu and Kashmir became part of the secular Republic of India. Shortly thereafter, Pakistani Armed Forces invaded the area. In response, Indian Forces deployed to counter Pakistan's attacks. In Pakistan-occupied Kashmir, the areas of Kashmir which remained outside of India, thousands of Hindu families were forced to flee for their lives.
In 1948, the UN Security Council passed Resolution 47 urging the Pakistani military to withdraw. Pakistan, however, refused.
Since then, Pakistan has increased its military presence and fomented unrest and terrorism in the region. Thousands of civilians have been killed in terrorist acts carried out by militant groups supported by Pakistan.
The current demographic structure of Jammu and Kashmir is not a result of natural causes. From 1989 to 1991, the Kashmir Valley's indigenous Hindu population became victims of one of the world's most forgotten ethnic cleansing campaigns accompanied by murders, rape, threats, and destruction of properties and religious temples.
This Pakistan-sponsored jihadist insurgency aimed at eliminating non-Muslims in Kashmir in order to change the region's demographics.
Arman Sharma and Neelay Trivedi write for the Stanford Review:
"Between 1989 and 1991, over 95% of the Kashmir Valley's Hindu population (generally referred to as 'Kashmiri Pandits') faced a campaign of ethnic cleansing perpetrated by an Islamist extremist group called the Jammu-Kashmir Liberation Front (JKLF). Over 100,000 Kashmiri Pandits were forced to leave Kashmir, and hundreds were killed by JKLF terrorists. Today, thousands of Pandits continue to live as displaced refugees in their own country."
In 2022, the US-based non-profit International Commission for Human Rights and Religious freedom (ICHRRF) recognized the 1989-1991 atrocities on Kashmiri Hindus as an act of genocide.
Colonel Dr. Tej Kumar Tikoo writes about how Islamists in the Kashmir Valley terrorized indigenous Hindus into fleeing their native lands by giving them three choices – "Ralive, Tsaliv ya Galive" (convert to Islam, leave the place or perish):
"Explosive and inflammatory speeches being broadcast from the public address systems of the mosques became frequent. Thousands of audio cassettes, carrying similar propaganda, were played at numerous places in the Valley, in order to instill fear into the already terrified Kashmiri Pandit [Hindu] community. Recalling these events, the former Director General of Jammu and Kashmir Police, Shri M M Khajooria says, 'The mischief of the summer of 1989 started with serving notice to the prominent members of the minority community to quit Kashmir.
"The letter said, 'We order you to leave Kashmir immediately, otherwise your children will be harmed- we are not scaring you but this land is only for Muslims, and is the land of Allah. Sikhs and Hindus cannot stay here'. The threatening note ended with a warning, 'If you do not obey, we will start with your children'…
"Tens of thousands of Kashmiri Muslims poured into the streets of the Valley, shouting 'death to India' and 'death to Kafirs'.
"These slogans, broadcast from the loudspeakers of every mosque, numbering roughly 1100, exhorted the hysterical mobs to embark on Jehad [jihad]. All male Muslims, including their children and the aged, wanted to be seen to be participating in this Jehad. Those who had organized such a show of force in the middle of a cold winter night, had only one objective; to put the fear of death into the hearts of the already frightened Pandits [Hindus]."
As a result, thousands of Hindus were killed, and thousands of homes, businesses, and places of worship belonging to Hindu people were destroyed or occupied.
According to the Hindu American Foundation, "approximately 350,000 Hindus… were forced out of the region on threat of death. To this day they've largely been unable to return to their homes."
Meanwhile, Pakistan-aided terror groups are still active in the region, such as Lashkar-e Taiba (LeT) and Jaish-e-Mohammed (JeM), designated as Foreign Terrorist Organizations by the United States. LeT was responsible for the November 2008 Mumbai attacks that left 166 people dead, and JeM carried out the September 18, 2016 attack on an Indian army base that killed 19 Indian soldiers. The same terror groups also threaten the West and Israel.
Despite provocations, in 2019, the Indian government legally abrogated Articles 370 and 35A of India's Constitution, temporary provisions that conferred special status on the state of Jammu and Kashmir. This move tremendously improved the security situation and civil rights of the residents of Jammu and Kashmir – particularly of women, children, and minority groups.
Since this legal change, women in Jammu and Kashmir have more rights in terms of property ownership, marriage, divorce, protection from domestic violence, and access to education and economic opportunities.
Meanwhile, according to the data provided by the South Asia Terrorism Portal (SATP) of the Institute for Conflict Management, local support for the insurgency in Kashmir keeps waning and the region has become more secure overall. The improvement in the security situation has also led to a boom in tourism.  On May 22 and 23, 2023, for instance, India hosted a key G20 tourism conference in Srinagar, the capital of Jammu and Kashmir.
Although India has an undeniable and well-documented historic, cultural, and spiritual bond with Kashmir, Pakistan occupies approximately 30,000 square miles, known as Pakistan Occupied Kashmir (POK) and the Northern Areas. And there are no Hindus remaining in POK due to killings and forced conversions though it is still home to ancient Hindu sacred sites.
Hence, the Islamist violence in Kashmir is not a struggle for democracy or independence against the government of India. It is a campaign of jihad to destabilize, oppress and Islamize Kashmir in its entirety. This jihadist war is carried out by the government of Pakistan and its hardline Islamist allied groups that aim to establish an Islamic state in Kashmir that will be free of Hindu people and where women and minorities will have an inferior status.
A Pakistan-controlled or Islamist controlled Kashmir would thus mean that Kashmir would turn into another Taliban-controlled Afghanistan where human rights abuses and violence abound. Moderate Muslims, Hindus, Sikhs, and Buddhists – and particularly women and children – would not be able to live safely under such a regime. This would destabilize the whole region eventually, creating yet another wave of refugees, terrorism, and unrest not only in South Asia but in the West, as well. To prevent this outcome, the West should enhance its cooperation with India in Kashmir and the wider region.
Uzay Bulut is a research fellow of the Philos Project and a Turkish journalist formerly based in Ankara.