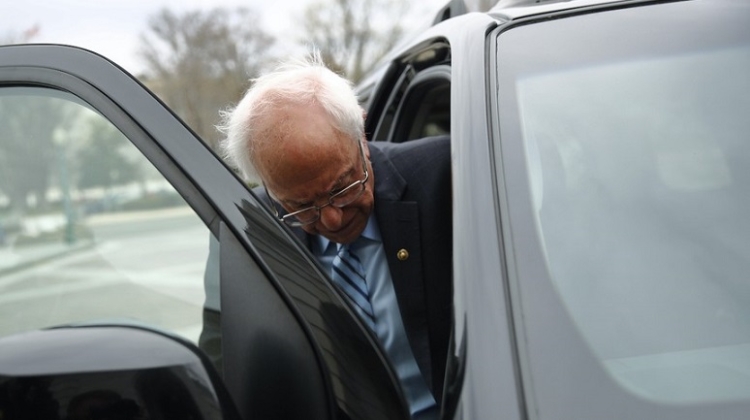 Is it time for Sen. Bernie Sanders (I-USSR) to retire to his three homes and spend his remaining years enjoying whatever he wishes to obtain with the millions he has earned in the service of socialism? If his appearance on "Real Time with Bill Maher" on Friday night is any indication, it seems as if the 81-year-old leveler, who has been in the Senate since Greta Thunberg's fourth birthday, is well past his sell-by date and should give up all hope he may still have of out-Bidening Biden and becoming the next superannuated socialist in the Oval Office. Sanders showed his age, and his ignorance, when he failed to explain a basic tenet of the sinister political philosophy for which he has been advocating since Old Joe Biden was cheating in law school.
The senescent socialist was appearing on Maher's show to sell his new book, It's OK to Be Angry About Capitalism, which you can get in paperback from Amazon for a capitalistic $30. In the course of the discussion, Maher asked, "Are we confusing equality of opportunity with trying to guarantee equity in outcomes?" Yes, Bill, we certainly are, and that's the primary difference between a free society and a socialist one: the former will strive to provide equality of opportunity while understanding that human beings are all different in their talents and capabilities, and thus equality of opportunity will not result in equity of outcome. A socialist state, on the other hand, will impose various institutionalized inequalities upon people in order to try to guarantee equity of outcome, and will resort to confiscation and worse if inequities persist.
The imperative to guarantee that all people will have the same (low) standard of living, without anyone making more money or enjoying more privilege than anyone else, is a basic tenet of socialism, although of course the political elites and other favored people are exempt from the rules that others must follow in socialist states. Sanders, however, despite being America's foremost socialist (with the arguable exception of his friend, Rep. Alexandria Ocasio-Cortez), demonstrated before the world on Maher's show that he is unable to explain these fundamental socialist principles. Has he all along been more like Old Joe Biden than we knew — just a mouthpiece for handlers who are actually running the show?
Maher continued, "I think this word 'equity' has come into the language in the last few years and before that, we didn't hear it a lot. And I think a lot of people hear 'equity' and they hear 'equality' like it's the same word, but it's not the same word and the same concept." Then — O unhappy fate! — Maher turned to Sanders and asked, "So how would you differentiate between equity and equality?"
Sanders initially tried to bluster his way out of the tight spot Maher had unwittingly put him in, but quickly gave up. "Well, equality," Bernie began, clearly feeling the burn himself, "we talk about — uh, I don't know what the answer to that is." As the audience laughed, Sanders circled back to one of the small number of clichés and slogans that he has committed to memory. "Equality," he announced grandly, "is equality of opportunity." Unfortunately for Bernie, Maher wasn't satisfied with this, and asked him another question: "Equity, I think, is more of a guarantee of outcome, is it not?"
"Yeah, I think so," Sanders responded sheepishly. Worse was to come. Maher asked him, "Which side do you come down on?" Sanders, cornered, answered disingenuously: "Equality." That was a good answer in terms of reassuring Americans that he isn't some octogenarian totalitarian bent on seizing the fruits of their labors and redistributing them to the idle. But doing just that is what socialism is all about, and of all people, Bernie Sanders should know that.
But now we know that he doesn't know, although whether he ever did know or has simply forgotten in his advanced age is still unclear. Either way, the Maher appearance should be Bernie's last on the national stage. But it will almost certainly not be. Bernie is raking in $95 a pop for tickets to his It's OK to Be Angry About Capitalism book tour, and so he is unlikely to stop the gravy train anytime soon. It's amazing that anyone would plunk down so much money to gain pearls of wisdom from a man who so clearly has none to give, but hey, that's the way capitalism works: the old socialist is just supplying something for which there is, in our insane society today, obviously a demand.
Photo: AP/Patrick Semansky