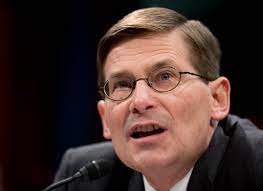 Former CIA acting director Michael Morell has been named by Washingtonian magazine as one of "Washington D.C.'s Most Influential People of 2023." This is worth noting because Morell's claim to fame is being one of the 51 senior intelligence officials who assured the world in Oct. 2020 that Hunter Biden's notorious laptop was Russian disinformation. Yet instead of being rightly excoriated as a liar and a partisan hack who deliberately tried to mislead the American people in order to ensure the election of Old Joe Biden, Morell is being laden with honors by his friends and allies among the political and cultural Left. And why not? He performed an important and valuable service for them, did he not?
Being part of the Leftist establishment in Washington is one of the most plum positions in the entire world. Not only is the pay terrific, but no matter how much of a dishonest little weasel like Morell you may be, you get lionized as "courageous" and "visionary" by the Left's propaganda arm known as the mainstream media. If you're part of the Leftist establishment and you should happen to break a law or two in your pursuit of your just financial rewards, or get caught lying while exercising your office of public trust, your friends and allies in the "Justice" Department will do everything they can to cover for you and make sure that you face no adverse consequences for your actions. They'll even shower you with awards and praise.
As it named him one of the most influential people in our nation's capital in 2023, Washingtonian hailed Morell for another aspect of his valuable service to the Leftist establishment: his ardent cheerleading for the U.S. bankrolling of the war in Ukraine: "The CIA veteran, who advises on international policy and homeland security, rallied political support for continued US military assistance to Ukraine as skepticism began to fester among right-wing voices and some progressives." Washingtonian didn't say anything about Hunter Biden's laptop, but the timing was hard not to notice: Morell revealed in testimony before the House Judiciary Committee in April that he had a huge role in the statement claiming that Hunter's laptop was Russian disinformation.
It was Morell who actually crafted the statement, which was signed by 51 senior American intelligence officials and published on October 19, 2020. It asserted that "the arrival on the US political scene of emails purportedly belonging to Vice President Biden's son Hunter, much of it related to his time serving on the Board of the Ukrainian gas company Burisma, has all the classic earmarks of a Russian information operation." It wasn't, but its purpose was to ensure that Old Joe Biden would defeat Donald Trump, and so the operation has to be marked a success.
The statement did contain this weaselly caveat: "We want to emphasize that we do not know if the emails, provided to the New York Post by President Trump's personal attorney Rudy Giuliani, are genuine or not and that we do not have evidence of Russian involvement — just that our experience makes us deeply suspicious that the Russian government played a significant role in this case." However, that didn't stop it from achieving its desired effect: Politico dutifully ran a story entitled "Hunter Biden story is Russian disinfo, dozens of former intel officials say." Jen Psaki tweeted those exact words. Old Joe Biden used the officials' lie in a debate against Trump, saying: "There are 50 former national intelligence folks who said that what he's accusing me of is a Russian plant.… Five former heads of the CIA, both parties, say what he's saying is a bunch of garbage. Nobody believes it except his good friend Rudy Giuliani."
What's more, Breitbart reported Monday that Morell didn't just write the cynical, dishonest, and deliberately misleading statement: "Emails and testimony published in a recent joint committee report, written by the House Judiciary Committee, Intel Committee, and Weaponization of the Federal Government Select Subcommittee, reveal Morell worked to gather signatures for the statement in part for the explicit purpose of helping then-candidate Joe Biden in the final presidential debate."
That's yeoman service for the cause, and Morell's reward (or, no doubt, just part of it) came on April 27, when Washingtonian published its influential people list. He is officially and publicly one of the most important people in the city of power, and who knows what that could lead to? Heck, he could even end up with a super-high-paying job on the board of a Ukrainian natural gas company! For Michael Morell, there is just no downside. He takes care of his friends, and his friends will always take care of him.