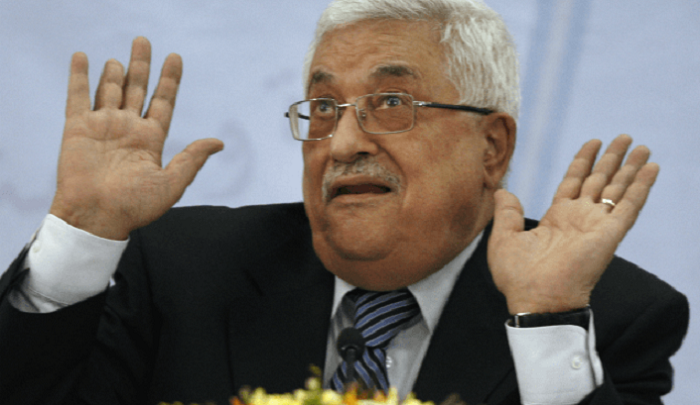 In both Gaza and the West Bank, the Palestinians are well aware that their leaders are crooks. They may not realize just how colossally crooked, but of their crookedness no one has any doubt. Two leaders of Hamas, Khaled Meshaal and Moussa Abu Marzouk, have each accumulated fortunes of $2.5 billion. In addition, six hundred Hamas multimillionaires live In luxurious villas in Gaza. It is the same story with the P.A. and its President-For-Life, now entering the nineteenth year of his four-year-term, Mahmoud Abbas. Abbas and his two grasping sons Tarek and Nasser have together amassed a family fortune of $400 million. As for Abbas' loyalists, as high-ranking P.A. officials they receive salaries that are four to five times higher than what they would be paid in the private sector. They are also allowed, at regular intervals, to skim a little off the top of foreign aid. And their relatives, too, are provided with well-paid government sinecures – another benefit that secures their loyalty to the rais in Ramallah.
Given such huge sums being siphoned off from the aid that was intended to improve the lot of the impoverished Palestinians in Gaza and the West Bank, a new "shekel" tax might not seem worth noting, but it shows just how petty that nickel-and-diming chiseler Mahmoud Abbas turns out to be. Despite his hundreds of millions of dollars in ill-gotten gains, he has just stooped to adding a "shekel" a month to the telephone bills of Palestinians in the P.A.-ruled parts of the West Bank. These shekels will provide a grand total of $18 million. Is it worth the effort? To Mahmoud Abbas, apparently it is.
Details of the "shekel" telephone tax are provided here: "Palestinians in an uproar over Abbas 'shekel tax' on phones 'to support Jerusalem,'" Elder of Ziyon, January 24, 2023:
Yesterday, Palestinian president Mahmoud Abbas announced that every Palestinian with a mobile or landline phone will have to pay an extra shekel every month "to support Jerusalem."

Palestinians received a message on their mobile phones saying, "In compliance with President Abbas' decision, one shekel will be added to your bill every month for a period of 12 months as part of an initiative to support the steadfastness of our people in Jerusalem."

The tax would raise about 60 million shekels ($18M) annually.

The reaction was immediate and fierce. Absolutely no one believes that the money would go to Jerusalem Arabs and nearly everyone assumes it would enrich Abbas and his Fatah friends.

Palestinians ridiculed the decision on social media, many saying that they refuse to pay or that they would rather cancel their phones. Some called it "theft in broad daylight."

Others noted that the earmarking of funds to "Jerusalem" was incredibly vague and could be used for anything.

Some Jerusalem Arabs said that they don't need any money, but rather an army to "liberate" them.

Still others pointed out that imposing such a tax without official approval from the Legislative Council is illegal under Palestinian law.

Many Palestinians recalled a previous fundraising initiative by Abbas. In 2016, he announced a project to build the "Khaled Al-Hassan" cancer hospital on 20 dunams of land in Ramallah, at an approximate cost of $140 million, not including medical equipment costs. Tens of millions of dollars were raised, but the hospital was never built, while the government claims that the money raised was put in a "special fund."
Why should Abbas care about building a new hospital in Ramallah? When he, his wife, his brother, and even his brother-in-law, needed medical care, he made sure that they were all treated by Jewish doctors in Israeli hospitals; in his own case, not wanting to be seen in an Israeli hospital, he arranged for a Jewish doctor to treat him at home — that home being his $13-million palace in Ramallah. It's the same with the upper echelon of P.A. members; when they are sick, as Saeb Erekat was with COVID-19, they demand to be admitted to the Hadassah Ein Kerem Hospital. So what did happen to the $140 million that was raised to build a cancer hospital in Ramallah? Nothing happened. Not a brick was laid, and the money has disappeared into a "special fund." Abbas only knows what that means. I have a hunch that in 2016 that $140 million did indeed go into a "special fund"; it was likely deposited in a Swiss bank account, one of several Abbas is said to have opened in the names of his grandchildren. He's a dab hand at this sort of thing. After all, he's been squirreling away huge sums for decades.
This prompted many to jokingly say that the phone tax will pay for the Jerusalem branch of the Khaled al-Hassan hospital.

This episode proves that there is absolutely no trust in Mahmoud Abbas' government. A majority of Palestinians consider both the PA and Hamas to be corrupt.
And that majority of Palestinians are absolutely correct. It's not Israel, but their own corrupt and endlessly grasping leaders who are their worst enemies, the people who really make their lives miserable.
Beyond that, it shows how out of touch Abbas is from the people. The reaction was predictable, even as he probably thought that no one would care about such a small increase in their phone bill.

The story shows how precarious and corrupt the PA is.
The "Shekel Tax" has been the object of hilarity and disgust on Palestinian social media. It's the blend of insensate greed and small-time chiseling that have been the object of gallows humor. Hasn't Abbas, with his $400 million Family Grand Theft, helped himself to quite enough already? Does he really need that drop-in-the-bucket $18 million that the "Shekel Tax" will raise? Why does the P.A. bother to squeeze even more from those in whose name it claims to rule by shekel-and-diming them? And what does it mean when the P.A. promises to spend the money on "Jerusalem"? Can't you, President Abbas, be just a tad more specific?
This little episode reminds me of something that happened to a friend of mine in a trattoria in Rome. At the end of a meal, he was handed the bill. As he scanned it, checking to see that the cost of the food and wine had been added up correctly, he came across one item, scarcely legible, that he didn't remember having ordered. "What's this?" he asked the waiter, pointing to the writing. "Oh, that, signore," the waiter said with a shrug, is "forse passa." "Forse passa" means "perhaps it will get by [the customer]."
That's the motto the Chiseler-cum-Grand-Thief, who lives in a $13 million palace in Ramallah, lives by: "Forse passa."
But judging by the furious reaction on social media, it won't, not this time.