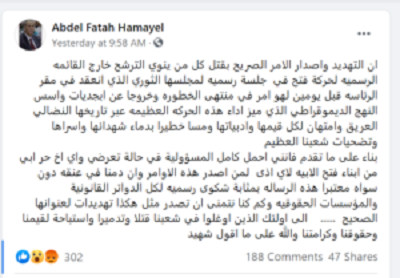 The Palestinian attempt to appease the Biden administration by holding Palestinian elections threatens to reveal the flabbiness and collapse of Fatah, which lies at the heart of the Palestinian Authority.
Recently, Palestinian President Mahmoud Abbas threatened Fatah members who opted to run outside the Fatah list with death. This apparently occurred last week during a Fatah Revolutionary Council meeting in Ramallah.
Abbas had barred members of the Fatah Central Committee, Revolutionary Council, and Consultative Council from running in the upcoming legislative elections. This ban also included current ministers, ambassadors, governors, security officials, and former members of the Legislative Council.
Abdel Fattah Hamayel, a senior member of Fatah and former governor of Bethlehem, posted a message on Facebook in which he indicated that Abbas would be responsible if he were killed. "This [post] is an official complaint to all legal departments and human rights institutions," he added.
Meanwhile, the Palestinian Authority rejected the request of another prominent Palestinian Fatah member to run in the May 21 legislative elections after ten years of exile in the UAE. Muhammad Dahlan's political presence on the Palestinian street was evident during the 2006 elections, when he won the majority of votes in Khan Younis, one of the Hamas strongholds.
Previously, when Yasir Arafat, who died in November 2004, resorted to violence, Dahlan who headed the preventive security apparatus in the Gaza Strip, consistently opposed that strategy, which led him to lose favor with Arafat.
He then remained staunch in his support of Mahmoud Abbas, only to fall out of favor with him as well when the latter rejected concluding a peace agreement after the Annapolis peace conference held in November 2007.
Although the Palestinian Intifada of 2001-2004 was marked by devastating terrorist attacks against Israeli civilians, Dahlan sought to restore peace negotiations with Israel and cease the militarization of the Palestinian people during that period of time.
In the Aqaba peace meeting of June 2003, President Bush expressed admiration for Dahlan's courage, but Arafat eventually succeeded in thwarting these efforts at resuming negotiations, as they threatened to also end his undisputed leadership of the Palestinian people.
As Abbas attempts to prevent Dahlan's return on the basis of claims of corruption and theft of Palestinian funds, history repeats itself. It is ironic that the same accusations are turned against Abbas's children, who live in Ramallah, where Abbas feared his absence from politics would reveal the family's corruption.
The Palestinian president is under enormous popular pressure not to run for president again, which would lead to his being replaced by Marwan Barghouti, who is considered the strongest member of Fatah and who has been imprisoned in Israel since 2002. Sources close to Barghouti announced that he will run for president in the July 2021 elections.
Other political analysts believe that Abbas will attempt to call off the elections. If he fails to do so, Barghouti's transfer from the Israeli prison to Ramallah may only be a matter of time.
Hamas, which controls Gaza, takes no interest in the presidential elections, since it is concerned with other priorities, including its strategic alliance with Iran and its ongoing financial support from Qatar.
Furthermore, it was reported that the Islamic Jihad movement is contemplating running in alliance with Hamas, which would enhance Hamas' chances to take the majority of legislative council seats, just as the group did in the 2006 elections.
Abbas is also facing another serious problem with regard to his decrees concerning the Palestinian Authority's court system, which seek to increase the involvement of the executive branch in the judiciary. As a result, judges are significantly weakened and made dependent on Abbas and his cronies.
While regional actors including the UAE, Jordan, and Egypt try to help the Palestinians fix their internal affairs by attempting to unify the Fatah movement against Hamas, it would not take much for the Palestinian political scene to turn into a real fire.
Samir A. Zedan is a former Senior Counter-Terrorism Analyst at the US Department of State, and a former Development Outreach and Communication Specialist at USAID/Iraq. He has contributed to hundreds of articles published in major media outlets with assignments in the Palestinian Areas, Israel, Jordan, Iraq, and Europe.