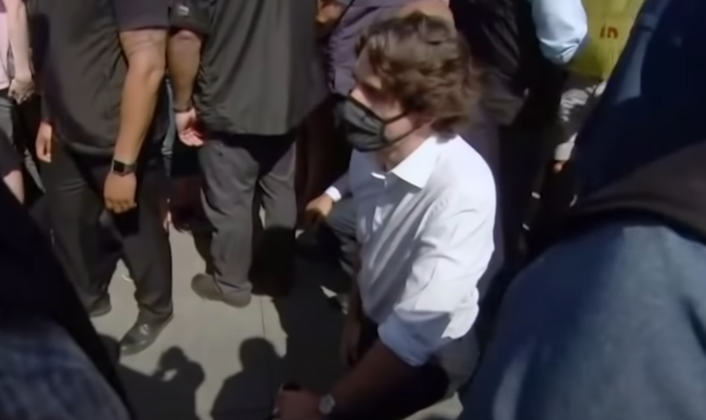 With Texas shipping migrants to New York City, what's the beleaguered mayor to do? After clamoring for other parts of the country to take their fair share of MS-13 gang members, he's taking a page from the GOP playbook and busing them to Canada.
As migrants arrive in NYC, National Guard soldiers have been stationed in the Port Authority bus terminal to hand out free tickets for shuttles heading upstate towards the Canadian border.

City Hall sources said the move was part of a 're-ticketing' plan to help migrants work their way to Canada, according to The New York Post, where president Justin Trudeau has been outspoken about building a haven for people in need.

Some of the migrants taking the National Guardsmen up on their offer told The Post they were heading to Canada because they felt it would be more welcoming for them and provide better opportunities than the United States.

NYC City Hall has been paying a number of organizations to assist in their re-ticketing program, according to The Post.

One such organization was Catholic Charities Community Services, which said it had helped 'thousands of new migrants' relocate out of NYC.
So the refugee resettlers are getting paid to move migrants around. There's a real pied piper vibe here.
The question is where is Canada going to bus the migrants?
But this whole arrangement just means that America is trying to offload the migrant problem on Canada while acting like coyotes.
Migrants routinely tear up their American immigration documents while traveling from Plattsburgh to the Canadian border, with The Post seeing scraps of paper with references to the Department of Homeland Security and Immigration and Customs Enforcement on the floor of a shuttle van.

The van — which has the word "Frontera," Spanish for "border," painted on its sides — is one of three operated by "Chad's Shuttle Services."

Driver Tyler Tambini, whose girlfriend's brother owns the company, said passengers arrive like clockwork on the five buses from New York City that stop in Plattsburgh each day.

After trudging north along a snow-covered path and through a break in a concrete barrier, the migrants were stopped by Mounties stationed in an elaborate complex of metal sheds.

"You have entered into Canada. You are under arrest," a Mountie said. "Take everything from your pockets and put it in your bags — only 'dinero' in your pockets."
One way to dissuade migrants is apparently to completely trash America so it appears unlivable. Hey, maybe Biden and the Democrats are fighting illegal migration after all.
Solzarno said she sold candy in the subway system for almost two weeks to pay for their trip.

"I am going to Canada for the safety and future of my girls," she said. "I only ask God that everything goes well and that Canada is not like the United States."

Venezuelan native Manuel Rodon, 26, who arrived in Plattsburgh around 4 a.m. Saturday, said he decided to leave the city after getting "kicked out" of the Row NYC hotel near Times Square and relocated to a homeless shelter in Brooklyn.

"A lot of the Americans used drugs there," he said. "I feel like Canada will be safer. It is a much quieter country than America."
Raymond may think that Canada sounds better than New York City, but he hasn't been to Toronto.