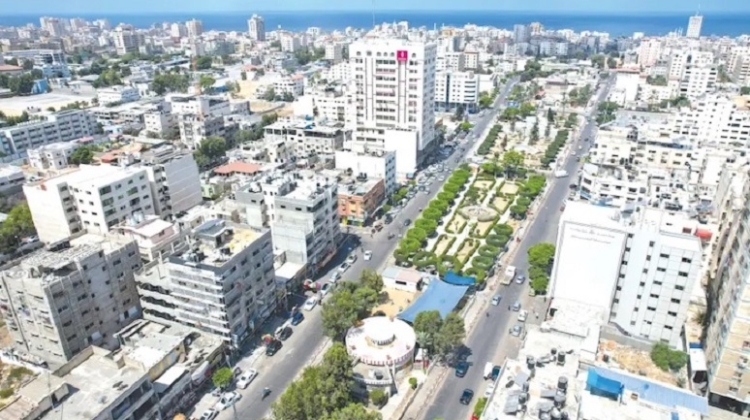 The terror group Hamas has run the Gaza Strip since 2007, when it expelled or killed hundreds of members of its rival, Fatah. It has ruled with an iron fist, arresting, imprisoning, and even, on occasion, murdering those Gazans who have dared to oppose its rule. Now many Gazans are at the end of their tether, fed up with Hamas' corruption and mismanagement, and exhibiting the courage that be prompted by despair, they are planning to hold an anti-Hamas rally on July 30. More on this planned rally – if it comes off, it will be the largest of its kind in Gaza – can be found here: "Gazans plan a major anti-Hamas protest on Sunday," Elder of Ziyon, July 24, 2023:
…There are actually two stories here. One is that there are demonstrations like these altogether, and the other is that the media roundly ignores them [because Israel is not part of the story].

Hashtags accompanying videos of last night's demo say "Where is Al Jazeera?" nearly as often as they say the slogan of the demonstrations, "We want to live."
The hashtag "Where is Al Jazeera?" is a cry of rage against the Qatari-owned propaganda outlet, that consistently fails to report on any Gazan demonstrations against Hamas, and no doubt will be absent should the first large-scale demonstration take place as planned on July 30. Why, the Gazans wonder, does Al Jazeera never report on their despair, but instead shills for, by covering up, the misrule and corruption of Hamas? No mystery here: Qatar supports the Muslim Brotherhood, and Hamas is the Gazan branch of the MB.
Earlier this month, the leaders of the protests issued a list of demands to Hamas to improve their lives.

"The word "Israel" is not mentioned – they blame Hamas and Hamas alone for their predicament.
Since Israel isn't even mentioned, much less blamed, by the unhappy Gazans who are determined to make Hamas treat them decently, the Western media have so far shown no interest in the story.
They are demanding more hours of electricity, timely payment of Gaza government salaries, and for Hamas to stop taking out "taxes" on the money Qatar sends to Gazans (as well as an increase.)
These are all pocketbook issues, easy to understand and sympathize with. Electricity is now available in Gaza for about four hours a day, because the Hamas government refuses to pay bills past due from its suppliers, including Israel and Egypt. Hamas also has delayed paying salaries to government employees, some of whom have been owed back pay for more than a year. Finally, the Hamas leaders help themselves to a portion of the aid given by Qatar; this money is distributed among the "600 Hamas millionaires" living in luxurious villas in Gaza, in the midst of an impoverished general population. The most colossal theft of aid was carried out some years ago by two Hamas leaders, Khaled Meshaal and Mousa ibn Marzouk; each managed to squirrel away a private fortune of $2.5 billion. Gazans may not know the exact amount of the stolen aid money, but they are well aware that such thievery has been both massive and constant ever since Hamas took over the Strip in 2007.
If the demands aren't met, the protesters plan a huge set of demonstrations this coming Sunday, July 30.

So why are these issues not being covered by the media, including Arabic media?

One major reason is that there is an unwritten rule: unless problems can be blamed on Israel, they must not be publicized. And even ordinary Palestinians have internalized this rule when they speak to reporters on the record.

When they are assured anonymity, they are much freer to criticize their leaders, but most reporters aren't even interested in asking the right questions. The international media has its own narrative to uphold, and that one coincides with that of the PA and Hamas – always blame Israel and Israel alone.

Yes, there is censorship from Hamas and the PA, and they routinely will insult their political opponents on their own media so we know about their own infighting. But popular protests like these do not benefit the PA, because they have their own critics and protesters, and the optics of showing Palestinians protest against their own leaders is problematic for both sides….
The PA does not publicize the protests in Gaza against Hamas for one reason: showing protests by impoverished Gazans against Hamas' leaders can only encourage Palestinians, suffering under the corrupt rule of the PA, to go and do likewise, something the PA wishes to avoid.
If Hamas fails to meet the three demands made of it by the Gazans – first, to pay what is owed to those who supply the Strip with electricity so that more than four hours a day are received; second, to provide back pay that is owed to government employees; third, for Hamas leaders to stop helping themselves to so much of the aid provided by Qatar – then the largest demonstrations in Gaza's history will take place. What can Hamas do? It can't arrest many tens of thousands of angry protesters. Might even Al Jazeera, The Guardian, The New York Times, and The Washington Post, albeit reluctantly, simply be forced to take note?