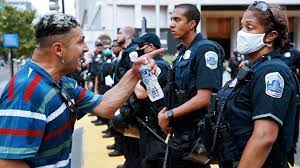 Last year was a rough year for people who lived in Democrat-controlled cities like New York City, San Diego, and Chicago. The liberal governments voters put in place showed that they don't know how to keep citizens safe. Activism and a soft-on-crime approach to crime prevention backfired on them endangering their lives and property.
Crime rose dramatically in these liberal cities last year, and when the politicians in charge turned to the police to prevent this, the police weren't there.
Police in these cities had decided that enough is enough. Low morale, poor pay, and lack of support from those they were trying to help led to police officers resigning or moving on to cities where liberal policies hadn't turned the cities into places where criminals virtually controlled the streets.
"Patrol officers these days feel like they're not getting the support that they once got by the public," Texas Christian University policing professor and reserve officer Johnny Nhan told the Daily Caller News Foundation. "It's anything from apathy to hostility that they're facing. They're afraid of accusations of being racist or being brutal, they're filmed all the time, so that does something to the officers. They're feeling like, 'Hey, there's a lot of legal risk being a cop these days.'"
The more officers police departments lose, the more likely it is that the remaining officers will find themselves fighting a losing battle against crime in their cities.
The New York Times cited New York City Police Pension Fund data that showed 1,225 police officers within their first five years of service resigned from the New York City Police during the first 11 months of 2022.
The San Diego Police Department lost more than 50 police officers in a three-month period last year, according to Fox 5 San Diego.
"They see the urban decay that is really occurring in San Diego, and they are fleeing with their families, they are fleeing with their careers," Wilson said, according to Fox 5. San Diego County hit its highest mid-year violent crime rate in ten years by the end of June 2022, accompanied by a 4% spike in homicides and a 15% increase in robberies, SANDAG reported.
While these stats are discouraging, they aren't totally unexpected. Police have now reached the breaking point. They are being asked to control crime in their jurisdictions with ever-increasing restrictions on how they can do it to the point that they are unable to do their jobs safely. And so, they resign.
Police are facing an increasingly hostile populace, at least in cities, and if they feel like they aren't supported by elected and city officials, they aren't remaining around to be crushed. They are leaving… leaving their jobs and leaving officials and citizens to deal with the crime they encouraged.
The result is predictable. Things will get worse and the fewer remaining officers will be asked to continue to put their lives on the line for government officials who don't seem to care as long as they can pander to the progressives in the city.
Michael A. Letts is the CEO and Founder of In-VestUSA, a national grassroots non-profit organization helping hundreds of communities provide thousands of bulletproof vests for their police forces through educational, public relations, sponsorship, and fundraising programs.