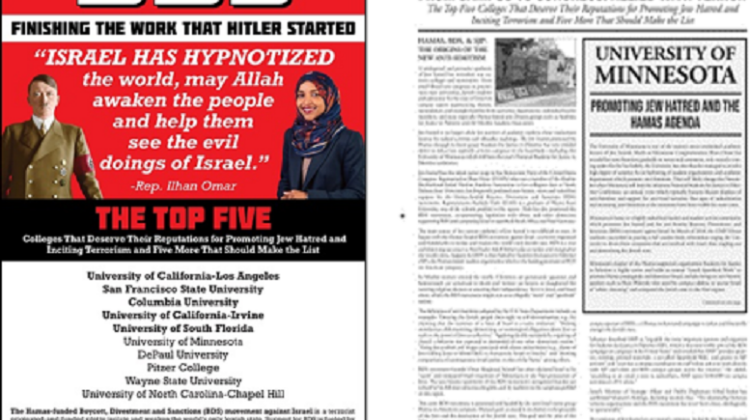 In a stealth campaign to reach students directly, the David Horowitz Freedom Center today distributed 2000 newspapers containing its new report on the "Top Ten Colleges that Promote Jew Hatred and Incite Terrorism" as well as posters condemning the Hamas-funded BDS movement against Israel on the University of Minnesota campus. The University of Minnesota is one of the schools named in the report.
The newspaper distribution coincides with the National Students for Justice in Palestine Conference, a highly controversial event known for promoting Jew hatred and anti-Israel terrorism, which will take place this weekend at the University of Minnesota.
Titled "From Campus to Congress: Allied with Terror," the report documents the malignant spread of Jew hatred in our nation's academic institutions. "Jew hatred is no longer solely the purview of academic outliers, those institutions known for radical activism and absurdist teachings," the report explains. "The Jew hatred promoted by Hamas through its front group Students for Justice in Palestine has now trickled down to infect less typically activist campuses in the heartland—including the University of Minnesota which will host this year's National Students for Justice in Palestine conference."
A poster included in the pages of each newspaper highlights the role that Congresswoman Ilhan Omar, whose district includes the University of Minnesota, has played in promoting the anti-Semitic Boycott, Divestment and Sanctions (BDS) movement against Israel. The poster features images of Rep. Omar and Nazi dictator Adolf Hitler, accompanied by a notorious tweet from Omar stating "Israel has hypnotized the world, may Allah awaken the people and help them see the evil doings of Israel." The caption above this image states "BDS: Finishing the Work that Hitler Started." These same posters were also hung in public locations on the Minnesota campus.
"For nearly two decades, SJP has promoted Hamas lies and propaganda in order to establish a beachhead of support for anti-Israel terrorists on American campuses, resulting in a dramatic rise in anti-Semitic incidents and the harassment of Jewish students," said David Horowitz, founder of the Freedom Center. "
"American universities like the University of Minnesota allow these terrorist allies to use their authority and prestige to lend this genocidal offensive an aura of respectability," Horowitz continued. "Our campaign intends to expose SJP and other supporters of BDS as fronts for Hamas and to press universities to cease their funding and support of these organizations."
Visit https://stopuniversitysupportforterrorists.org/ for more information on SJP's links to Hamas and to read our new report on the Top Ten Colleges that Promote Jew Hatred and Incite Terrorism.
The David Horowitz Freedom Center, founded in 1988, is a not-for-profit organization located in Sherman Oaks, California. The Center's mission is to defend free societies like America and Israel, which are under attack by totalitarians both religious and secular, domestic and foreign.