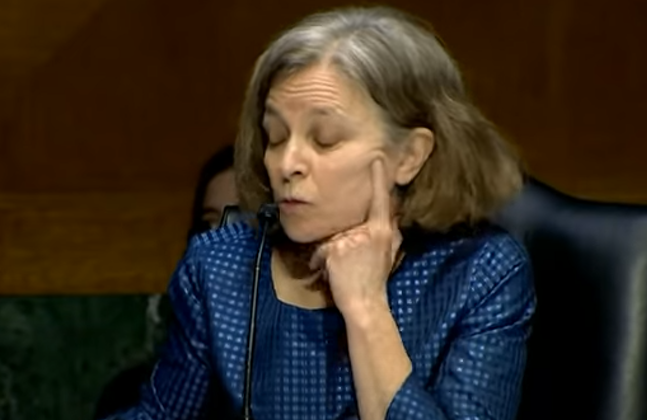 During the Trump impeachment, we were repeatedly reminded that Rep. Jamie Raskin was a constitutional law professor. Even though he barely seems able to spell "constitution", let alone define it except through his varied abuses. What Rep. Raskin does know how to do is jump on assorted leftist bandwagons while claiming that he has a special expertise in saying "unconstitutional" when a camera is pointed at him.
Here's Jamie. Again.
A group of Democratic lawmakers in the House are calling for a hearing to "investigate attacks on democracy," following Florida Gov. Ron DeSantis's (R) suspension of State Attorney Monique Worrell (D) on Wednesday for alleged "neglect of duty."

House Committee on Oversight and Accountability ranking member Jamie Raskin (D-Md.) and Reps. Maxwell Frost (D-Fla.) and Dan Goldman (D-N.Y.) sent a letter Thursday to committee Chairman James Comer (R-Ky.) asking for a full hearing on the "shocking trends of anti-democratic abuses of powers in the state [Florida.]"

The lawmakers claimed Florida's executive and legislative branches of government have engaged in a "relentless assault on the fundamental rights and freedoms of Floridians."

The letter addresses the previous suspension by DeSantis of Hillsborough County State Attorney Andrew Warren after he allegedly refused to enforce bans on abortion and transgender surgery.

The lawmakers said they are "alarmed" DeSantis has suspended a second prosecutor.

"This removal flies in the face of the courts and the Constitution in what appears to be a scheme to undermine the will of the electorate where the courts cannot provide a legal remedy for the Constitutional violation," the letter said.
If that last part sounds like gibberish, that's because it is.
What does it mean that there's a constitutional violation that the court can't provide a legal remedy for? Don't ask the media or constitutional law professor Rep. Jamie Raskin to explain this nonsense.
What it actually means is that Warren, a Soros DA, announced that he was refusing to do his job by engaging in "prosecutorial discretion" on the laws he disagreed with. Then Warren went to Judge Robert Hinkle, a Clinton federal judge, to get a friendly hearing. Hinkle claimed that the DeSantis suspension violated the Florida state constitution (not the national constitution as the media and Rep. Jamie Raskin imply) but that he couldn't do anything about it as he was a federal judge.
Later, Warren took his show to the correct venue, the Florida Supreme Court noted that he had taken too long to bring his case.
The point of this circus in which Warren took his case to the wrong venue and then to the right venue at the wrong time was virtue signaling. And this is the next stage of the show.
Constitutional law clown Rep. Raskin presumably knows all this, yet decided to co-sign a letter stating misleadingly that…
"Covered in this testimony was the fact that Governor DeSantis suspended indefinitely a democratically-elected State Attorney Andrew Warren from office, an action that a federal judge subsequently found violated the Constitution but ruled that the courts do not have the power to reinstate him.6 We are alarmed that Governor DeSantis – who is now campaigning for the Republican nomination for President of the United States – has now similarly suspended another democratically-elected State Attorney, Monique Worrell. This removal flies in the face of the courts and the Constitution in what appears to be a scheme to undermine the will of the electorate where the courts cannot provide a legal remedy for the Constitutional violation."
Rep. Raskin's letter then escalates to claiming that suspensing Soros DAs violates the federal constitution.
"It is disheartening to witness the erosion of the foundations upon which our nation was built. In Article IV, Section 4 of the Constitution, the Republican Guaranty Clause compels Congress to "guarantee to every State in this Union a Republican Form of Government," which means not a Republican Party form of government but a representative government based on principles of fair democratic representation and participation, due process, freedom of speech, and freedom of association for all."
If Rep. Raskin wants to go there, then every state must have electable DAs. And that's just the beginning.
IV:4 has been one of those constitutional ticking time bombs that we don't think much about. Give Rep. Raskin some credit for pushing that particular button. It was put into place around the time of the Rhode Island crisis when the future state appeared to be on the verge of either seceding or becoming totalitarian. And the Framers were potentially looking for a pretext to militarily intervene.
"The United States shall guarantee to every State in this Union a Republican Form of Government, and shall protect each of them against Invasion; and on Application of the Legislature, or of the Executive (when the Legislature cannot be convened) against domestic Violence."
The background though was a situation in which there would be a monarchy or dictatorship in a particular state, or an uprising by what was then the future Democratic Party, seeking to form a junta.
This does not apply when there is a functioning legislature. Which Florida does have.
So it's obviously a constitutional non-starter, but we are dealing with folks who spent decades claiming that the Constitution protects a right to abortion and outlaws the death penalty for serial killers.
There's plenty of constitutional ticking time bombs and it'll be interesting to see if this one takes off.
Because, if it does… shall we discuss whether California or New York have a "republican form of government"?
Shall we discuss if ballot harvesting elections represent "republican forms of government"?
And shall we discuss whether experiments like letting non-citizens vote or ranked-choice voting or multiple votes trigger a IV:4 response?
If you want a pathway to a civil war through a federal seizure of total control over elections, that would be it.