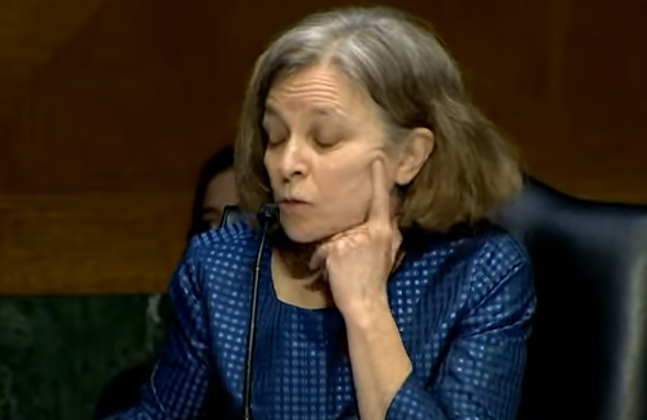 It's a little bit awkward after the media had spent the past 6 years accusing Republicans of working for Moscow and after the attacks on anyone who questioned the current strategy.
But the Left has always been good at pulling the "Oceania had always been at war with Eastasia" routine.
A group of 30 House liberals is urging President Biden to dramatically shift his strategy on the Ukraine war and pursue direct negotiations with Russia, the first time prominent members of his own party have pushed him to change his approach to Ukraine.
Liberals? Is that what we're calling Communists now?
The group, predictably includes Squad members, AOC and Ilhan Omar, Cori Bush… and Jamie Raskin?
That's the Rep. Jamie Raskin who back in February tweeted, "As Putin launches his premeditated war of aggression against Ukraine, a sovereign democratic nation, Trump and his pro-Putin stooges and puppets praise this authoritarian aggressor. Pro-democracy Americans stand against this unfolding war crime."
We've gone from that deranged word salad to demanding a "realistic framework for a ceasefire" and a "pro-active diplomatic push" to "engage in direct talks with Russia."
Not that signing the appeasement letter prevented Raskin from tweeting on Oct 18, that Trump "bows down to Vladimir Putin, former KGB spymaster still lamenting collapse of the USSR" even while Raskin was preparing to bow down to Putin.
As a practical policy matter the letter is stupid. It undermines Biden (not that there's much to undermine) by pressuring him to cut a deal with Putin.
Biden has no ability to cut a deal with anyone, let alone Putin. And it's not up to us to make a deal or cut a deal. That's Ukraine's call. We get to decide if we should be providing weapons and how many of them.
There is a sane middle ground here, which is to drop the economic sanctions which aren't working and just hurting us, and provide military aid appropriate to what we think Ukrainian military operations should look like. If we want them to pull back, that's easy enough to accomplish by staggering aid appropriately. The U.S. does this with Israel all the time.
The argument for continuing to back Ukraine is that we're cheaply degrading Russia's military capabilities for cents on the dollar without putting any Americans in harm's way. It's the sort of thing that Russia does to us all the time. And letting the Ukrainians do the heavy lifting makes it less likely that we'll be dragged into an actual war if Putin makes it all the way to Poland.
The argument against is that this is an endless war and it's having a negative impact on us. And we have enough economic problems to deal with.
There's a reasonable argument to be had there. (Not that anyone is in the business of reasonable arguments anymore. And when it comes to Ukraine, a lot of people have picked a crazy maximalist position one way or the other.)
Raskin and the gang want to have it both ways, staking out a popular antiwar position on the Left while still calling Republicans pro-Putin puppets.
I'd say "pick one", but we all know that's not how it works anymore.
And considering Jamie's dad, Marcus, was a Communist collaborator, calling anyone else a Russian puppet is unintentionally funny.