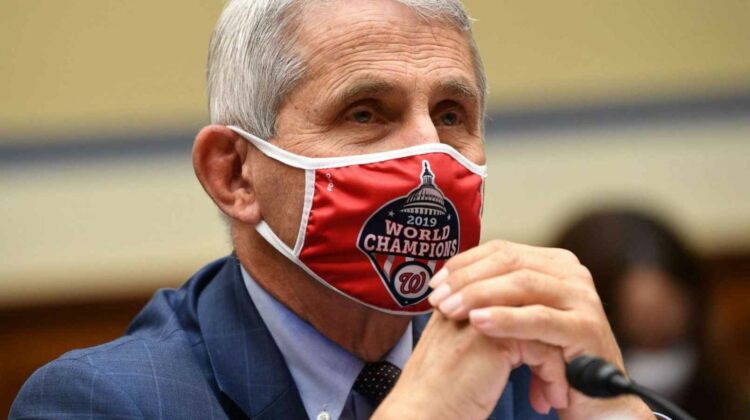 As 2022 dawns, white coat supremacy (WCS), rule over the people by unelected medical bureaucrats, is surging on several fronts. Dr. Anthony Fauci called on Americans to disinvite unvaccinated relatives from Christmas gatherings. Based on advice from Fauci, Joe Biden prophesied "a winter of severe illness and death" for the unvaccinated. Biden also pushes vaccine mandates that divide the people and steal workers' jobs. As the WCS surge continues, a group of distinguished medical scientists offers a way to roll it back.
On October 4, 2020, Drs. Jay Bhattacharya (Stanford University), Sunetra Gupta (Oxford University), and Martin Kulldorff (Harvard University) released the Great Barrington Declaration (GBD) to "express our grave concerns over the inadequate protection of the vulnerable and the devastating harms of the lockdown pandemic policy adopted by much of the world."
The authors proposed an alternative strategy "focused on the most vulnerable," that would let those at little risk, particularly the young, live normal lives. The GBD was signed by more than 50,000 scientists and medical professionals and 800,000 members of the public. That set off alarms at the National Institutes of Health.
On October 8, 2020, NIH director Francis Collins targeted the GBD in an email to Dr. Anthony Fauci, director of the National Institute of Allergy and Infectious Diseases (NIAID). "There needs to be a quick and devastating public takedown of its premises," Collins wrote. "I don't see that on line yet. Is it underway?" Gupta, Bhattacharya and Kulldorff were all infectious disease experts but Collins smeared them as "fringe epidemiologists," and the NIH boss got the hit pieces he wanted.
Consider, for example, "The Great Barrington Declaration: When Arrogance Leads to Recklessness," by Brooks Gump, a psychologist with a master's degree in public health. As his bio explains, "Gump's work has been supported by numerous NIH grants." In effect, Gump was on Collins' payroll, and the targets of the smear job were more far more qualified than the author.
As Bhattacharya and Kulldorff, explain, Collins and Fauci "purposely mischaracterized" the GBD as a "let-it-rip" strategy of "herd immunity," even though focused protection is the very opposite of a let-it-rip approach. Without focused protection, the GBD contends, every age group will eventually be exposed in equal proportion. That made good sense but white coat supremacists are not about debating the facts.
As Bhattacharya and Kulldorff note, NIH director Collins commands a budget of $42.9 billion and the NIAID boss Fauci $6.1 billion. That makes them the biggest funders of medical research in the United States, wielding powerful leverage over scientists.
"If we want scientists to speak freely in the future," Bhattacharya and Kulldorff contend, "we should avoid having the same people in charge of public health policy and medical research funding." That makes good sense, but there's more to it. As embattled Americans have noted, those "same people" remain in power far too long.
The recently retired Collins is the first appointed NIH boss to serve more than one president. Anthony Fauci earned a medical degree in 1966 but to avoid treating wounded American soldiers he took a cushy "yellow beret" job with NIH in 1968. Fauci's bio showed no advanced degrees in molecular biology or biochemistry, but in 1984 NIH made him director of NIAID, a division of the NIH.
Fauci predicted that AIDS would ravage vast swaths of the population but as Michael Fumento showed in The Myth of Heterosexual AIDS, that never happened. Fauci backed trials of dangerous drugs such as AZT on human subjects, including pregnant women and children. For Fauci, none of this is a problem because his wife Christine Grady, who is not a medical doctor, serves as bioethics boss for the NIH, and heads the section on human subjects research.
Whatever Dr. Fauci wants to do, from cruel drug experiments on children to torture of beagle puppies, his main squeeze Christine will tell him it's ethical. At 81, husband Tony has the best of all worlds.
Dr. Anthony Fauci is the highest paid bureaucrat in the entire federal government, and bags a bigger salary than the president of the United States. Joe Biden recently referred to Fauci as the real president, even though he never has to face the voters. As elected representatives should note, putting a stop to such white coat supremacy is a daunting but achievable task.
The people in charge of public health policy should not control funding for medical research. Public health bureaucrats should work on non-renewable contracts of four years, and none should serve more than one administration. These common-sense reforms would constitute a strategic defense initiative against WCS, whose leading figures have yet to be held accountable.
Fauci and Collins both lied about funding gain-of-function research at the Wuhan Institute of Virology, controlled by the Chinese Communist Party. As Israeli scientist Dany Shoham noted in 2020, the WIV is also a collaborator with China's biological weapons program.
That calls for a full investigation and, where appropriate, criminal charges. The people need justice, and they need it now.