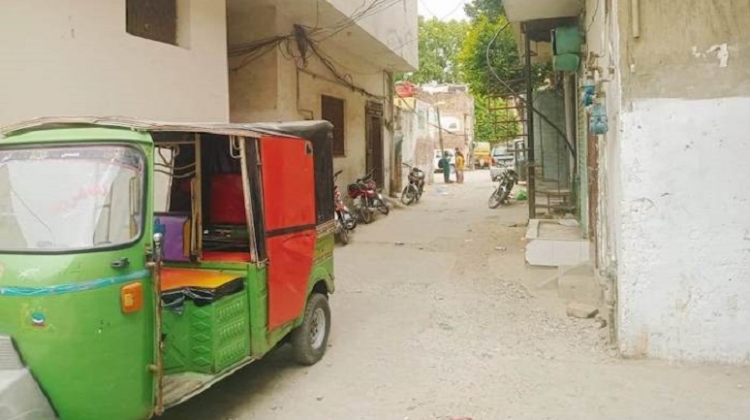 Two Christian boys in Pakistan, one of them a minor, have just been arrested and charged with blasphemy after a police officer alleged they had named a puppy Muhammed Ali and were laughing about it. If convicted, they could face long prison sentences, or even death.
In fact, the police officer in question, Zahid Sohail, had apparently been beating the younger boy, aged 14, solely for being a Christian; the other boy had intervened to help his friend and was beaten in turn. Then a crowd of both Christians and Muslims intervened, asking Sohail why he was beating the boys so vigorously. He answered that they had blasphemed, but offered no details. It was only much later, when he returned to the scene, that he came up with the supposed reason: the boys, he claimed, had named their puppy "Muhammed Ali" — a clear case of blasphemy. More on this disturbing story can be found here: "Two Christian Teenagers arrested after police officer states they named puppy Muhammed Ali," British Asian Christian Association, May 23, 2023:
The boys were booked under Section 295-C of the blasphemy law a statute which prohibits disrespect of the prophet Muhammed and is punishable by death.

On Friday 20th May a Judge sent the two boys to prison on judicial remand and now they face a potentially long prison sentence while they try to attain acquittal or bail.

Adil Babar (18 yrs) and neighbor Simon Masih (14 yrs) were arrested by Race Course Police in Lahore on Thursday 19th May, after an altercation led to a Muslim police officer alleging the Christians had blasphemed against Muhammed.
It seems that the policeman simply was angered by the failure of the boys to be sufficiently respectful or submissive to him, and began to beat the younger boy, and then after the older one intervened, continued to beat both of them, to "teach the Christians a lesson." But he must have been surprised that Muslims joined Christians from the neighborhood who came out to protest his beating. He responded, to justify his behavior, that the boys had both "blasphemed." He offered no details at the time of that supposed "blasphemy," because he had not had time to make them up.
Police constable Zahid Sohail, accused the two Christian boys of having disrespected the Islamic prophet Muhammed, after a crowd of people intervened while he was beating the two boys.

Mr Sohail was questioned by local Muslim and Christian leaders at [sic] why he was beating the two boys so vigorously and though he claimed they had blasphemed, he could offer no description of the alleged crime.
If they had indeed blasphemed, he would have at once been able to quote their offending words. But he couldn't.
Both boys categorically denied any use of blasphemous words or actions. The crowd seemed to believe them. They live in an area where Muslims and Christians live together peacefully.

When he could not satisfy community elders [both Muslims and Christians] that he was acting professionally, Mr Sohail left the location. Later in the evening however, police raided the village and arrested the two boys. Charges were laid against both of them under Section 295C of the Pakistan Penal Code which carries a death sentence. In a First Information Report (FIR) Mr Sohail claimed to have seen them naming a puppy Muhammed Ali and then sniggering about it.
How likely is it that in the presence of a policeman, two Christian boys would have dared to "name a puppy Muhammad Ali" and "snigger about it"? They knew the consequences of such blasphemy. Sohail's claim is preposterous.
And the most piquant detail of all: It turns out that the boys did not own a puppy. Nor did anyone in the neighborhood. Zahid Sohail could not possibly have seen them naming a nonexistent puppy Muhammad Ali, or indeed any other name.
Many Christian families in the area have vacated their homes and have travelled to relatives, as local mosques have begun to share the news of a blasphemy on their public address systems. There is great fear that a mob could attack the few Christians, about 500 families that live in this town. When our officers spoke to local Christians they all felt this was simply a malicious attack because the boys are Christian. None were brave enough to talk into a camera or be in images as there are still simmering tensions in the area.
Now that the story of the "puppy-naming blasphemy" has spread, some Christians in the area, afraid of possible Muslim attacks, have moved in with relatives elsewhere. And such is the madness of Muslims whipped up by this false tale of blasphemy, that the 500 Christian families remaining in the town might well be attacked by their Muslim neighbors, with whom they had until now had good relations.
The situation has spiraled out of control. It begins with a police officer beating one Christian boy, and then two of them, likely because he simply took umbrage at their failure to be suitably deferential. When an unfriendly crowd gathered as he beat the boys, he simply claimed that the boys had "blasphemed" without being able to offer any details. He would make those up later. By the time that other police arrived in the evening to arrest the boys, Zahid Sohail had claimed that the Christians had named a puppy "Muhammad Ali" and sniggered at the name.
The boys don't have a puppy. Nor do any Christians in the area where they live. No matter: the word has gone out that the Christian boys had named their non-existent puppy Muhammad Ali, that this constituted blasphemy, and that they were consequently charged with a crime that could result in long prison terms, or even death. That's how easy it is to put Christians in Pakistan into mortal danger. Even a single, obviously lying police officer, with his absurd claim about the "blasphemous" naming of that imaginary puppy, can do it.