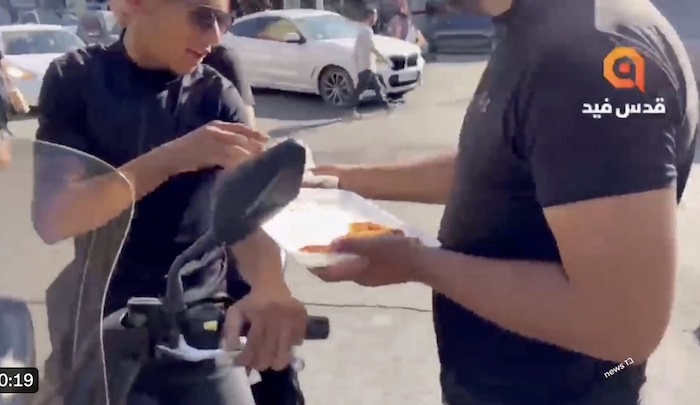 Five Arab armies entered Israel on May 15, 1948, encouraging the local Arabs to temporarily leave the area, so they would be safely out of the way of battles. Then, after what would surely be a quick victory over the Jews by the Arab armies, they would be able to return to their homes, and to appropriate, as well, the property left by the Jews who would by then have been either killed or expelled. That Arab victory was not to be; instead, the Arabs brought on themselves the Nakba, or catastrophe, of overwhelming defeat. They continued to believe they were close to victory in May 1967, when Egypt's Nasser had the UN's U Thant remove the UN peacekeeping troops from the Sinai, moved up tens of thousands of Egyptian troops into the northern Sinai toward Israel, and told hundreds of thousands of delirious Egyptians in Cairo that victory would soon be theirs. In six days of fighting, the Israelis not only emerged victorious, but had managed to win all of the Sinai from Egypt, the Golan Heights from Syria, and the West Bank, including East Jerusalem and the Old City, from Jordan. Yet even this did not change the Arab belief that victory would soon be theirs, and the Jewish state would inevitably disappear. More on the Arab delusion can be found here: "Why do Palestinians always declare victory when they lose?," Elder of Ziyon, July 14, 2023:
Hussain Abdul-Hussain, an analyst at the Foundation for Defense of Democracies, tweeted a criticism of Arabs who keep declaring "victory" over Israel:

The Arabs have a chronic and permanent feeling that they are on the verge of victory over Israel, and that the passage of time is in their interest. This is how Nasrallah appeared yesterday saying that Israel does not dare to remove his border tent because Israel's deterrence capacity has diminished, and because Israel is no longer as strong as in the past, and Lebanon is also not weak as in the past. 
Israel has never been stronger militarily. Its Iron Dome anti-missile system, tested in a real war this May, now manages to intercept 96% of incoming missiles. The Jewish state's multi-tier system of missile defense, consisting of Arrow-2 and Arrow-3 (for long-range missiles) missiles, David's Sling (for mid-range missiles), and the Iron Dome (for short-range missiles), has made Israel better protected against attacks from the air than at any time in its history. Meanwhile, Israeli weapons have proven so successful in combat that Arab members of the Abraham Accords have clamored to buy them. Just since 2021, Morocco has bought from Israel 150 state-of-the-art military drones, an unspecified number of Merkava battle tanks, and — for $500 million — the Barak MX air and missile defense system. The UAE has been permitted to buy, among other Israeli weapons, SPYDER mobile interceptors made by Rafael that are capable of defending against various types of aircraft, drones and cruise missiles. Bahrain, another member of the Abraham Accords, has bought from Israel both UAVs and anti-drone systems. In fact, 25% of recent Israeli arms sales have been made to just those three Arab countries — Morocco, the UAE, and Bahrain.
This feeling that Nasrallah transmits regarding the Arab struggle against Israel is improving in favor of the Arabs, is not born yesterday. "Israel is weaker than a spider's web."
Israel has soundly defeated, in a series of campaigns, all of its enemies: Hezbollah in 2006, Hamas in a half-dozen campaigns, and more recently, Palestinian Islamic Jihad terrorists both in Gaza and just now, in Jenin. The two-day war in Jenin left the terror group reeling. Having seen nine of its top leaders killed earlier in the year by the IDF, the PIJ now saw all of its troves of weapons, hidden under schools, apartment buildings and, especially, under a mosque, located and destroyed.
Like Nasrallah, Arab Americans feel that anti-Israelism in America and the world is expanding, and that times are changing in favor of the Arabs. Of course, these feelings are not based on facts. Rather, they are from the core of the Arab heritage that replaces truth with poetry, empty pride, and bragging about imaginary heroism and victories.
Arab-Americans may have fooled themselves into thinking that BDS rallies on campuses, and the shouting-down of pro-Israel speakers, at colleges, amounts to a sea change in American attitudes toward Israel. They might instead look at the steadily increasing number of states that have passed anti-BDS laws; there are now 37 of them, and each week brings fresh news of another state passing such legislation.
Arab-Americans place their anti-Israel hopes on the congressmen who belong to The Squad. But the media attention given to members of The Squad, a very loud group of anti-Israel Congressmen, cannot obscure the fact that despite the caterwauling of Omar and Tlaib, The Squad's members have yet to pass a single bit of anti-Israel legislation or to prevent a pro-Israel law from passing. Omar and Tlaib and Ocasio-Cortez make a lot of noise, but they are failures at getting legislation passed. Even today, with all the media attention given to "The Squad," it can only with difficulty muster a total of ten votes against pro-Israel resolutions – ten out of a total of 535.
This Arab non-reality is passed down through the generations. For example, in the closing statement of the Arab League summit held in Tunis in 1979, when Nasrallah was still a teenager, it was stated that the conferees expressed their relief that the world had begun to turn against Israel: Noting with satisfaction the increasing isolation of Israel in the world arena, the shrinking of its international relations, and the growing awareness of the justness of the Palestinian cause and all occupied Arab lands among the world public opinion, it warns against all attempts aimed at restoring the relations of some countries with the Zionist enemy or recognizing Jerusalem as its capital, and declares that the Arab countries will take the necessary measures to protect Arab rights.
Since that Arab statement of 1979, Israel has managed to reestablish relations with dozens of countries in sub-Saharan Africa that years before, under Arab pressure, had broken off with the Jewish state. Currently, Israel has diplomatic relations with 42 of the 44 sub-Saharan African states that are not members of the Arab League, including a number of Muslim-majority states. Does this bespeak Israeli "weakness" on the diplomatic front? And what about the fact that in 1979, no countries had their Israeli embassies in Jerusalem, while now four countries do — the U.S., Guatemala, Honduras, and Kosovo, the last a Muslim state? A half-dozen other states have expressed their intention to do so in the near future.
Furthermore, Israel now has relations not just with Egypt and Jordan, with which it has peace treaties, but also with the four Arab states – Morocco, the UAE, Bahrain, and Sudan – that have joined the Abraham Accords and normalized ties with the Jewish State. There is even talk that the biggest prize of all, Saudi Arabia, might, if certain conditions are met, such as American help in developing Riyadh's nuclear energy program, be willing to open diplomatic ties with the Jewish state.
Meanwhile, more countries are choosing to cut their economic support for the Palestinians. That includes the Arab donors in the Gulf, who have cut such support to the bone, tired of the constant supplications for more aid by Mahmoud Abbas, and angry with the Palestinians, in the case of the UAE, Bahrain, and Morocco, for criticizing their adhesion to the Abraham Accords. The Saudi Crown Prince, Mohammad bin Salman, is even reported, in a fit of exasperation, to have told a complaining Mahmoud Abbas to "just take whatever deal the Americans offer."
The EU, too, has now thrown down the gauntlet to the Palestinian Authority: as of July 2023, there will be no more EU aid to the Palestinians until they clean up their textbooks, eliminating the pervasive antisemitism. The amount being withheld is several hundred million dollars.
Meanwhile, the Israeli economy is performing spectacularly. Its GDP reached $522 billion in 2022, more than any country in the Middle East and North Africa save for Saudi Arabia, and more than any Muslim country except for Saudi Arabia and Indonesia. Israel has more companies listed on NASDAQ than any other foreign country save China. Nearly every week after its IPO, an Israeli high-tech start-up becomes a unicorn, with a net value of more than $1 billion.
Hussain Abdul-Hussain continues:
Decades, even centuries, of Arab statements made of pure excrement. Statements aimed at masking the complete Arab collapse (with a few exceptions in the Gulf), often by attempting to divert Arab attention by blaming Israel. Arabs who live in illusions and feelings, there is no measurement of the truth, no appreciation of reality, no comparison between what was in the past and what is today (performance indicators), nor how the future can be, nor how can we deflect its path to our advantage. Only drums and honking, and woe to whoever comes out with a different point of view because he departs from the consensus, and that is treason.
The Arab collapse can be seen everywhere, beginning with the three countries – Syria, Libya, and Yemen – still ravaged by civil war. Once its conflict is well and truly over, Syria will need to spend $450 billion to put the country back in the condition it was in before the civil war began in 2011; where will such a fantastical sum come from? Wars grind on between the Houthis and the Sunnis in Yemen, despite the recent rapprochement between their respective backers, Iran and Saudi Arabia. In Libya, despite several ceasefires that have repeatedly relapsed into violence, the opposing forces of General Haftar and of the GNA (Government of National Accord) based in Tripoli have failed to establish a permanent peace and a single, and stable, national government.
Tunisia faces a crisis as the destination point for black Africans trying to make it into Europe, hoping to be smuggled in boats leaving from the Tunisian port city of Sfax. Naked racism against blacks has surfaced; the Tunisian army has been rounding up black Africans and dropping them both in the desert, just over the border in Algeria, and in the mountainous area near Kasserine in west central Tunisia. The black Africans are left without food or water. Many have died, and many more will die. Algeria has displayed a similar ruthless racism, driving black African migrants over its southern border into Niger's northern desert, indifferent to their survival.
Lebanon's economy is in a tailspin, with the Lebanese pound having lost 98% of its value since 2019; it was once 1,507 pounds to the dollar; now the exchange rate is more than 100,000 pounds to the dollar.
Young educated Lebanese, seeing no future for themselves in Lebanon, with its massive political corruption, its sectarian strife, and the constant alarm over a possible takeover of the country by Hezbollah, are abandoning the country for Europe, a brain drain from which the country may not recover for decades.
Iraq, too, is divided both by sect, with the Sunnis, still unreconciled to their loss of power to the majority Shi'a, and by ethnicity, with the Kurds determined to keep the autonomy they have managed to hold onto, despite Arab objections, ever since Saddam was overthrown. Members of ISIS are still active in the north, straddling the border with Syria.
The Arabs, Hussain Abdul-Hussain argues, see things not as they are, but as they would have them be. They allow themselves to believe, despite all the evidence to the contrary, that Israel is steadily weakening, while the Arabs go from strength to strength. But it is Israel, the original Start-Up nation, that attained in 2022 a GDP of $522 billion, that militarily, diplomatically, and economically, becomes ever more powerful. It is Israel that has been producing advanced weapons that many countries now covet, Israel that in every campaign against the Palestinian terror groups accomplishes in a matter of weeks, or now even days, the total defeat of its enemy, whether that enemy is Hamas, PIJ, the Lions' Den, or the Jenin Brigade, It is Israeli scientists who are constantly improving its weapons, from UAVs to the Merkava tank to the Iron Dome anti-missile defense system.
Meanwhile, it is the Arab world that has been tearing itself apart with civil wars, Muslim Brotherhood insurgencies, sectarian conflicts, massive corruption, and an economic degringolade visible everywhere save in the handful of Arab oil states in the Gulf, with their hundreds of billions of undeserved dollars.
For the latest example of how disconnected with reality the Arabs can be, just look at how the Palestinians have reacted to the Israeli dismantling of the PIJ in Jenin. In 44 hours, the IDF entered Jenin camp, swiftly swept aside heavily armed PIJ fighters, managed to kill twelve of them with only one IDF soldier killed, Despite having gunfire steadily rained down on them from every side, they managed to locate and destroy vast quantities of weapons, including those hidden in an underground storehouse built beneath the camp's main mosque.
But how did the Palestinians describe the Jenin battle? They described it as a triumph, in which their fighters drove out the Israelis who supposedly suffered heavy casualties. The military spokesman for Islamic Jihad's armed wing, al-Quds Brigade, Abu Hamza, said in a video message that the Palestinian fighters had turned Israel's "home and garden" operation into a "flimsy aggression." What's more, the Palestinian resistance in the camp "thwarted the enemy's tactics" by using explosive devices and ambushes. "The enemy has mobilised its heavily armed forces with all means of strength from the air and ground, against our heroes in the Jenin Battalion of the al-Quds Brigades," Abu Hamza said. "The resistance in the West Bank and Jenin has withstood and has not and will not be defeated in front of this formidable enemy." Adding to the Arab fantasy, a Hamas spokesman called Israel's withdrawal "a confession of failure." After the Israelis left, Palestinians came out to celebrate their "victory," with much Allahu-akbaring, as they flashed victory signs and handed out celebratory candy. "We taught them an unforgivable lesson," said 23-year-old Ahmed Rashid, referring to the Israeli soldiers. "They were forced to pull out less than two days after the invasion because they failed to achieve most of their goals. Thank God, most of the fighters have not been harmed."
In Jenin, 'twas a famous victory, the Palestinians say, for the "resistance." Let's wish them many more such victories.