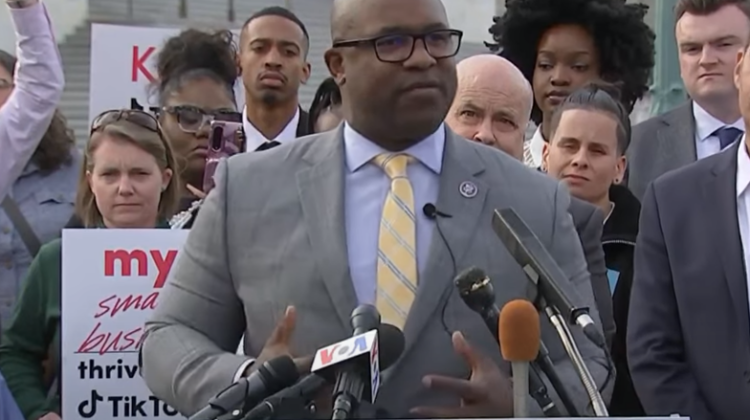 China's Big Tech weapon keeps on killing while politicians keep on talking.
A 13-year-old in Ohio has died after "he took a bunch of Benadryl," trying a dangerous TikTok challenge that's circulating online, according to a CNN affiliate and a GoFundMe account from his family.

Jacob Stevens was participating in a TikTok challenge with some friends at home when he ingested the antihistamine, the family donation account states. Jacob was on a ventilator for almost a week before he died, according to WSYX.
Quite a few kids have died due to TikTok challenges being pushed into their timeline.
An 8-year-old and a 9-year-old girl died of "self-strangulation" after being encouraged to take part "in TikTok's Blackout Challenge, which encourages users to choke themselves with belts, purse strings or other similar items until passing out."

The lawsuit alleges that "TikTok's dangerous algorithm intentionally and repeatedly pushed the deadly 'Blackout Challenge' into both Lalani and Arriani's TikTok 'For You Page'" That means, according to the lawsuit, that TikTok had "specifically curated and determined that these Blackout Challenge videos – videos featuring users who purposefully strangulate themselves until losing consciousness – are appropriate and fitting for small children".

Arriani, the 9-year-old girl, was found "hanging by her dog's leash which she had affixed to the door to her room. She had been in this condition for at least a half-hour in front of her 5-year-old brother." Lalani, the 8-year-old girl, was found "hanging from her bed with a rope around her neck still warm to the touch. Lalani had laid out her bathing suit in anticipation of going swimming."

The two girls are one of seven children to have died as a result of the "blackout challenge".

Five of the children, including 12-year-olds in Colorado and Oklahoma, and a 10-year-old in Pennsylvania, are Americans.
Social media challenges have proven fatal elsewhere, but what's really revealing is how different China's domestic version of TikTok is.
While TikTok has become the most popular app in the rest of the world, a domestic version called Douyin is available to Chinese consumers. The apps are nearly identical — but with one critical difference: users under 14 are required to use Douyin in healthy moderation on "teenage mode."

Young, impressionable users are limited to 40 minutes a day between 6 a.m. and 10 p.m. to ensure they get adequate sleep. Endless zombie-like scrolling is interrupted by mandatory 5-second delays. They're also only shown specially-selected "inspiring" content.

"The algorithm is vastly different, promoting science, educational and historical content in China while making our citizens watch stupid dance videos with the main goal of making us imbeciles," Nicolas Chaillan, former Air Force and Space Force Chief Software Officer told the Post.
China does this to us because we're fair game. And when there was talk of banning it, China bought up much of our political class on the Left and the Right, from AOC to conservative influencers who, dancing to Bejiing's tune began ranting and raving over any talk of banning TikTok. Meanwhile, American kids keep dying because of China's digital fentanyl. And the politicians talk, but do nothing.