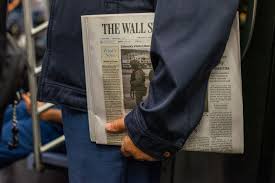 Last week the Wall Street Journal published an unsigned op-ed unworthy of one of the best teams of commentators in the country. The subject was some comments Donald Trump made on Truth Social that, by surprise, displayed his trademark turbo-charged hyperbole. The Journal is usually a reliable source of sober, judicious, and fact-based analysis, but this editorial is a troubling portent that Republican Trump-Derangement Syndrome hysteria may have a negative impact on next year's election.
Trump's heinous sin, according to the editors, is saying "that Gen. Mark Milley, the nation's highest military officer, deserves execution—as in death. He said NBC should be investigated for treason and that the FBI should raid the homes of Senate Democrats. Then he accused President Biden of being manipulated by 'the Fascists in the White House.'"
Now listen to what Trump actually said about Milley as quoted by the Journal: "'This guy turned out to be a Woke train wreck who, if the Fake News reporting is correct, was actually dealing with China to give them a heads up on the thinking of the President of the United States. This is an act so egregious that, in times gone by, the punishment would have been DEATH!  [emphasis added].'" That's more nuanced than saying Milley "deserves execution." 
Read carefully, one wonders why the editorial would provide its own refutation. Take "Woke train wreck." Has the Journal forgotten that in testimony before the House Armed Services Committee, Milley argued for bringing critical race theory propaganda into the military academies and the armed forces' training programs?
Is that not "woke"? And given the recruiting crisis across the services, caused in part by subjecting troops to a truly racist and preposterous leftist ideology, is there any wonder that potential recruits who would join up to be trained as warriors and fight for their country, would pass on being told that their country is "systematically racist," including them?
Next, is Trump lying about Milley's untoward outreach to our most formidable enemy, China? Doesn't the cognitive elite's bête orange deserve acknowledgement that he conditioned his comments with "if the Fake News reporting [on the 2021 book Peril by progressive Dems' journalistic saint Bob Woodward, and their trusty tribune, Robert Cost of The Washington Post] is correct"? Or is his sin the phrase "fake news," a widespread, bipartisan estimate of our politicized media?
Worse, the Journal omits Milley's gross violations of both his oath to the Constitution, and his professional ethics, that Trump is referring to. During the last days of the Trump administration, Milley––based on the popular anti-Trump huge begged question that he was mentally impaired enough to attack China or provoke a nuclear war before leaving office––reportedly overstepped his Constitutional authority and violated the chain of command by going behind Trump's back to speak with China, our most formidable geopolitical rival.
As a National Review editorial reported at the time, Milley "went to the head of the Chinese military to tell him, in effect, that Trump was bluffing. Milley reportedly ordered naval exercises canceled to avoid offending the Chinese. He even 'went so far as to pledge he would alert his counterpart in the event of a U.S. attack . . . 'General Li, you and I have known each other for now five years. If we're going to attack, I'm going to call you ahead of time. It's not going to be a surprise.'"
Even if Trump is exaggerating in calling this treason, there's no question that Milley's actions obviously fulfilled one of the Constitution's Article 3 Section 3 predicates for treason, "adhering to [the United States'] Enemies, giving them Aid and Comfort." And of course, upon conviction the penalty is death, so the histrionic redundancy after "executed" is cheap theatrics. Strip away Trump's dramatic rhetoric, and what we have are unexceptional contested claims about what makes "aid and comfort" treasonous.
But the Journal ups the ante with some drama of its own: "We realize no one is supposed to take Mr. Trump's words seriously, but what if some crank does and decides to shoot Gen. Milley in his retirement?" This is an unserious debating gimmick we've been hearing from the left for decades, usually trotted out in arguments calling for European style "hate speech" restrictions on the First Amendment, or for gutting the Second Amendment.
After all, "words are violence," we're told by the same people whose political champions indulge quips such as  "When they go low, we kick them in the face," from Barack Obama's "wing-man," erstwhile U.S. Attorney General Eric Holder; or Obama himself, who during the 2012 campaign counseled his followers to "argue with your neighbors, get in their face." Or Rep. Maxine Waters who in 2018 told protestors to "create a crowd" around Trump's cabinet members when they appear in public, and in 2021 to "get confrontational" if the proper verdict wasn't reached in the Derek Chauvin trial for the death of George Floyd.
Or how about the incessant verbal "violence" against Supreme Court Justice Bret Kavanaugh during his confirmation hearings, or after the Dodd decision? The latter produced a stalker who was apprehended with a weapon near the Justice's residence. If that psycho had been successful and assassinated the Justice, would all those "pro-choice" protestors be responsible? Or should Senator Bernie Sanders answer for one of his followers in 2017 who shot up a Republican baseball practice, seriously wounding Rep. Steve Scalise?
Of course not. To argue otherwise bespeaks how far our culture has gone down the "devil made me do it" road of weakening personal responsibility. In the end, as Aeschylus said, "the doer suffers" the wages of his actions. In a free society that allows wide latitude for political speech, personal accountability for the anyone who goes beyond speech to violent action is the sine qua non for enjoying that freedom.
Finally, the other counts in the editorial's indictment of Trump are just as weak. Trump's bluster that "NBC should be investigated for treason and that the FBI should raid the homes of Senate Democrats" is just that, rhetorical hyperbolic venting over the blatant double-standards of the media's and federal agencies' lawfare waged against him since 2016, replete with a raid of his private residence, and multiple investigations. Or is his crime the threat against our First Amendment, the one that the Dems have been undermining for decades?
Finally, by now, most people who judge politicians by their actions rather than their words pay no attention to Trump's bluster. But the bipartisan cognitive elites, who live in a world of words and fret over mythic "democratic norms," and "decorum," can't resist an opportunity to signal their political virtue and preen morally, not to mention assuring their fellow political guildsmen that they think correctly about the bipartisan guild's mortal enemy.
Such politically parochial antics are a luxury we can no longer afford. Three years of "woke" Democrat control have wreaked havoc on our country and Constitutional rights and guardrails.
The southern border is controlled by cartel gangsters, and filled with scenes straight from the pages of Jean Raspail's dystopian novel The Camp of the Saints. The streets of our once iconic cities are filled with addicts and the mentally ill polluting the town square; flash mobs of feral teenagers plundering businesses, and murders and assaults by released multiple offenders and felons. And our nation faces disaster caused by feckless spending and redistribution of wealth to political clients, while our economy is hamstrung by intrusive government regulation and a suicidal war on the cheap energy that created the modern world and made us the richest civilization in history.
All these predicates of decline are unsustainable. Our only hope is that next year the ruling party has its powers reduced, and is replaced by those who still believe in American exceptionalism and its unalienable rights of freedom and equality. That is all we should be talking about, instead of indulging yet again our chronic obsession with Donald Trump and his mean rhetoric and bad manners.
For the truth is, despite his many flaws and mistakes, compared to the addled Joe Biden and his gang of puppeteers, Donald Trump––or any of the other Republican candidates, for that matter––may be our last best hope.