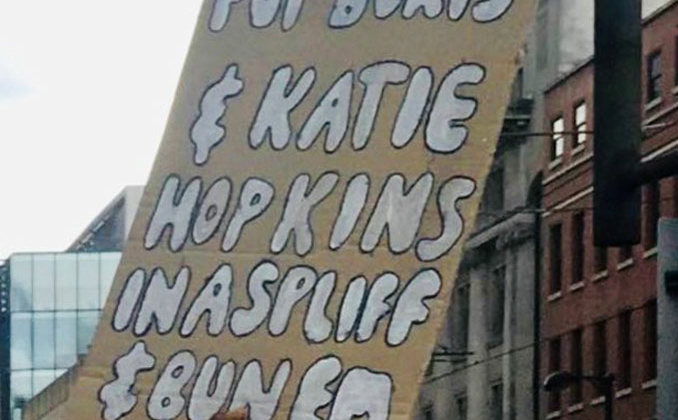 I spent two days with the Black Lives Matters protestors in London, becoming one of them, moving with them as they surged across London hell-bent on making something happen; something, anything, unsure of what.
I watched on. The Churchill statue defaced, the Union flag vandalized atop the Cenotaph — a monument of respect for those who fell fighting for our freedoms, officers bloodied and bruised. One in hospital with a punctured lung and shattered bones, horses injured by fireworks, bricks and bikes thrown at the panicked beasts.
"27 officers injured during largely peaceful anti-racism protests in London," reported the BBC, repeated by rote across the rest of the legacy media in the UK as if joining the word peaceful with the word protest would make it all OK.
Assuming my new identity as a protestor, I helped them climb walls for a better vantage point when they struggled, accepted their masks and water, watched them swarm out of the tube stations at Westminster and Vauxhall like hungry flies, buzzing with excitement for the action ahead.
They came in their thousands, young black men — cocky in their tight jeans — together with young black women, eyes made up and fiery atop their face masks, stance set to offense honed by years of being tough enough to get by.
They belong here, they fit in. This is their moment.
I do not. I am not welcome here and I know it. As a white Conservative and a known face, I am a target for their rage. As I move in my wig and mask I am aware there is a hunt for me spreading on social media; I become a wanted woman, for not being wanted here. I know lynchings never went away — their victims just changed color.
Those around me grip their signs with clenched fists, signaling to others that they are here with purpose, and that they have prepared well, whites especially, holding theirs as if to inoculate themselves against their whiteness; "I know I will never understand, but I stand with you." I roll my eyes at the contrivance.
'Silence is violence,''The UK is not innocent,' 'Defund the police,' 'Racism is a pandemic,' 'White silence is compliance,' 'Boris is a racist,' 'Black trans lives matter'….. and many more, even one about myself, reminding the crowd of how angry they feel about my views. They are too busy shouting at the sky to see I stood quietly amongst them.
On the periphery the oddities, desperate to be part of this but embarrassingly ignorant that they are not wanted here; young girls looking for an Insta pic, trans whites muddling the message — it is clear they are a third wheel, surplus to requirements.
Some are 'Whole Food' whites from expensive postcodes used to shopping in expensive stores. They are the sort who have kids in private schools and private healthcare for their family but are here to show they somehow share the pain of #BLM. They stay for a polite hour, then leave, like some forced attendance at some horrific dinner party where they have to show face until they can politely excuse themselves.
The black kids on the wall next to me are outsiders too. They bemoan the hierarchy of blackness no one is allowed to talk about. They talk about how they are made to feel less black because they live in nice houses or went to smart schools with white friends. There is British snobbery in blackness too.
The following day the protests moved to the US Embassy in Wandsworth, a part of town so desperate to be up and coming it came before the rest of us realized it had arrived. Kids of wealthy outsiders bought fancy apartments by parents not from China or Russia, now looking down from their windows at kids who used to know this patch as their own.
Thousands came, me amongst them. But even as they cheered, then kneeled, then cheered some more there was a giant question hanging over all of this — as if being asked silently in the heads of everyone: So what? Where do we go now? What are we supposed to do next?
And of course there was no answer here amongst this lot. They knew to turn up at this place at this time. They knew the outfit they would wear, the banner they would hold, how they would style their hair and jewelry and where to meet their mates. But no one really thought about anything after that. Directionless, #George Floyd's name became a cul-de-sac they all walked down.
With no direction, no purpose, no end, a maelstrom of energy like this will find it elsewhere; in the violence of fireworks, the thuggery of thrown bricks or the torch taken to a flag. And suddenly the peaceful protestors were forgotten because they never really had anything to say. Their only headline was that a lot of people gathered in one place. The violent few have images of rage and flames, statues toppled and horses bolting down the road.
In truth, we have been a divided nation for a long time. Brexit cleft the country into Remain and Leave; lockdown has divided Scotland and Wales, their leaders making decisions independently of Boris Johnson. Immigrants working inside NHS have been reminding white Brits to whom they now owe their lives, the poorest locked in high-rise nightmares while the rich have been isolated from it all.
Divisions are often invisible to the eye. Blatant hypocrisy is not. London is overflowing with the stuff.
[Below is a video clip of my thoughts from Oxford Circus, London, outside the boarded-up Nike Store in a city somehow locked-down, but witnessing public protestors in the thousands.]
The capital is locked down; you cannot get a coffee, a meal or use a bathroom. The Nike Store is behind boards, as are so many of the rest. And yet not two miles from this shuttered place, tens of thousands are gathered skin-to-skin in a throbbing, sweaty mess.
Either there is a lockdown or mass gatherings are OK. It cannot be both.
The mainstream media are determined to report the protests as peaceful even as bricks and bikes and fireworks are thrown.
Either these protests are peaceful or stores needed to boarded up against the violence. Again, it cannot be both.
And finally, and perhaps most insultingly, there is now a hypocrisy in the policing of law and order in the UK.
Policing of black Britain: stand back, hands off, let them do as they please as they gather en masse, vandalize and attack.
Policing of white Britain: patrol speech, arrest for wrong-thought, and send drones to film dog-walkers in the hills during lockdown.
The division has been there for a long time, but this hypocrisy has been brought into plain sight, for all to see. I was there, staring it in the face, and yet somehow those elected to run this country seem desperate to look the other way.