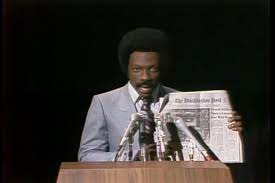 "The promise of America is that we're all created equal in the image of God and deserve to be treated equally throughout our lives. While we've never fully lived up to that promise, we've never fully walked away from it because of extraordinary leaders like Rev. Jesse Jackson, Sr."
That was Joe Biden on Sunday, July 16, as the Rev. Jackson stepped down from the Rainbow PUSH coalition. Biden's vice president Kamala Harris also paid tribute.
"Today we celebrate one of America's greatest patriots, someone who deeply believes in the promise of our country," said Harris. The Rev. Jackson, "has and continues to bring together people of all backgrounds: Black Americans, Asian Americans, Latino Americans, farmers, LGBTQ+ Americans, Native Americans, women, labor union members, people with disabilities, our young leaders, and people around the world." The vice president's list wasn't entirely inclusive.
Jewish Americans were prominent in the Civil Rights Movement of the 1960s, making up half the young people in the Mississippi Freedom Summer of 1964. Rabbi Abraham Joshua Heschel linked arms with the Rev. Martin Luther King Jr. in the 1965 march on Selma, Alabama.
As Kamala Harris noted, the Rev. Jackson "ran for president in 1984." That year the Democrat let slip his views on the group missing from his rainbow coalition.
During a conversation with Washington Post reporter Milton Coleman, the Rev. Jackson referred to Jews as "Hymies," and New York City as "Hymietown." That caught the attention of the great Eddie Murphy, who played the role of Jackson on the February 2, 1984 broadcast of "Saturday Night Live."
"Good evening, ladies and gentlemen. I'm Jesse Jackson. Yes, I was recently quoted in the Washington Post as referring to a certain group of people as 'hymies.' It also said that I called New York 'Hymietown.' I realize that kind of talk isn't kosher. But let me see if I can explain it to you all in song," backed by a trio of singers.
I want to form a new coalition,
of soul people and bagel people.
From the Chitlin' District, to the Diamond District.
From catfish to gefilte fish.
We all need to live as one.
I want to look out over the crowd and see both leather hats and yarmulkes side by side
And so on, in period style. As Carly Simon might say, nobody does the Rev. Jesse Jackson better, and check out "White Like Me," for Eddie's take on racial disparities.
The Rev. Jackson apologized for "Hymietown" but refused to denounce Louis Farrakhan. The Nation of Islam leader threatened Coleman and warned Jews that "if you harm this brother, I warn you in the name of Allah, it will be the last one you harm." It took guts for Eddie to work up that tune, but in those days the best comics were fearless and non-partisan.
As Kamala Harris explained, the Rev. Jackson also ran for president in 1988, "winning 13 primaries, from South Carolina to Alaska." That year the Democrat nominee was Massachusetts governor Michael Dukakis.
On SNL's "Dukakis After Dark," Michael Dukakis (John Lovitz) tells Jimmy Carter (Dana Carvey) "I'm about to lose as bad as you did. Maybe worse. How did you deal with it afterwards?"
"I was one pissed-off cracker," Carter says. "I had to accept the fact that I was a downer. A liberal downer. A malaise-ridden liberal downer. A free-spending malaise-ridden liberal downer, who only knew. . . "
The skit also features Ted Kennedy (Phil Hartman) hitting on Kitty Dukakis (Jan Hooks) and Joan Baez (Nora Dunn) singing:
Unilateral lateral disarmament, abortions on demand
Take everybody's guns away, and toss them in the sand.
Free needles for the addicts, free condoms for the kids
We'll not blame the criminal for anything he did.
For who can say what's right or wrong, is there's such a thing as sin?
It doesn't really matter really matters, if wars we lose or win.
As Dukakis explains, "we represent unpopular and discredited views," and "one thing that hurt us is the fact that Reaganomics works. It really does." After the election, Dana Carvey's take on President George Bush, revealed a bipartisan approach now little in evidence. True, the antics of Biden and Harris are hard to top, but comics and satirists should accept the challenge.
Kamala Harris claims the work of Rev. Jackson, "inspired me from a young age to understand the power of the coalition." Harris actually got her start under Democrat queenmaker Willie Brown, 30 years her senior, who set up Harris in lucrative sinecures and backed her political campaigns.
Willie Brown's protégé is now vice president to Joe Biden, a consort of segregationists who tells black Americans they "ain't black" if they fail to support him. The comic possibilities of the Biden White House have yet to be explored. In the spirit of Eddie Murphy, Dana Carvey, and the SNL of old, somebody needs to step up.