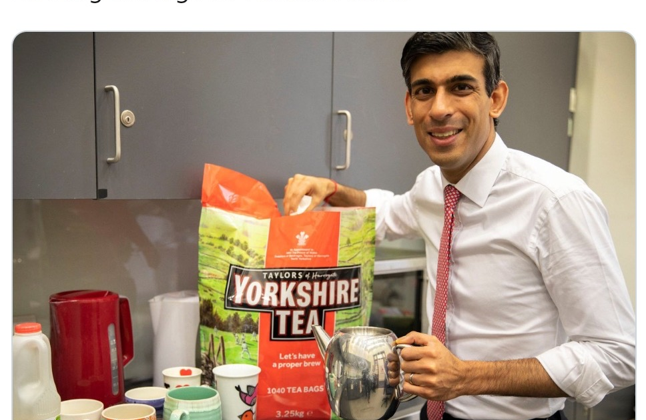 [Author's note: This article is dedicated to my friend and fellow fighter, Phil Haney.]
What could be more harmless than a British cup of tea?
That's what our new Chancellor Rishi Sunak must have thought as he shared a benign tweet about making his team a cup of tea while they prepare the budget he has to deliver to British Parliament on March 11.
"Nothing like a good brew," he said.
He could never have known what was about to befall his brand of choice, Yorkshire Tea.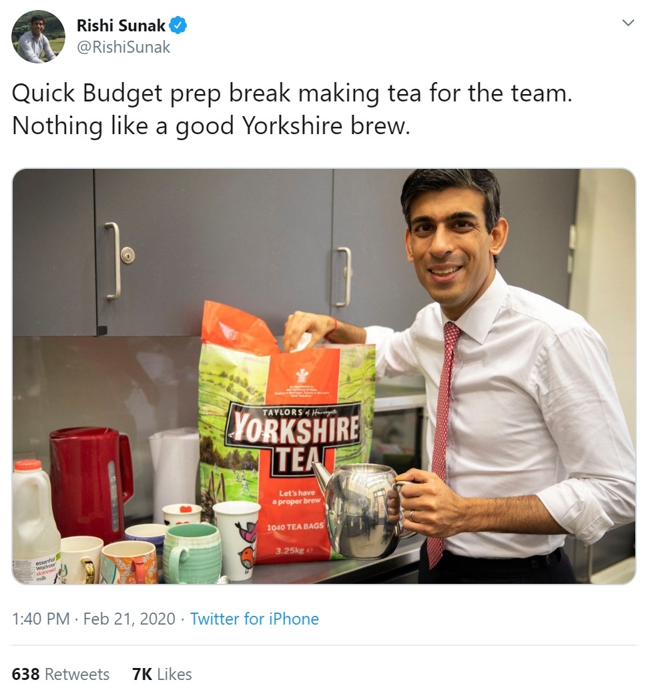 For the crime of their product featuring in a picture with the Conservative Chancellor, there were demands for a boycott, a ban and worse, much worse. So much so that the Yorkshire Tea employee on the receiving end of all this hate made a personal plea from the Yorkshire Tea account:
'We've spent the last three days answering furious accusations and boycott calls…as the person who's been answering these tweets, I know it could have been much worse. It's easier to be on the receiving end of this as a brand than as an individual…But for anyone about to vent their rage online, even to a company – please remember there is a human on the other end of it and try to be kind'.
This is the madness of our times. A social media employee from a tea company imploring people to stop being so cruel, all because it was being drunk by someone from a political party they oppose.
This phrase she used — Be Kind (#BeKind) — has been trending in the UK for much of the week after the suicide of a young and vivacious TV personality, Caroline Flack. She was the captivating host of a popular TV show called Love Island and winner of the BBC Strictly Come Dancing competition in 2014.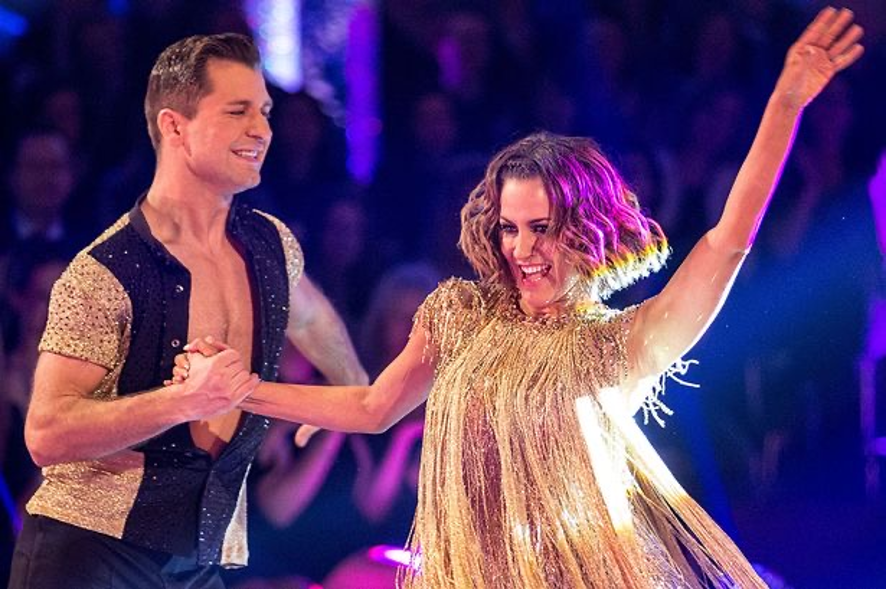 [Photo on left: Caroline Flack dancing on the TV show Strictly Come Dancing in 2014.]
Made of something fizzing and effervescent, she was tormented to a lonely death in her home at the hands of media and the mob took the breath away from her most.
Allegations in her private life triggered a media pile-on that was as bloody as any car crash on the freeway. Forced out of the TV job she loved and facing the loss of her home, the endless screeching of her name across headlines and online proved too noisy for her to find a peaceful way through.
She was found hanging in her home, a rag doll, broken by hate.
One of her final posts on Instagram read, "In a world where you can be anything, be kind."
#BeKind trended on Twitter for a few days. Other TV presenters who had abandoned her in life, climbed onboard in death — hoping this new kindness might apply to them when their own indiscretions come to light.
Others self-appointed as #BeKind ambassadors, as if they had never been anything but. Many took the time to post messages about their own mental health challenges, somehow managing to make Caroline's death about themselves. And men, lots of men, told us whom to blame.
At the receiving end of more hatred than most, it's easy to see the futility of all this. Asking and expecting are things we do to others. The only things we can change are the things within our control. Knowing this is the only life preserve when the going gets tough. It is a mantra I try to instill in my own young girls. You are responsible only for the things you can control.
Where was all this kindness for Yorkshire Tea?
And sure enough, within days of the "Be Kind" proselytizing from all and sundry, a well-known British actor, Laurence Fox, announced he too is taking a break from social media for his mental and professional health. In truth, he is afraid for himself and his family.
Having made the career-ending decision to go on a BBC current affairs discussion panel and be honest about his personal views (mostly flying in the face of the woke brigade) he became an obvious target for the darkness to descend.
For a month or so he waged a good fight online against the left, appearing to be bold and robust in his resolve.
I have seen this before; it is a phase. He was overwhelmed by the tsunami of support from the silenced majority, buoyed up by their cheers online, enjoying being something of a cause-célèbre for our side. The hashtag #WeRunWithTheFox trended on twitter, referencing his last name, suggesting this army of the silenced would somehow be with him when the pain set in.
But this is an illusion. This beautiful army of support, applauding you for saying the things they cannot, gets to go home without consequence. They go back to their jobs, their family, their privacy, their anonymity, their lives. Look around and you will find — it is just you, your job, your home, your family that takes the hit. And suddenly all the hashtags count for naught.
The mob came for Laurence Fox.
They came for his career. The acting union "Equity" dubbed the actor a "disgrace to our industry" and asked its members to denounce him as an individual.
They came for his family. His cousin Freddie was spat at in the street. His sister, Emilia, has become a target too.
And they came for his mental health. Laurence says he is becoming "more and more depressed." He wakes up dreading what was to come and fearful for his future and his ability to provide financially for his children. Adding, "People tell me it will blow over, but when you are in it, it doesn't feel like it will…."
And his hunch is right. It won't blow over. It is not like the days before of print media. He will not work in the near future in the industry he loves. He will lose confidence to walk into a room. Attention will become his enemy.
This is the truth of the thing. When all the noise and furor falls away and you find yourself alone, staring down a snarling mob, ripping at your clothes, your stuff, and the things you love. These Puritans won't stop until you are swinging from a tree. Even then, they promise to throw a party to celebrate your death.
After Margaret Thatcher died, "The Witch is Dead" hit number one in the UK charts. I am told to expect the same.
I wonder about their fixation.
I wonder if these new Puritans are a result of teaching that weakness is strength, that victimhood is power, and that there are right views and wrong. And that the only place to feel truly powerful is to take from someone who appears to be successful. Or who tried to differentiate him- or herself. Or who throws off anonymity, steps away from the mob, tries to stand alone.
One thing I am sure of: this is a battle between darkness and the light.
No one dares speak in the UK. There is no freedom of speech — that is an illusion.
And it is not about being thrown off Twitter. Or banned from Facebook. Those are private companies that, arguably, can be as partisan as they wish.
There is no freedom of speech because the ordinary man and woman can no longer say how they feel. They cannot question what they are being forced to accept. They cannot express a different view if they want to keep their jobs or their homes.
When the truth is classified as hate speech, everything is an arrestable offense. America has had a taste of this. But it is nothing compared to the UK… yet.
Here no one speaks. Speaking outside approved thought results in a police officer at your door. Just as West Yorkshire Police came to my door late at night to intimidate my children and threaten me with prison time if I did not hold my tongue on majority Pakistani grooming gangs.
The New Puritans are coming for America too. You may think you already have them, but what you have in America is just the warmup act.
The only reason America maintains some semblance of your First Amendment is because of your Second.
Your right to bear arms is what separates you from us; it will maintain your right to speech when the time comes. And it explains why the future Socialist party (the former Democrats) are working so hard to take your guns away. Compliant acceptance is the power base of the Puritanical mob
When the mob comes, they are not coming for your voice. They are coming for everything you have.
Be prepared to defend it with your life. If you fail, they will take that too.