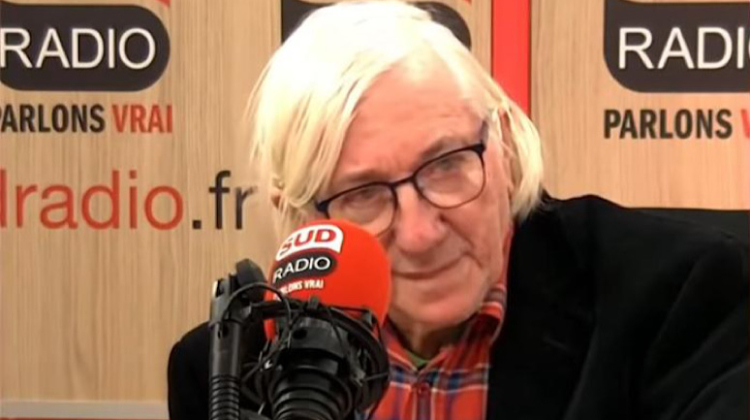 Jean-Paul Gourévitch is a French researcher specializing in immigration. His latest study, about recent immigration to France, is deeply pessimistic: he claims that immigration is not a net benefit to the country, but costs the state 25 billion euros annually. And even after years in France, two-thirds of the migrants are unemployed. The rest live, quite comfortably, on the generous benefits the French welfare state provides. More on his findings are in an article that is two years old, but even more relevant now than it was when it was published: "Migration costs France approximately €25 billion a year, many migrants remain unemployed even after years: academic," by Dénes Albert, Remix News, May 26, 2021:
Only one third of migrants to France have found a job.

Employment data shows that it is a myth that immigration to France has economic benefits, French author and academic Jean-Paul Gourévitch said in an interview with Radio Sud.

"I have studied this topic extensively and today everyone in France, from the left to the right agrees that immigration costs more than it brings in," Gourévitch said. "There is a major difference between left and right (oriented) economists regarding the costs: the leftist economists say the deficit is six to ten billion [euros per year], while those on the right say it is 40 to 44 billion. My own scientific research shows that the deficit is 20 to 25 billion [euros]."

Gourévitch also spoke about the debate in Europe and France whether worsening demographic figures should be improved via immigration or domestic demographic incentives.
The fertility rate of the indigenous French is 1.49, far below the replacement level of 2.1. What is to be done? Some claim the solution is to admit more immigrants, without looking too deeply into whether those immigrants are a net cost to the government, or a net benefit. Others think that a pro-natalist policy could persuade enough French women to have more children, though so far, despite generous family allowances after the second child, and heavily subsidized nurseries and kindergartens, the French fertility rates keep going down. And even if they were to increase, babies born today in France will not make a difference to the funds available for pensioners for at least two decades, when those babies have grown up and entered the work force.
There is an argument that immigration could to some extent offset the birth rates, because there is a major difference between the birth rates of the domestic population and the migrant one," he said. "The domestic population has a birth rate of 1.49 (children per couple), while the immigrant population has 2.5 to as many as four children. This (birth rate), however, is gradually declining, as the children of immigrants have fewer children than their parents who, in turn, had fewer children than their parents."

Bringing in migrants to be able to increase our capacity to pay those retired is in fact a coup," he said. "The migrants — those who work, of course — will contribute towards pensions, but for the rest it is a real burden for the state."

Gourévitch also said his own studies showed that after five years of migrants arriving, only one third of migrants had jobs. These statistics mirror other countries which show, for example, in Sweden that most migrants will never become self-sufficient. Other countries like Germany have already spent tens of billions on migrants and plans to spend another €64.5 billion over the next four years.

"All the surveys show that 5 years later, only 33% of migrants [in France] have found work," said Gourévitch.
If only one-third of the migrants – who in France are overwhelmingly Muslims from North Africa – are employed, they will remain a net cost, not a benefit, to the government. Not enough of them will be paying into the government pension fund. And it turns out that two-thirds of these migrants are not finding jobs, whether through lack of skills or a desire to avoid work altogether and instead choosing to survive on the generous welfare benefits made available by the state. While Gourévitch doesn't say it, it turns out that the Muslim migrants are much less likely to be employed than non-Muslim migrants, so that in their case, it is not two-thirds, but rather three-quarters of Muslim migrants who remain unemployed after five years.
Gourévitch (79), is the author of over 60 studies and books. While at the beginning of his career he focused on education, he later turned his attention to immigration. His latest book, "France in Africa 1520-2020" was published last year.
Gourévitch concludes that these economic migrants are costing the French state some 25 billion euros a year. It's a colossal sum, but some French economists on the right believe even that is too low; they believe the number is far higher – 44 billion euros annually. How did Gourévitch arrive at this figure? He adds up the cost to the state of the following: free or subsidized housing for several million Muslim migrants; free medical care, which is especially expensive because of the greater incidence of congenital defects among Muslim babies, the result of societal norms that encourage cousin-marriage; free education, which includes extra language classes; family allowances (which increase with the number of children) that were originally intended to encourage French women to have more children, but it is predominantly Muslim families that now benefit, for they have the greatest number of children), and unemployment benefits for the two-thirds of Muslim migrants who remain without jobs. That adds up to the colossal sums — estimated at from 25 to 44 billion euros — that the economists calculate are the true costs of immigration.
But there is another cost that cannot be calculated, but is just as real as the kind that can: the cost of Muslim migrants to the quality of life of the indigenous French. How do we decide the "cost" to our wellbeing of being subject to five prayers, from dawn to dusk, that are electronically amplified? In summer, the earliest prayer can take place as early as 3:20 a.m. When such a prayer keeps people from sleeping, there is a great cost, even though we cannot reduce it to euros. Similarly, what is the cost to society of the fear of crimes overwhelmingly committed by Muslim migrants, whose rates of criminality far outstrip those both of the indigenous French and of other, but non-Muslim, immigrants, including those from eastern Europe and east Asia. If women are now afraid to go out alone of an evening, that is a "cost." So is the fear of street muggings and robberies by groups of Muslims, the worry about house burglaries when French people go on vacation, the fear of rape (Muslims make up about 9% of the French population, but commit 70% of the rapes) – these all add up. The Muslim schoolchildren who are difficult to discipline, and who by their classroom behavior distract teachers from their preeminent task – to educate — are another cost. How do we calculate the cost of Muslim students who disrupt education for everyone by refusing to study certain subjects, such as the French monarchy, the history of Christianity in France, the Crusades, the Enlightenment, and the Holocaust (which should be avoided because it makes students too sympathetic to Jews, and that will never do). There is no area of French life that is not affected, for the worse, by the presence of millions of Muslims. That large-scale presence has created a situation that is far more unpleasant, expensive, and physically dangerous, for the indigenous French, than would be the case without that large-scale presence.
The cost to France that can be reduced to euros is very great. The cost to the French quality of life is also very great, though it is impossible to assign a euro value to such things as peace of mind, a sense of security, harmony and discipline in the classrooms.
The French need to create a pro-natalist policy where certain benefits – such as family allowances and subsidies to keep down the costs of nursery schools and kindergartens, as well as after-school activities, are limited to those children who are third-generation French people, which should keep most Muslim migrants from benefiting from a policy intended to encourage larger families not for everyone in France, but only for the French.
The French also need, in their immigration policies, to make the fundamental distinction between Muslim migrants, and all others. The Polish plumber, the Rumanian soccer coach, the Hindu restaurateur, the Chinese dry cleaner, are all working and paying into the pension system. They are not exploiting the French welfare state for every last benefit. After arriving in France, they soon find gainful employment. They are the kind of taxpaying immigrant France needs. And while encouraging these immigrants, the French government at the same time can discourage Muslim immigrants. Ban the electronically amplified Call to Prayer as a public nuisance. The faithful can be reminded of the Call to Prayer by their iPhone; a muezzin's wail is not necessary. Make it harder to open new mosques, by the artful use of zoning laws, including requiring mosques to provide parking spaces for all of their visitors, based on the numbers of worshippers who arrive for Friday prayers and the khutba, so as to avoid the traffic congestion often caused by visitors to mosques in residential areas.. Proscribe the sale of halal meat because the slitting of the throat of an animal that has not first been stunned, and the slow bleeding out of that animal, constitute cruelty to animals. Prohibit the wearing of the veil in all public buildings, including all government offices and universities, because the veil makes a "political statement" and violates the French principle of "laicité." Refuse to restrict public pools to hours for "women only." Do not allow Muslim prayer rooms in public schools — again, invoke the need to preserve "laicité" in the public sphere. These are just some of the ways to make France end its "Islam-friendly" status and to transform itself into an "Islam-hostile" polity. This is a simple response to the manifest hostility of Islam toward infidels and infidel polities.
Finally, if large numbers of semi-skilled or even unskilled workers are needed, the French government should reach out to a labor pool it has not begun to tap: the workers of Latin America, who share a faith tradition – Catholicism — with the French. These workers are already fleeing from the impoverished Marxist dictatorships of Venezuela and Cuba, the poverty and gangs of Honduras, Guatemala, and Mexico, toward the United States, but the United States is ever less willing to take them. Let them instead be taken in by France, Italy, and other Catholic countries in Europe, where because of that shared religious background they can more easily integrate into the host society, so as to provide the semi-skilled labor force needed for jobs in construction, and other kinds of infrastructure, including massive solar energy projects that will require hundreds of thousands of installers on roofs all over France. If these workers from Latin America are brought to France, there would be no need for any Muslim migrants. And if the Islam-hostile laws I noted earlier are implemented, that will promote a re-migration of many Muslims, now in France, back to their countries of origin. Many billions of euros will be saved every year by the French government, and many heartaches caused by these migrants will trouble the French no longer.