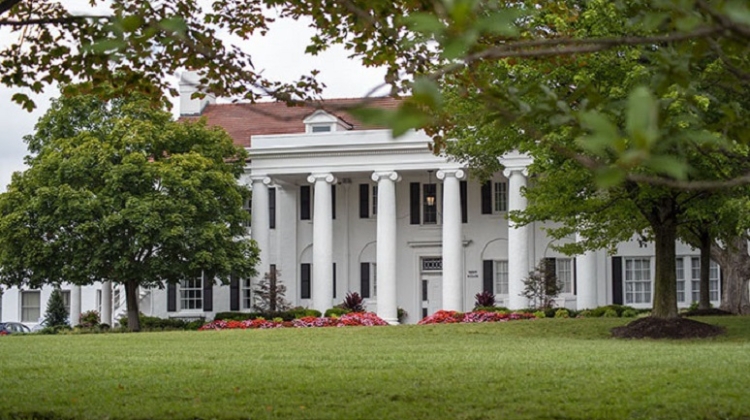 Marymount University is a Catholic institution in Virginia that has always focused on the liberal arts: English, History, Philosophy, Art. But Marymount's trustees are keenly aware that we have entered a brave new world, where vocational training, and not liberal education, in the traditional sense, must take precedence, because what counts now is not the formation and enlargement and enriching of young minds, but the set of skills that will enable its graduates to engage in the great business of living which is, of course, not thinking but working. And when Marymount graduates of the future advertise their skill sets on Snagajob or Indeed or LinkedIn, they will have had just the right preparation for the digital world, all algorithms and artificial intelligence, that awaits us. I once predicted that "As for living, our resumes will do that for us." That prediction appears to have come true. Marymount has shown it knows what its graduates should have studied and put on their resumes if they want a job. The latest on Marymount's decision can be found here: "Catholic liberal arts college in Virginia courts backlash after cutting several majors, including religious studies, English, and math," by Hannah Getahun and Erin Snodgrass, Insider, March 10, 2023:
A small liberal arts university in northern Virginia is facing scrutiny from students and faculty alike after announcing it will nix nine common majors from its offerings in an effort to better prepare students for "in-demand careers."

Marymount University trustees unanimously voted last month to cut nine undergraduate majors and one graduate program from the Catholic university's offerings. The impacted subjects include Bachelor's degrees in English, history, math, art, economics, philosophy, secondary education, sociology, and theology and religious studies, a spokesperson with the college told Insider in an email.

Nicholas Munson, director of communications at Marymount University, said the 20-0 board vote was preempted [sic] by "definitive research" that found the majors all had consistently low enrollment and graduation rates among students.

"There are 74 students across the 10 programs, 22 of whom will graduate in May, Munson said. Current students majoring in the subjects will be grandfathered in and allowed to graduate with their chosen degree, and courses from the cut majors, particularly in humanities, will also remain part of the core curriculum at the school, Munson added.
Those who are most dedicated to, and most serious about, the study of any of these subjects once deemed essential preparation for life – English, history, philosophy, art, mathematics — will no longer have the possibility of majoring in them. These students will, by the absence of alternatives, be herded into majoring only in those subjects that — so the trustees believe — this brave new digitalized and artificially intelligent world requires of us.
In the future, Marymount students will take courses in coding, in creating apps, in cybersecurity, in natural language processing and other aspects of artificial intelligence. Instead of the Seven Liberal Arts, consisting of both the Trivium (grammar, logic, and rhetoric) and the Quadrivium (arithmetic, geometry, astronomy, and music), that medieval schoolmasters and schoolmen imparted to their dutiful students, and instead of what may be called the Seven Liberal Arts of Catholic education in modern America (English, History, Philosophy, Art, Economics, Music, and Theology), the Marymount students will instead likely learn the seven key components of an effective digital transformation strategy. These will include
Strategy and Leadership.
Culture Change and Communication.
Optimizing Processes.
Data.
Technologies.
Team Structure.
Partners.
Why shouldn't the trustees at Marymount go even further than eliminating majors in certain subjects? Why not eliminate the liberal arts curriculum altogether? Does anyone really need to study Homer, or Latin, or Shakespeare, or American history, or the pre-Socratic philosophers, or Italian Renaissance art, none of which could possibly be of the slightest use in your future careers in the thoroughly digitalized, artificially intelligent world we are all inexorably racing towards? How can we indulge ourselves in studying such useless material, when we can feel the hot breath of the Chinese at our backs?
Higher Ed? No. Marymount, I am pleased to report, has cut it down to size. Hire Ed.